Magazine
Welcome to the American-Scottish Foundation's new and exciting magazine section.
Here you will find lots of great information on what's on, here and in Scotland; up to date news stories; a travel section to help you plan your trip to Scotland; and an updated blog section with stories new and old, and a place to air your views.


This is your place to discover all that is going on in the Scottish American community, catch up on all the gossip on both sides of the Atlantic and be free to share your experiences and stories.


---
MURRAY WINS WIMBLEDON MENS SINGLES CHAMPIONSHIP
July 7, 2013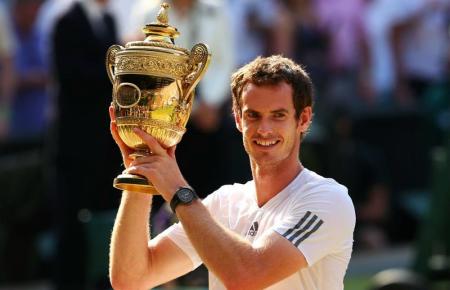 Congratulations to Scotland's own Andy Murray of Dunblane!
Murray is the first British man to take the Wimbledon title since Fred Perry in 1936, beating Novak Djokovic in spectacular style.
He is the first Scot to win Wimbledon since the years 1887 and 1896, when Herbert Lawford and Harold Mahony were Scottish champions.


---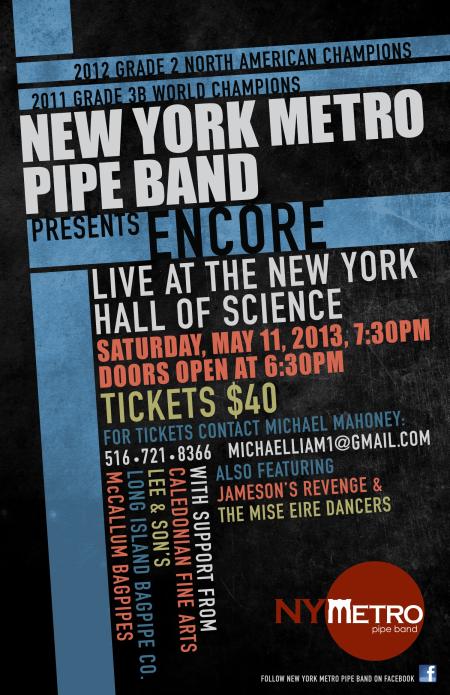 Click on the poster to visit NY Metro Pipe Band's Facebook page


---
ALEXANDER HAMILTON'S BIRTHDAY CELEBRATION

The National Parks Service will commemorate Alexander Hamilton's Birthday on Saturday, January 12, 2013 in New York City.
Click here for details.
Hamilton was a Founding Father of the United States, born to a Scottish Father in the West Indies.
---
'RAINTOWN' CHRISTMAS SINGLE 2012
Check out ASF's Holiday song of choice: this wonderful Christmas single by Glasgow duo 'Raintown', who won two awards at the 2012 'Scottish New Music Awards': 'Folk/Traditional Recording of the Year' & 'Record of the Year'.


---
NYC FAVORITE 'JONES WOOD FOUNDRY' LAUNCHES SHOP!

ASF celebrated the Queen's Jubilee at British Pub and Restaurant, Jones Wood Foundry, a food driven pub in NYC. And in November, ASF had a great time at their Curry Club!

Now, Jones Wood Foundry has launched a Shop, featuring an artisanal selection of British products, made daily in the JWF kitchen, for you to enjoy whilst entertaining at home or as original and thoughtful gifts to friends and family.
Enjoy a little bit of the foundry this Christmas with seasonal food offerings such as the family sized Christmas pudding or a tasty box of mince pies, which can be picked up warm, perfect as a special treat for holiday parties. What a treat!
The shop also features gift cards, preserves, and branded goods.
---
THE UNIVERSITY OF THE HIGHLANDS AND ISLANDS LAUNCHES SCOTLAND'S CLEARANCES TRAIL APP

The University of the Highlands and Islands' Centre for History has created the "Museum Without Walls: Scotland's Clearances Trail app" in collaboration with Timespan Museum in Helmsdale, Sutherland.

Cutting edge digital technology has been used to bring Scotland's past to life in the shape of a new iPhone App which allows users torelive one of the most notorious episodes in Scottish history -


The app has been developed to coincide with the 200th anniversary, in 2013, of the Clearances and the emigration of men, women and children from the Strath of Kildonan. The epic voyage to Red River in Manitoba made by some families cleared from the Strath is widely viewed by historians as one of the most demanding journeys endured by European emigrants to North America. The area around the Red River went on to become the city of Winnipeg in Manitoba.


---
14th ANNUAL NEW YORK FASHION CONFERENCE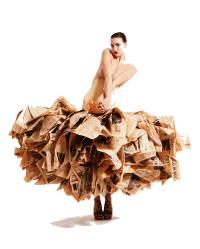 One of a Kind: Individuality, Integrity, and Innovation in Fashion - The 14th Annual New York Fashion Conference is taking place November 30 - December 1, 2012.

ASF has secured a special discount for our friends to attend: Early Registration Discount: $250 (instead of $350), Student rate of $100 available, as are one-day registrations

---
CRAFT SCOTLAND TO EXHIBIT AT SOFA CHICAGO 2012
Making connections, creating opportunities


CRAFT SCOTLAND have just released a short film in support of a group of craft persons that they will be bringing to exhibit at SOFA CHICAGO in November 2012. Plans are also underway for a group to take part in a visit to New York in 2013.


The following film shows some of the craftsmen preparing for SOFA Chicago.
ASF finds this film fascinating as we gain insight into the artists' worlds and influences. Artists are influenced by their enviroment and, watching the film clips, one cannot but be amazed by the time, care and love given to each piece of their work in its creation. This film allows us to see the landscape that surrounds them, the sounds of their studios and as Craft Scotland puts it well: "the inspiration and processes behind the craft, and the diversity of our makers."
Emma Walker, the dynamic and energetic head of Craft Scotland introduces the film.


---

THE SCOTTISH ARE COMING! THE SCOTTISH ARE COMING!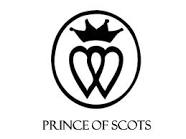 Iona Crawford has been in East Hampton the past few weeks pre viewing her spring collection with Prince of Scots. The luxury store headed by Tim Danser and David Campana, are creating a fashion and design incubator in the Hamptons, NY to showcase the best of Scottish Fashion Trade to America's top luxury market.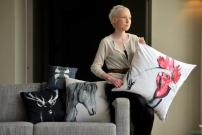 "Iona Crawford is a shining example of the beauty and elegance which is a trademark of the Best Scotland has to offer, its people and their visions of design."

Iona designs consist of earthy and tonal fabrics of Scottish origin including cashmere, linen and leather, as well as silks printed with Iona's painterly artwork.

Iona is a multi talented designer loving to design - ASF loves her easy to wear elegant dresses and also Iona's first steps into home with her range of pillows and bedding representing her modern romantic Scottish lifestyle.
We at ASF love her fresh ideas and designs and look forward to seeing more....


---
THE EDINBURGH FESTIVALS
Edinburgh, the month of August:
Hotels bursting at the seams, restaurants buzzing, bars and clubs offering extended hours and buses overflowing, it can only mean one thing - the Edinburgh Festivals!
Edinburgh hosts varied cultural festivals, from Film to Jazz , all year round, earning it the title 'Festival City'.
However, it is during the summer months when the population doubles, you can see a street performance on every corner and queues around each block for the 'hot ticket' shows.
When most people refer to the 'Edinburgh Festival' they mean the Edinburgh Festival Fringe which features thousands of performers in hundreds of venues, presenting shows for every taste including theatre, comedy, dance, physical theatre, musicals, operas, music, exhibitions and events.
If you are planning on visiting Edinburgh for the Summer Festivals it is recommended that you book everything as far in advance as possible. Prices are higher than other seasons.
Many publications are available in venues throughout Edinburgh during the Festivals; featuring reviews and breaking down the days into 10 minute sections - there really is never enough time to see it all! Visitors are spoiled for choice, causing many to opt for attending 6 shows a day, or more!
Visit our travel section for some accommodation recommendations, and www.visitscotland.com for information on travelling to and around Scotland.

FESTIVALS IN THE SPRING:

Do you ever want to learn, but don't want to go through the rigmarole of reading things and writing notes and paying proper attention to very dull people in hot, busy classrooms? Don't worry, Edinburgh has the solution for you. And there's no…
More information about the Edinburgh International Science Festival
Earlier than the others which huddle under the Edinburgh Festivals umbrella in August, this Festival takes place in May and June, both in the Capital and on tour throughout Scotland (sometimes reaching as as far as Shetland). Like its more prominent…
More information about the Imaginate Festival
Film critic Mark Kermode describes it as "like Cannes - only civilised". And who are we to argue? For previous visitors lucky enough to have sampled its unique atmosphere, this is what we now expect each year from the EIFF, now firmly settled into its…
More information about the Edinburgh International Film Festival
The biggest of its kind in Britain, the Jazz & Blues Festival gets the festival season off to a swinging start in July, making sure everyone's in the mood before its larger festival cousins hit town. And expect that Glenn Miller classic along the…
Although galleries across the Capital have long been saving their crowd-pulling shows for August, the Edinburgh Art Festival was established in 2004 with the aim of uniting and promoting their independent efforts. With the highest number of galleries in…
More information about the Edinburgh Art Festival | View listings
Sprawling, diverse and just a little bit crazy, The Edinburgh Festival Fringe is The Edinburgh Festival for the hordes of punters and performers that descend on the city every year. From its humble beginnings in 1947, when a handful of companies that…
More information about the Edinburgh Festival Fringe | View listings
The Edinburgh Military Tattoo displays the musical talent of the British Armed Forces, Commonwealth and International military bands and display teams on the ramparts of Edinburgh Castle. It takes place every evening throughout August, come rain or…
More information about the Edinburgh Military Tattoo | View listings


Founded in 1947, the Festival rose out of the ashes of the Second World War to provide 'a platform for the flowering of the human spirit'. Its most visible flowering, in August at least, is now 'the Fringe', formed the same year by actors denied space…
More information about the Edinburgh International Festival |View listings
Amid the frenetic activity of the other festivals, this one is an oasis of calm. Talking place beneath canvas in the genteel surrounds of Charlotte Square, the Book Festival is a celebration not only of the written word, but also of the big ideas that…
More information about the Edinburgh International Book Festival |View listings
Founded in 1995 to showcase the talents of Edinburgh's ethnic minorities, Edinburgh Mela has now grown to regularly attract more than 20,000 people to its extraordinary range of theatre, dance, music and art each August, and it doesn't take much to see…
More information about the Edinburgh Mela
True to the spirit of the Edinburgh Festivals as a whole, The Festival of Spirituality and Peace is international, multi-cultural and multi-faith. It promotes open dialogue across the divisions of race and religion, focussed around a core programme of…
More information about the Festival of Spirituality and Peace |View listings
Small but perfectly formed and set in beautiful North Berwick, Fringe by the Sea is a miniature of the Edinburgh Fringe Festival. Highlights include the Belhaven Spiegeltent, part of the 'tented village', which will be home to eclectic musical…
More information about the Fringe by the Sea | View listings
Edinburgh Interactive Festival is a day-long extravaganza of video-gaming, recruitment opportunities, screenings and talks, taking place alongside the Edinburgh Interactive Conference, a who's-who of the gaming industry with talks by influential games…
Away from all the chaos, the comedy and the craziness of the Fringe comes the chaos, the comedy and the craziness of politics. Getting its own platform in 2005, The Festival of Politics is now a main part of the latter stages of the summer season…
More information about the Festival of Politics | View listings
The Turing Festival has plenty to offer both the hardcore technology lover and the average Joe seeking a break from the jazz hands and theatricals of the Fringe. As this year is the centenary of its namesake, mathematician and computer science…
The 2012 Edge Festival has been cancelled. Formerly known as T on the Fringe, August's largest pop music festival, The Edge, has already managed to impress festival-goers and critics alike with that same enthusiasm and love for a tune that…
Forest Fringe 2012 details are as yet unconfirmed. The Forest Fringe is truly the embodiment of what is 'on the fringe'. Throughout the year the volunteer-run Forest Café is home to free workshops in a multitude of disparate activities, from…
With spiritual retreats, workshops and conferences, the festival welcomes guests from across the UK and further afield to enrich the sense of cultural exchange. The Middle Eastern Film Festival is included under the MESP banner, with a series of events…
More information about the Edinburgh International Middle Eastern Spirituality and Peace Festival | View listings


What's that coming over Calton Hill? Yes, it's the annual Beltane Fire Festival, complete with fire, frolics and lashings of body paint (and a lot of cold, cold bodies underneath it). Celebrating the beginning of the summer season, this unique…
FESTIVALS IN THE AUTUMN/WINTER:
The Scottish International Storytelling Festival is an autumnal celebration of storytelling - both traditional and contemporary - in the Edinburgh-based Scottish Storytelling Centre. Though it takes place in October, this Festival is not unlike its…
More information about the Scottish International Storytelling Festival

Edinburgh's Hogmanay (30 December 2013-1 January 2014)