In Memoriam
Robert R. Douglass, Longtime Adviser to Rockefeller Family, Dies at 85
The American-Scottish Foundation is greatly saddened to learn of the passing of Robert "Bob" Douglass, a wonderful Patron, friend and mentor of the Foundation, and past recipient of the ASF Wallace Award.

By Sam Roberts, New York Times. December 6, 2016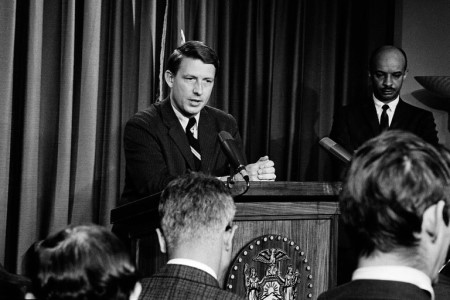 Robert Douglass, then manager of Gov. Nelson A. Rockefeller's presidential campaign, in 1968. Credit Arthur Brower/The New York Times
Robert R. Douglass, who was among the last surviving members of Gov. Nelson A. Rockefeller's inner circle, an adviser to David Rockefeller and the Chase Bank, and a catalyst in the revitalization of Lower Manhattan, died on Tuesday at his home in Greenwich, Conn. He was 85.
The cause was complications of Parkinson's disease, his son Andrew said.
Mr. Douglass was counsel and secretary to Nelson Rockefeller, the four-term Republican governor from New York. He also managed his short-lived 1968 presidential campaign and shepherded him through contentious confirmation hearings for the vice presidency in 1974, when Rockefeller was recruited by the newly elevated president, Gerald R. Ford. The hearings in Congress drew hostile fire over Rockefeller's personal finances and potential conflicts.
Mr. Douglass was later general counsel and vice chairman of Chase, the bank long associated with the Rockefeller family. Nelson's brother David was the bank's president, chief executive or chairman from 1960 to 1981 and, at times, the largest individual stockholder.
For two decades, from 1995 until he retired in 2015, Mr. Douglass was the chairman of the Alliance for Downtown New York, the self-taxing business improvement district — the largest in North America — organized by the Downtown Lower Manhattan Association, which David Rockefeller founded in 1958, when the Financial District was wilting.
"Bob gave me wise and thoughtful counsel, never once letting me down," David Rockefeller said in a statement after Mr. Douglass's death. "He was always an honest broker to our family."
Mr. Rockefeller's decision to build a 60-story headquarters for the bank at what became One Chase Manhattan Plaza, coupled with the Rockefeller family's commitment to the construction of the original World Trade Center, helped revive Lower Manhattan and reaffirmed Wall Street's claim to be the world's financial capital. (The bank building, which opened in 1961, was sold by JPMorgan Chase in 2013 and renamed 28 Liberty Street.)
After the twin towers were destroyed in the terrorist attacks on Sept. 11, 2001, Mr. Douglass's organization joined with others in reinvigorating Lower Manhattan and capitalizing on its metamorphosis into one of the city's fastest-growing residential neighborhoods.
"Among his unusual, if not unique, attributes," Carl Weisbrod, who was president of the Downtown Alliance and is now chairman of the City Planning Commission, said in an interview, was "his depth of understanding of how government functions and how the business world functions — and how to meet the needs of both."
For years Mr. Douglass was literally the fair-haired boy — blond and eternally youthful, still referred to as Bobby well into his 80s and so close to the family that he comfortably had his own home at the Rockefellers' summer sanctuary in Seal Harbor, Me.
Fresh from law school, Mr. Douglass was a protégé of George L. Hinman, a Republican national committeeman from New York and political strategist who played for Nelson Rockefeller the role that James A. Farley had performed, more successfully, a generation earlier on the national stage for one of Governor Rockefeller's Democratic predecessors, Franklin D. Roosevelt.
Because Governor Rockefeller was not a lawyer, Mr. Douglass, as his counsel, played an outsize role as an adviser and in overseeing legislation. One such bill created the Narcotics Addiction Control Commission, which preceded the draconian Rockefeller drug laws and was aimed at rehabilitating addicts. Another, the Taylor Law, enacted after a disruptive walkout in 1966 by transit workers in New York City, banned strikes by certain public employees.
In 1971 the governor dispatched Mr. Douglass to be his observer during the 1971 Attica prison riot in upstate New York, which left 10 corrections officers and civilian employees and 33 inmates dead after exasperated officials ordered the State Police to end the siege. They stormed the prison in what one prosecutor later branded a "turkey shoot."
The governor agreed to most of the inmates' demands except for amnesty. Mr. Douglass later distanced himself from the final decision to retake the prison. "I was only an observer," he said.
Robert Royal Douglass Jr. was born on Oct. 16, 1931, in Binghamton, N.Y. His father was an executive with Link Aviation, famous for building flight simulators. His mother, the former Frances Behan, was the daughter of a mayor of Binghamton.
Mr. Douglass received a bachelor's degree from Dartmouth College in 1953, graduated from Cornell Law School and served in the Army. Hired by Mr. Hinman's law firm in Binghamton, he had already been retained to do legal work for the Rockefeller family when he was recruited to be the governor's assistant counsel in 1964.
He was counsel to the governor from 1965 to 1970 and secretary to the governor through August 1972.
In Albany he became closely involved in Rockefeller's presidential ambitions.
Theodore H. White, the author of "The Making of the President" series of books, described him as "the ablest of the Rockefeller delegate managers" during Rockefeller's 1964 campaign and "a man of extraordinary ability" when he assumed management of the off-again, on-again and ultimately losing 1968 campaign. Richard M. Nixon was nominated at the Republican National Convention on the first ballot.
After leaving government, Mr. Douglass was an executive vice president at Chase; a commissioner of the Port Authority of New York and New Jersey; of counsel to the prominent law firm Milbank Tweed Hadley & McCloy; a director of Rockefeller Center Inc.; vice chairman of a real estate investment trust in Greenwich, Urstadt Biddle Properties; and the chairman of Cedel International and Clearstream International, a securities clearinghouse.
In addition to his son Andrew, he is survived by his wife, the former Linda Ann Luria; another son, Robert; a daughter, Alexandra Brooke Metcalfe; and seven grandchildren.
Richard Norton Smith, the author of "On His Own Terms: A Life of Nelson Rockefeller" (2014), described Mr. Douglass in an interview as "a surrogate of sorts" who "had none of the baggage accompanying Rockefeller's relations with his own children."
"Yet another member of Rocky's Dartmouth mafia, he played to the governor's creative side," Mr. Smith said, "welcoming even his most offbeat ideas — bridging the East River to Queens at 42nd Street comes to mind — while employing humor deftly to change the subject or get around the dreaded N — for No — word."
But Mr. Douglass could also be an effective enforcer. After the assassination of the Rev. Dr. Martin Luther King Jr. in 1968, Mr. Smith wrote, Mr. Douglass's mandate was to twist legislators' arms for a bill that would empower a new state agency to override local zoning and build low-income housing for the poor.
" 'I know you don't like the bill,' Douglass told a legislator from Rockland County, 'but you're on the list of guys who are going to vote for it,' " Mr. Smith quoted him as saying. "The alternative, warned Douglass, was to wake up one morning to find the runway of Stewart Air Force base extended 'right through your goddamn district' (other versions of the story specifically targeted the lawmaker's house)."

---
Lady Malcolm Douglas-Hamilton, 1909-2013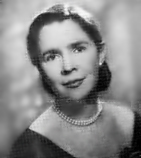 The American-Scottish Foundation® is deeply saddened to report the death of its last living co-founder, Lady Natalie Douglas-Hamilton, on January 14, 2013.

Details of her remarkable life can be found in her obituaries in the London Times and New York Times, both linked from our History page and below.

Our thoughts at this time are with her family and all those who were close to her. Lady Natalie's funeral service was held on February 2, 2013 in New York City.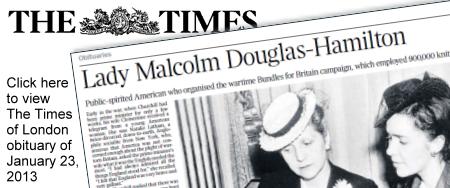 ---
Thomas Grotrian - 1973-2011
Thomas Grotrian was instrumental in developing the World's biggest massed pipe band in Edinburgh, 1995. It was his vision and determination that brought thousands of pipers and drummers together to march along Princes Street to raise funds for Marie Curie Cancer Care.

It was this event that became the inspiration for Pipefest and since 1995, massed pipe band parades under the Pipefest banner have taken place in Edinburgh, New York, Chicago, the US Grand Prix, Indianapolis, Rome, Paris, Shanghai and Nova Scotia. Over £750,000 has been raised for cancer charities by the players taking part and spectators along route. Highlights have included: the Millennuim Piping Festival attended by HRH Prince Charles; marching through Manhattan led by Sir Sean Connery and Mayor Bloomberg; marching under the Eiffel Tower in Paris; opening the US Grand Prix in a parade led by Sir Jackie Stewart; and Pipefest 2005 which attracted players from 32 countries.

After Pipefest 2005, Tom summed-up working on massed pipe band events: "we have had great fun". Indeed - there are many great memories, proud moments & fun times, all thanks to Tom!


---
Donald and Eleanor Taffner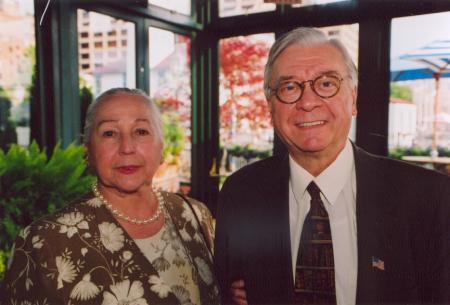 The recent passing of Donald Taffner, Sr. on September 6th 2011, less than a year after the loss of his wife and business partner Eleanor Taffner, is of great sadness to the American-Scottish Foundation®.

The Taffners were Life Members of the Foundation and receipients of the ASF Wallace Award in 2005. Leading philanthropists, they lent their support to many international charities and initiatives.


The Taffners were presented with the Wallace Award for their extraordinary devotion to the Glasgow School of Art and the preservation of its Charles Rennie Mackintosh archives. They were the first Americans without Scottish ancestry to receive the award.


Other past receipients of the Wallace Award include Lord Robertson of Port Ellen, Sir Sean Connery, the Forbes Family and Senator Trent Lott.


---
Cliff Robertson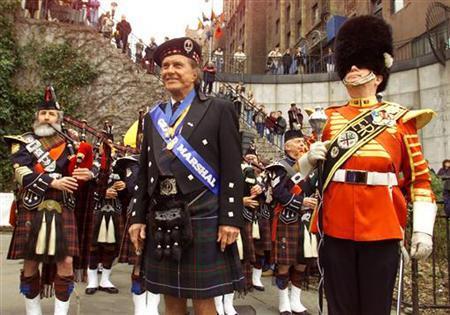 Cliff Robertson at Tartan Day 1999


The American-Scottish Foundation® is greatly saddened by the passing of Cliff Robertson. Best known for his acting roles, including his portrayal of John F. Kennedy as a wartime skipper in "P.T. 109" (1963), Robertson was a passionate lover of Scotland.


As Alan Bain, President Emeritus of the ASF explains, "Cliff Robertson loved Scotland and all that is Scottish and we were honored when he agreed to lead us in our very first Tartan Day Parade in 1998. We marched up Third Avenue from the British Consulate to the United Nations with Cliff as our Grand Marshall. He enjoyed it so much that he agreed to take on the task again the next year with the band of the Lothian Police Pipes and Drums leading us into Central Park up the Literary Walk. Without his support and the attention he garnered for us in those early days, the parade might not have grown to what it is today with thousands now lining Sixth Avenue".


The ASF were proud and honored that for many years Cliff Robertson served as a Vice President of the Foundation.