ASF Members and Friends can enjoy special ticket pricing for the Tony Award winning play, 39 STEPS, a hilarious and fast-paced comedy-thriller that consists of "100 breakneck minutes of sheer theatrical fun."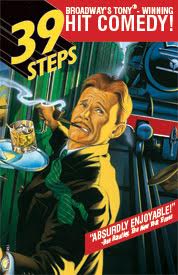 A show suitable for any age, 39 STEPS is a comedic spoof on the classic 1935 film. The hero of the play, the dashing Richard Hannay, must race to solve the mystery of 39 Steps and clear his name! The Tony® Winning Hit Comedy features just 4 talented actors in 150 different roles!
"ABSURDLY ENJOYABLE! Theater at its finest!"                                     ––Ben Brantley, New York Times.
"THE MOST ENTERTAINING SHOW ON BROADWAY"                          ––Liz Smith, New York Post.
To receive the exclusive discount on tickets use ASF;s special code LSP88. The offer is valid on all performances through 11/30/2015.
 $49 Tickets* Mon/Wed/Thu performances  (reg. $79)
$59 Tickets* Fri/Sat/Sun performances  (reg. $89).
For more information visit 39stepsny.com
To apply this exclusive rate to your order, visit Ticketmaster.com/THE-39-STEPS-NY-tickets/artist/2089037 then select a performance date & enter the code: LSP88.
You can also call Ticketmaster at 800-250-2929 and mention the code. Or, simply print this page and bring it to the Union Square Theatre Box Office at 100 East 17th St.
Don't forget to enter our online sweepstakes for a chance to win TWO FREE TICKETS. Learn how to enter here.
Photo via 39stepsny.com