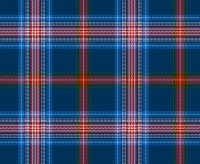 The American-Scottish Foundation is proud to share the new official tartan of the Foundation created by Brian Wilton of the Tartan Authority.  It is in three variations with Navy as the Official ASF Tartan, Raspberry as the ASF Dress Tartan and Black to be known as the ASF Manhattan Tartan.
As Brian Wilton of the Tartan Authority explained :
The American–Scottish tartan is …   "A vibrant design merging the Stars & Stripes of America with the Saltire of Scotland, to celebrate the very close cultural and family ties between the two countries, fostered for over half a century by the American-Scottish Foundation.
In homage to the principal figures whose dedication has nurtured and grown the Foundation to its vibrant 21st century role, elements of their tartans form the secondary focus of the design – black on green from the MacKay, green on red from the Scott and white on red from the Hamilton."