This January, The National Galleries of Scotland is hosting 'The Dramatic Landscape,' a 5-week painting course inspired by their exhibition 'Rocks & Rivers.'
'Rocks & Rivers' is an exhibition of thirteen paintings on loan from the private collection of Asbjörn Lunde, New York. This collection presents extraordinary landscape paintings by Norwegian and Swiss artists such as Johan Christian Dahl, Alexandre Calame and Thomas Fearnley. The paintings depict beautiful natural scenes from Scandinavia, Italy, Britain, and the Alps.
'The Dramatic Landscape' is a five-week course for adult students interested in learning landscape painting. Drawing inspiration from the Scandinavian and Swiss landscape paintings of 'Rocks & Rivers,' artist David Forster will explore how to capture 'the rugged drama of mountain, sea and rain.'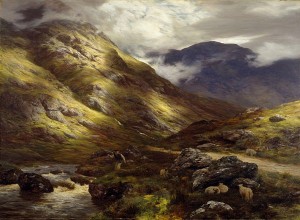 The course will begin on Tuesday, 12th January 2016, at 10.15am-1.15pm. All materials will be supplied for the classes. Booking must be made in advance at the Information Desk of the Scottish National Gallery on the Mound, or by calling the Gallery at 0131 624 6560. Find out more about booking here.
Visit the National Gallery website here.
Images via nationalgalleries.org.