Friends and members of the American-Scottish Foundation are invited to attend a performance of the National Theatre of Scotland's The Strange Undoing of Prudencia Hart at GPSCY at Yale University.
The International Festival of Arts & Ideas is bringing the riotous romp of live music and storytelling to New Haven, Connecticut, where it will be performed in a pub setting. The show will run from March 30–April 3, 2016, with shows at 3pm and 8pm. Early-bird tickets are available. Purchase them here.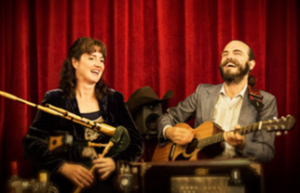 Performances of Prudencia Hart have sold out across Scotland, around the world and in New Haven in 2012. Now the show is back by popular demand, so don't miss your chance to take part in the fun.
"One wintry morning Prudencia Hart, an uptight academic, sets off to attend a conference in Kelso in the Scottish Borders. As the snow begins to fall, little does she know who or what awaits her there. Inspired by the border ballads—and delivered in a riotous romp of rhyming couplets, devilish encounters and wild karaoke—Prudencia's dream-like journey of self-discovery unfolds among and around the audience…"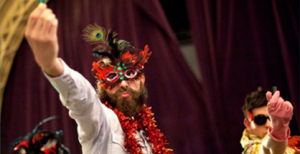 The Washingtonian Magazine calls the show "Wildly entertaining!" but includes a warning in its review:
"Patrons beware: Attending this show may result in you getting kissed, asked to join in a song, or worse. But it's all in good fun."
Created by writer David Greig and director Wils Wilson, the show is overflowing with barnstorming live music and a "terrific, inventive sense of fun…" (The Scotsman). The Strange Undoing of Prudencia Hart is simply not to be missed!
Find out more about the show here.
Images via artidea.org.