Scotland is one of the most amazing countries in the world to visit, where ancient history and unique culture meets stunning scenery and vibrant city experiences. Famed the world over for their hospitality, the Scots are a very welcoming people and the country is geared up to looking after you, the visitor, to their shores.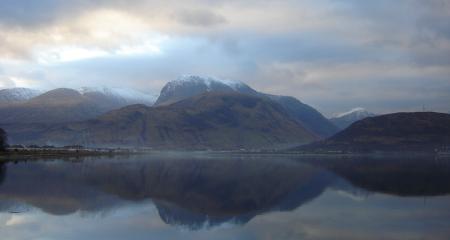 Ben Nevis

There are many aspects to Scotland, and just as many ways to see and enjoy your visit there; whether you're relaxing amid breathtaking landscapes, golfing on a famous course, or enjoying a few whiskies at a traditional distillery. You can plan your own trip with your own personal guide, join a tour group or drive around at your leisure. You can stay in a Bed and Breakfast, hotel, self-catering cottage or maybe you'd prefer a castle? The options are limitless and sometimes it's hard to know where to start, or how to get the very best experience. This is where we come in. The American Scottish Foundation has great working relationships with travel providers, hotels and tourism professionals, so let us help you plan the perfect vacation. Here are some ideas for you, to start your adventure off.
Whisky Tours
Famed the world over, Scotch Whisky is very much part of the fabric of Scotland's heritage; and we can design some great whisky tours, or include some distilleries in an overall vacation. So blend wonderful countryside, a rich history and a few drams.
Family History – Clan Heritage Tours
We can create a travel plan for you that allows you to either walk in the footsteps of your ancestors and see the world through their eyes; or we can put together a trip to the clan homelands of your forefathers. It is a journey of discovery and it's time you came home.
City Breaks
As well as the stunning scenery of the Highlands, Scotland's cities have a lot to offer from unique architecture and wonderful history to top attractions and vibrant nightlife. Whether it's Edinburgh or Glasgow, we can weave the city stay into a longer Scottish trip.
Personalised Vacation Packages
One of the best ways to enjoy what Scotland can offer is to plan a custom built tour, with your own personal guide to show you all the hidden gems and bring the stories to life. This is your tour, and we design the itinerary to fit your interests, budget and time. We will also give you lots of ideas and put you in capable hands from start to finish.
Golf Breaks
As well as whisky and heritage, Scotland is well known for its fantastic golf courses. We can put together an itinerary that gives you a chance to play a range of types and difficulties. So from Championship courses to well kept secrets, this is your place to tee off.
Self Drive Holidays
Sometimes you just like to take things at your own pace, and more independently and the self-drive option is tailored to provide this kind of holiday. We'll design the itinerary, give you options of things to see and do each day, arrange the car hire and book your accommodation. The rest is up to you.
Unique Experiences
Scotland has a lot to offer in the way of unique experiences and something just that little bit special. So, from adventure holidays to living like a lord in a fancy castle we can plan a vacation package that lies somewhat out of the box – so, come to an amazing country for an amazing experience – all courtesy of our experts.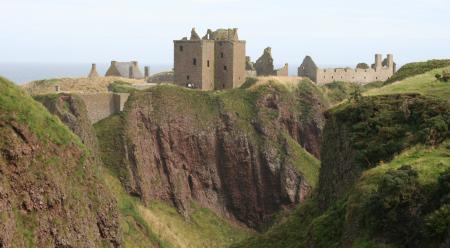 Dunottar Castle
15 Recommended Castles
Edinburgh Castle – Edinburgh
Eilean Donan Castle – Lochalsh
Blair Castle – Highland Perthshire
Castle Campbell – Dollar
Dunottar Castle – Stonehaven
Caerlaverock Castle – Dumfries
Threave Castle – Castle Douglas
Tantallon Castle – Dunbar
Floors Castle – Kelso
Kilchurn Castle – Argyll
Duart Castle – Mull
Glamis Castle – Angus
Balmoral Castle – Royal Deeside
Drum Castle – Aberdeenshire
Brodick Castle – Arran
15 Great Places to Visit and See
Culloden Battlefield – Inverness
Fairy Glen and the Quiraing – Skye
Mull of Oa – Islay
Torridon and Loch Maree
Loch an Eilein – Aviemore
Glen Nevis and Steall Falls – Fort William
St Magnus Cathedral – Kirkwall
Skara Brae, Stones of Stenness, Ring of Brodgar and Maes Howe – Orkney
Calanais, Dun Charlabhaigh and Na Gearrannan village – Lewis
Glen Etive and Glencoe
Glenaffric and Plodda Falls
New Lanark and Falls of Clyde – Lanark
Glen Doll and the Corrie of Fee – Angus
Applecross and Bealach na Ba
Beaches of West Harris – Western Isles
10 Fantastic Things to Do in Scotland
Dolphin Watching in the Moray Firth – Inverness
Boat trip to St Kilda – Western Isles
Walk across the Corrieshalloch Gorge – Ullapool
Whisky Tasting at an Islay Distillery – Islay
Boat trip from Elgol to Loch Coruisk – Skye
Ghost Walk on the Royal Mile – Edinburgh
White Water Rafting on the River Tay – Highland Perthshire
Play a Round of Golf at St Andrews – Fife
Visit the Kelvingrove Museum – Glasgow
Hillwalking Tour in the Highlands
10 Amazing Towns and Villages to Visit
Dunkeld – Highland Perthshire
St Andrews – Fife
Melrose – Borders
Culross – Fife
Oban – Argyll
Kirkwall – Orkney
Portree – Skye
Pennan – Aberdeenshire
Pittenweem – Fife
Tobermory – Mull
Travel information and advice
It has never been easier to travel to Scotland from the US, or from London as part of a wider British vacation. There are direct flights from several US and Canadian cities, including New York (Newark and JFK); or with one connection through Heathrow, Paris or Amsterdam. From London you have the option to fly (approx 1 hour flight to Edinburgh/Glasgow), or you can take the train from King's Cross (East Coast) to Edinburgh and from Euston (Virgin) to Glasgow (journey time – 4 to 5 hours).
Travelling around Scotland is easiest if you have a car (there are several good rental companies); and the roads are good, especially the highways between the main cities (although in parts of the Highlands and Islands some of the roads are only one lane, but two way). Public transport within and between the cities is excellent, and on the whole very economical. There is a train service between Edinburgh and Glasgow every 15 minutes during the day (although the trains are not 24 hours). In rural Scotland (especially the Highlands) public transport is patchy and infrequent, but with some perseverance you can pretty much travel to any town or village. Accommodation across the board is of a high standard; with the famous Guest-House bed and breakfast network one of the best in the world. Scotland is a county geared for tourism, so the signposting, information service, attractions and facilities are world class. Here are some more tips for visitors to Scotland:
Scotland is part of the United Kingdom, and so:
• The time zone is GMT (+1 hour in the summer) / +5 hours of EST
• The international dialling code is 011 44 (from the US). Calling the US from the UK the code is 001
• The currency is Pounds Sterling (£) – NOT the Euro
• English is the language spoken (even if it doesn't sound like it); although you may hear Gaelic spoken on the islands (esp. Lewis, the Uists and Skye)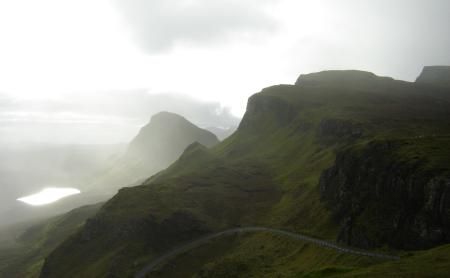 Bealach Cuithraing
Scotland is often considered a wet country where it always rains, this is not actually the case; although some areas do receive more than others:
• Edinburgh receives around 26 inches of rain a year (less than Rome or London). Glasgow gets around 50 inches per year (same as New York)
• Snow can fall at low levels from October through to April, especially in the Highlands
• Scotland's weather is unpredictable, so bring a range of clothes
• In June the sun sets around 10.30pm / in December around 4.00pm
And finally . . .
• Tipping is not as much part of the culture as it is in the US, but for good service it is appreciated
• It is recommended that you take out travel insurance
• Plan your trip in advance – although Scotland is a small country it can seem to take longer than you'd expect to go from A to B on a map
• All road signs are in miles (not kilometres)
• You should expect to pay around £40 per person per night for a Bed and Breakfast; £2.80 for a pint in the pub; around £5.80 per Gallon (British Gallon) of gas (approx. $9.20); and £8 – £12 for a decent pub meal