VISITORS – if you would like to buy tickets for Bannockburn…
Bannockburn Live: Tickets for the Weekend are now on sale
Saturday 28, Sunday 29 and Monday 30 June 2014
As part of Homecoming Scotland 2014 celebrations, the event will commemorate the 700th anniversary of the battle of Bannockburn, and mark the opening of the new National Trust for Scotland state-of-the-art visitor centre at the heritage site.
Tickets for the event are now on sale and costs per day are as follows:
Adult – £20;
Concession/Child – £12.50;
Family – 2 adults and 2 children (under 14 years old) – £55 (plus booking fees).
There is also the option to purchase "The King's Ticket" for £75 per day, a bespoke ticket which will enhance the visitor experience and features the following: exclusive entry to the Battle of Bannockburn visitor centre; designated seating at the re-enactments; a souvenir gift bag and a buffet Scottish Afternoon Tea.
For more information including how to purchase tickets, please visit www.bannockburnlive.com and register to keep up to date with full programme announcements.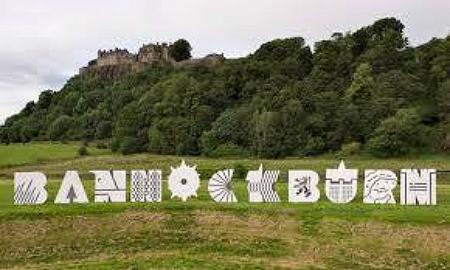 IF YOU ARE A CLAN – wanting to register for a tent…
Bannockburn Live: A feast of food, music and history
Saturday 28, Sunday 29 and Monday 30 June 2014 as part of Homecoming Scotland 2014
Medieval warriors, families, clans and history fans will commemorate the 700th anniversary of the Battle of Bannockburn, and mark the opening of the new state-of-the-art visitor centre at the heritage site.
The 3 Day Program has just been announced, tickets are now on sale and include an exclusive offering for Clans to purchase pitches within tented structures for the 3-days as part of a bespoke "Clan Village". Cost £300 plus vat for three days.
Visit www.bannockburnlive.com for more information on the event.
The deadlines for registrations ARE TIGHT ….
If you have not already emailed to register your interest in taking part, please answer the Call to Arms on www.battleofbannockburn.com BY JULY 15, 2013.
You will be sent an application form to complete and return by August 1, 2013 to be considered for a Clan pitch.
All applications will be assessed and confirmations will be sent to the selected Clans by August 16, 2013.
As a contribution towards infrastructure, a fee of £300.00 plus vat is payable to the event for a Clan Societies pitch. This fee will cover attendance at all three days of Bannockburn Live (please note Clans must be able to participate on all three days from 10am – 6pm) and as part of this fee, will be supplied with:
• An individual space measuring 3m x 3m within a tented structure;
• 2 x 6ft trestle tables;
• 2 x folding chairs;
• 4 x Bannockburn Live passes (worth £80) for your working personnel which will allow access to the arena to be able to enjoy the performances on offer;
• A dedicated Clan Liaison to manage the Clan Village and act as your point of contact at the event;
• Power if required (must be specified in advance); and
• An opportunity to sell Clan merchandise (offering subject to approval by event organisers).
Please note, Clans will be required to be on site in advance to set up their ptches (logistical arrangements will be advised for selected Clans).