Edinburgh Zoo celebrated Christmas early this year when Santa Claus himself flew in and delivered special treats to the animals!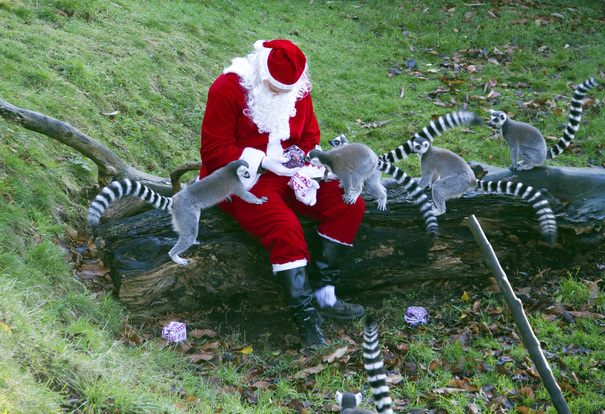 Lucky lemurs and sun bears were treated to some special meats, nuts, and berries in celebration of the holidays – and the photos are absolutely delightful.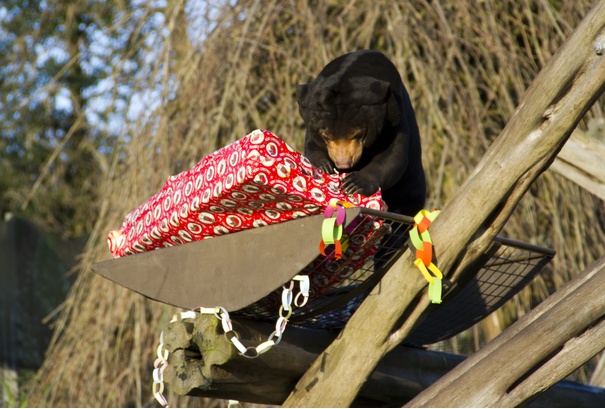 "Celebrating holidays with the animals is a fantastic way to think creatively about the enrichment we give to them," said Jo Elliott, Animal Collections Manager at Edinburgh Zoo, said of Mr. Claus's visit.
"This interaction is a great environmental enrichment for the lemurs as they really do love the attention. Sun bears may be the smallest species of bear, but their size is definitely deceiving as whenever we put real pine Christmas trees into their enclosure, probably their favourite enrichment device, they wrestle them to the ground. Christmas will literally be coming early for the boys as they'll be getting two lots of their favourite enrichments."
The holiday celebrations didn't stop there. The Zoo's giant panda and one of its most famous residents, Tian Tian, received a special treat of his own: a special Christmas panda cake!
Baked specially by panda keeper Alison Maclean, the cake is formed into the shape of a Christmas tree and drizzled with honey. The secret recipe, gifted from the Zoo's Chinese colleagues, and is not only a panda favorite, but is also nutritious. 
Edinburgh Zoo is home to the UK's only giant pandas, Tian Tian and Yang Guang, who have been living at the Zoo since 2011 and are part of the Royal Zoological Society of Scotland's ten year giant panda partnership with China. The partnership supports the reintroduction of giant pandas into the wild alongside a host of other education and conservation programs in the UK and China.