On Friday, January 16, 2015, the American-Scottish Foundation invites members and friends to join for the 20th annual Burns Night celebration, held in association with the University Club, New York.
Join us as we honor and celebrate Scotland's national bard, Robert Burns, in words and music. Save the date! Reserve your tickets for a wonderful evening in true Scottish style and tradition!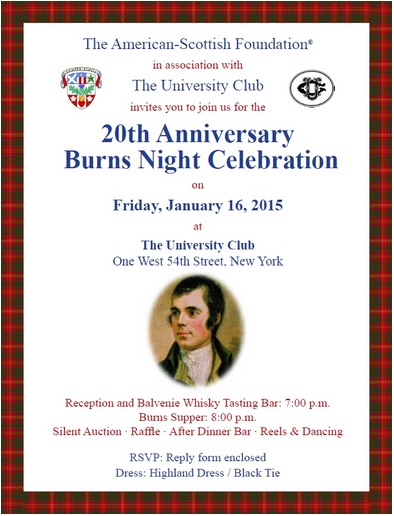 In celebration of Burns Night, AboutScotland is trying to break the Guinness World Record for the biggest version of people singing Robert Burns's most famous poem, 'Auld Lang Syne' – and they'd love your help!
To join us in contributing to their video compilation, visit Scotland.org's website to hear Whisky Kiss's recording of the song, get a feel for the tempo, download an audio track of background music, and learn the lyrics. Then, record a video of yourself or friends singing the lyrics with the provided background music and send it in before January 10! Submission instructions can be found on their website above.
We hope you'll join us in attempting to break this world record and honor Robert Burns in true Scottish style!