Over 400 years after her death, for the first time later this spring, a Mary, Queen of Scots monument is to be erected in Scotland, reports BBC News.
Crafting the statue in the Powderhall foundry in Edinburgh, the sculptor, David Annand, commented that bronze monument, will stand taller than the queen herself did, measuring about 7 feet tall.
The Marie Stuart Society began a campaign to create a statue two years ago. President of the Society Margaret Lumsdaine said: "I think it was a gross mistake for generations not to have recognised her. She was our last sovereign queen."
Once the statue is completed and unveiled, it will find a home at Linlithgow Palace, where Mary was born in 1542.
Dr. David Mitchell,  Historic Scotland's director of conservation, said of this choice of location:
"What's particularly interesting about this proposition – and we considered it very carefully- is it's a very traditional statue and we insisted that it was undertaken using traditional construction techniques. Our apprentices have been involved. But it's also been cast in the same way that statues have been cast for literally thousands of years."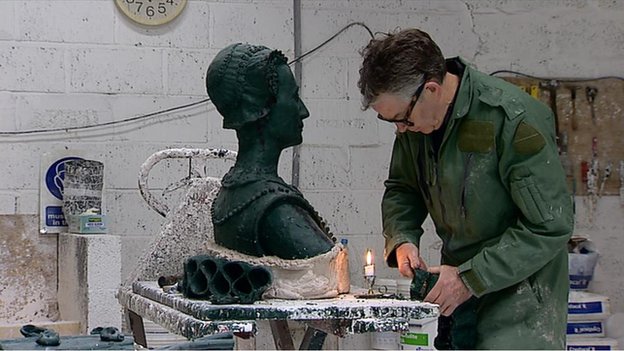 Image courtesy of BBC News
Read more at BBC.com.