IRN-BRU IN CUPCAKES? YES – it can work – but it has taken Baking With Granny a few trys to work out the "secret" to Scotland's favorite fizzy drink being a successful cupcake…
AND the secret is: Boiling down the Irn-Bru into a SYRUP
… "boiling a 2 litre bottle of Irn Bru, texting Granny saying, "You know when you're 50% sure you have a good idea & 50% sure you're completely mad? Thankfully though, it worked!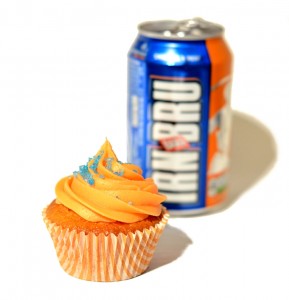 • Place your Irn Bru into a pot large enough to hold it & bring it to the boil.
• Boil until the Irn Bru reduces to around a 10th of its original volume. It took around 2.5 hours for 2 litres to reduce down to 200ml but obviously the less Irn Bru you use, the less time it'll take.
• Once it's ready it'll be a thin syrup consistency and a deep orange colour. Remember it will be very hot and as such will be a bit thicker once it cools down.
And there you have it! Your very own Irn Bru syrup, ready to bake into cupcakes. "
The receipe can be found at Baking with Grannys website … and now all of us can enjoy IRN-BRU Cupcakes http://bakingwithgranny.co.uk/recipe/irn-bru-cupcakes/
Enjoy – from The American-Scottish Foundation® Team.