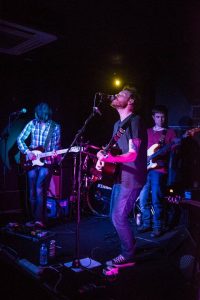 Steve Grozier is a singer-songwriter and musician from Glasgow, Scotland. Scottish though he may be, his sound is at home in America, with acoustic, alt-country instrumentals to back his warm, buttery voice. His songs settle over you like the southern heat of a Tennessee summer night.
Steve, who sings and plays acoustic guitar, is his band's frontman. He wrote all of the music and lyrics of their debut EP, "Take My Leave." Roscoe Wilson sings backing vocals and plays acoustic guitar, electric guitar, and the lap steel guitar, while John Dunlop plays the bass. Dillon Haldane played drums and percussion the EP, but left the band shortly after, and Pete Colquhoun is now the bands drummer.
Steve and his band recorded their country-tinged debut EP "Take My Leave" in September 2016, and are currently busy recording the follow up EP "A Place We Called Home."
In one of the tracks from their debut EP, "Drink Before Dawn," Steve describes stopping for a cup of diner coffee to stay awake while he's on the road. Listening to the country ballad, you can picture the open highway stretching before your headlights. Although this experience is not unique to American drivers, it is a theme that crops up time and again in Americana.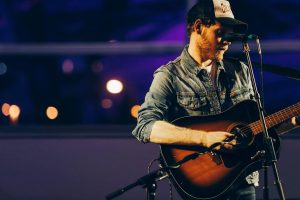 "Ringing of the Bells" is another track from the debut EP that really invokes a Southern feeling. What with the singer's slight twang, and his use of small-town imagery, you might have just happened upon Steve in a Nashville bar.
We wanted to learn more about the man behind the music! In our interview with Steve, below, we learned just what it was that drew him to Americana, and inspired his country sound and imagery.
---
First, could you tell us a bit about where you're from and how you started getting into music?
I was born in Edinburgh, Scotland. I was only there for a few years before my family moved to Bishopbriggs, a small suburb with a population of around 20,000, just north of Glasgow, Scotland. I lived there until I was 18 and old enough to move to the city for University.
The house I grew up in was filled with music. My dad had a vinyl and cassette deck that was always on. And, when we'd take rides in the car on weekends or school holidays there was always music playing. I remember thinking even then that music was this magical thing.
Then when I was around 15 or 16 I found my dad's semi-acoustic guitar. A cheap Encore. It was horrible to play. The action was so high and it sounded dreadful. But, it was the first guitar I'd ever held and that was it. I knew I had to learn to play.
What about your band, how did you get together? Are you all Scots?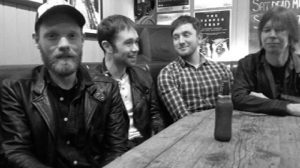 Yes, we're all Scots. We're all from the country's central belt. I actually met both Roscoe and Pete via the internet. And I met John via Roscoe. I've known Roscoe for over ten years. When I was starting to play open mic nights and gigs in bars I placed an advert on Myspace or Gumtree, I can't recall which, looking for a pedal steel player. Now, the chances of finding someone who can play that instrument well in Scotland are pretty rare, especially back then. Roscoe could and we've been friends ever since.  
When 2016 rolled around and I was looking to put a new band together Roscoe was first on my list to call. He was playing with a band and John was the bass player. I put a post-up on Facebook looking for a drummer and Pete got in touch. The rest as they say is history.   
Because we're an organization that serves as a bridge between Scotland and the US, the fact that you're a Scottish Americana artist is something we really love! What does Americana mean to you?
I think the term Americana is a relatively new one. When I first started writing and playing it didn't exist, or it wasn't widely used. They'd call the style of music folk, country or alternative country. The AMA defines Americana as contemporary music that incorporates elements of American roots music styles. For me, it isn't a conscious decision to write in a particular style and I'm not that interested in what label is used. I think where the term Americana is useful is in fostering a sense of community and helping bringing attention or exposure to independent artists.     
American music obviously inspires your work! Who are some artists that inspire you? Any Scottish artists?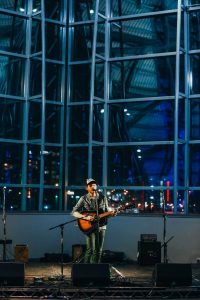 Unsurprisingly, I listen to a lot of American music. Growing up my dad had records by Bruce Springsteen, Bob Dylan, Lynyrd Skynyrd, The Byrds, The Grateful Dead, Creedence, and a lot of acoustic blues. So, I was immersed in American music and culture from a young age. When I got around to buying and exploring records for myself I gravitated towards artists and bands that sounded like those I'd heard at home.  
I mean, I listen to music from across the spectrum. The colour of the music isn't as important as how it speaks to me or makes me feel. The music from Scotland that interests me the most are bands like Teenage Fanclub, Arab Strap, The Jesus and Mary Chain, Mogwai, and The Vaselines.   
A lot of Americana music has themes of travel and wayfaring- would you say that plays a part in your music?
Absolutely, I lived and travelled around Canada and the US for two years. One year on the east coast and one on the west. During that period I wrote a lot. Books full of prose, poetry and songs. Most of which will never be published or recorded. I was always interested in the writings of Jack Kerouac and the peripatetic lifestyle that he describes.  When you're travelling it's a different way to be in the world. I think one of the reasons I'm drawn to Americana music is because the songs are often narrative driven. They're stories that take you on a journey to a different place or time.  
What do you think about what music means for American-Scottish relations- or just in terms of connecting people in general?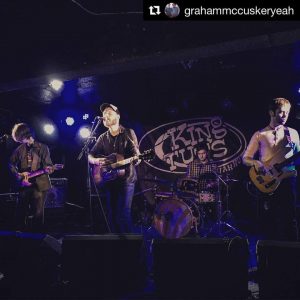 For me, my closest friendships have been formed through music. Be that playing in a band, going to shows, listening and discussing records. I think a shared passion for music can really enrich a relationship. There's this great Hold Steady song called Stay Positive and it's about music's power to bring people together. The make the analogy of music being like religion when they sing "And the sing along songs will be our scriptures."
Then there's this great lineage of Scots and Irish who settled in the Canadian North East, the Appalachians and even North Carolina and Alabama in the 18th century. The Celtic folk songs from Scotland and Ireland would form the basis of what we now call bluegrass, country and Americana music. An interesting thing is now happening in the UK where we're seeing British artists finding inspiration in American country music.
Do you hope to bring your music to the states?
I would love to. I don't see it happening in the foreseeable future, but it's definitely a longer term ambition.