The Kelpies sculptures of Falkirk, Scotland's newest cultural landmark, have recently been awarded national honors.
The Kelpies recieved the prestigious honor of being named the winner of the Saltire Society 2014 Civil Engineering Award.
Other nominations for the award included the SSE Hydro Arena in Glasgow, Waverly Train Station Renewals in Edinburgh, the Shore Road Bridge Reconstruction, and the Glentarken Bridge. The award, first given in 1981, was established to showcase and honor the greatest achievements in Scottish engineering.
Convenor of the awards panel, Gordon Pomphrey, said: "There is no doubt that the Kelpies have quickly become another iconic must-see visitor attraction and will be an internationally recognised landmark for many years to come."
Created by artist Andy Scott, the 30 meter horse head sculptures reside in Helix Park, while the Kelpies Maquettes, two sets of 1:10 scale models of the larger sculptures, rotate locations, having been displayed locally in Scotland and internationally.
ASF is proud to have helped bring the Kelpies Maquettes to Bryant Park during New York Scotland Tartan Week 2014.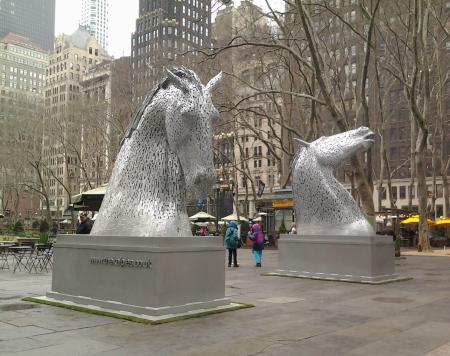 The Kelpies Maquettes in Bryant Park