VisitScotland recently launched a search for Scotland's own 'Ambassadog,' an international canine ambassador to promote Scotland as a destination that is as pet-friendly as it is beautiful. The tourist board, which is a partner organization of The American-Scottish Foundation, was looking for a well-behaved dog with an adventurous side and tons of #ScotSpirit.
VisitScotland received over 200 applications from all over Scotland, and the entries ranged from small city dogs to huge Highland hounds. Working with recruitment agency Denholm Associates, VisitScotland has narrowed the competition down to nine furry finalists. Meet them here:
1. Casper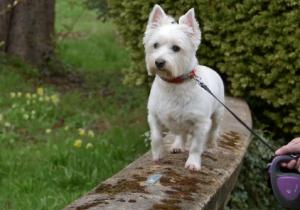 Casper is a three year-old West Highland Terrier from Edinburgh. His owner, Samantha Grant, says that the Westie has travelled all across Scotland since his puppyhood, visiting destinations like the Isle of Mull, Onich, Portpatrick, and the West Highland Way.
Take a look at Casper's own blog, 'Scotland with the Wee White Dug.'
2. Sydney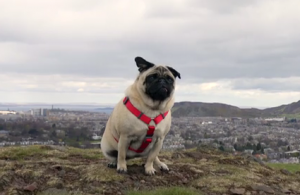 Sydney is a four year-old Pug from Edinburgh who enjoys walking up Arthur's Seat, Blackford Hill and the Pentland Hills with her owner, Kristyn Lavery.
Kristyn calls the two of them "Scotland's adventure couple," as they love hopping in the car and speeding off to adventure.
3. Cassie
Cassie, a three and a half year-old dog, is a Patterdale Terrier and Collie mix from East Lothian. Her owners, Andrew and Carol Duff, rescued Cassie from a stray-shelter in Romania.
Cassie loves adventures, and has been on walks everywhere from the Tyningham Beach to the Lammermuir Hills.
4. Manny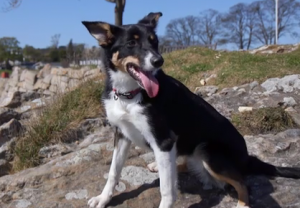 Manny is a charming 11 month-old Border Collie puppy from Fife. She and her owner, Vicky Gorn, enjoy playing sports and embarking on adventures.
Manny and Vicky even attends occasional agility classes together.
Check out Manny's outdoor adventures on her Facebook.
5. George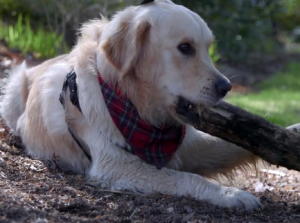 George is a one year-old Golden Retriever from Glasgow. HIs owners, Emma and Victoria Rae, love to take him on adventures across Scotland.
One of his favorite travel destinations is Loch Lomond, where he loves to splash around.
George already has 15.2k followers on his Instagram page, @golden_george_.
6. Bertie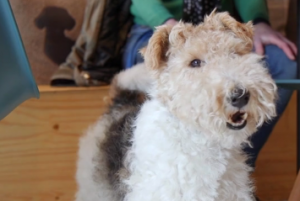 Bertie, a six year-old Fox Terrier, lives in Aberdeen with his owner, Dr. Gail Riekie. Bertie's official name is Granddach Beinn Allign, after the Torridon Munro.
The fox terrier has travelled all over Scotland, visiting dog-friendly cafes in cities like Aberdeen and exploring the likes of Glen Tanar and Morven on Deeside.
7. Blaze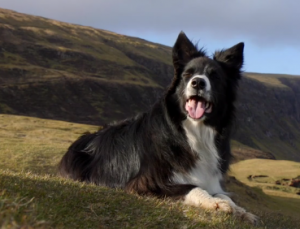 Blaze the four year-old Border Collie is from the Isle of Skye, where he is a local celebrity. His owner, Steve Millar, often takes Blaze up huge hills and Munros.
In 2014, the pair raised over £1,000 for the Glencoe Mountain Rescue through the sales of a calendar featuring the adventurous pup.
Check out Blaze's adventures on his twitter.
8. Fenton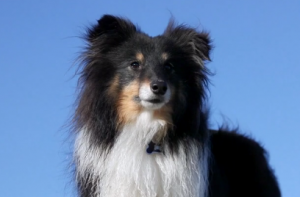 Fenton is a four year-old Shetland Sheepdog who lives in Shetland with owner Kaylee Robertson. This adventurous little dog loves to explore, and is often found splashing through the crashing waves on the island shores, or else running round the rolling hills.
You can see Fenton's Shetland adventures on Kaylee's Instagram @Hobbitpaws.
9. Cluanie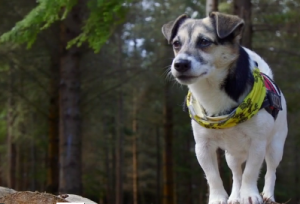 Cluanie the four year-old Jack Russell is a famous little dog from Inverness. Cluanie became famous after travelling up Ben Nevis in a kilt.
Cluanie's owner, Micky Jones, has taken the tiny dog up 59 Munros in the last two years alone. Follow Cluanie's adventures on his Facebook page.
VisitScotland and Denholm Associates will now work with TV personality Kaye Adams and the charity Dogs' Trust to pick the winning finalist. The official Ambassadog will be announced later this month, after interviews with the finalists. Besides fame, the Ambassadog and their owner will win a unique dog-friendly holiday in Scotland.
Learn more about the Ambassadog finalists, and watch their nominee videos here.
Scotland is a wonderful travel destination for humans and animals alike. If you and your pet are interested in visiting Scotland, you will need proper documentation. Find out more about Scotland Pet Passports here.
Visit the VisitScotland website for more information on canine vacation fun. VisitScotland has a variety of pet-friendly holiday itineraries for those travelling to Scotland with a pet.
All images via the VisitScotland Ambassadog videos on Vimeo.com/butterflyfilms.