For the Love of Scotland by Pamela Palongue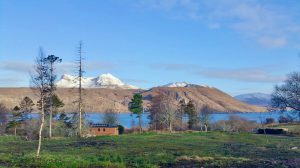 Have you ever visited a place you've never been to and it felt more like home than the place you were actually living? Linda and Mike Michiels had this experience about 20 years ago when they first visited Scotland.
The couple are Belgian nationals, who found themselves returning to Scotland two or three times a year for the breathtaking landscape, the friendly natives and the peaceful quiet of the Highlands.
Soon, they began to dream of coming to Scotland to live. This was especially remarkable, given that they owned a business in Belgium and had close family there. They faced communication challenges as well since they were not fluent in English at the time.
In 2016, Brexit passed and Europeans realized that seismic changes were in store for those who chose to live and work in the UK. But even the uncertainty of changing laws did not deter their enthusiasm or their passions for their dream of living in Scotland.
In 2019, they closed their business in Belgium and headed to their new home, a small crofter cottage on the coast of Little Loch Broom near Durnamuck. They purchased a tiny house they found at a glamping festival that had been built by a company called Tiny Eco Homes UK. It would fit perfectly in the natural surroundings, and could be let to people on holiday.
Next, they contracted a local artisan named Graham White from Kilravock Castle to build a custom show wagon. Linda and Mike came up with a design, and he was able to bring their drawings to life.
They based the look of it on the train wagons of the Old West, and named their new home the 'Western Wagon.'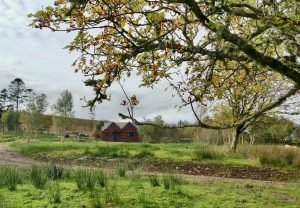 With two innovative lodges for people to book, combined with the beautiful Highlands, they were sure it would draw visitors from all over the UK and mainland Europe. Of course, they hadn't planned on a worldwide pandemic…
Despite being ready to open for Easter 2020, travel restrictions and lockdowns prevented them from accepting guests. Ever resilient, the Michiels decided to use the extra time to build a pancake barn for visitors who might not want to cook while on holiday.
It looks as though they may finally be able to accept their first guests in April 2021, one year after their original planned opening date.
Many ASF members in the United States will no doubt identify with the Michiels' unrelenting pursuit of the dream to live in Scotland. It can be a hard place to forget. We hope that Linda and Mike's patience and tenacity is rewarded with much success! To see more photos of the lovely world they've created in the Scottish Highlands, visit their Facebook page, Sound of Durnamuck.