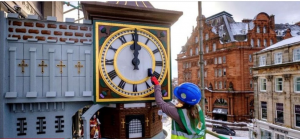 Binns Clock is a landmark within Edinburgh, United Kingdom and is very much more than just a Clock.
Binns Clock sits high above the heads of passersby at the intersection of Prince and Hope Streets in Edinburgh
Oh, if only it could talk – the stories it could tell! This strategic corner has been the rendezvous point for friends, lovers, business associates and new acquaintances for decades, as they happily agreed to meet beneath its musical tones.
This iconic clock has been undergoing a full restoration by the Cumbria Clock Company, bringing the clocks faded paint colors back to its original appearance.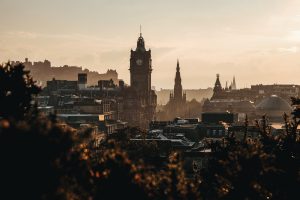 And on February 14 of this year the restoration was completed and the clock was unveiled. Valentine's Day, was chosen for the unveiling to honor all those who've met there, and for all those hopeful lovers who will meet there in the future.
Maybe soon, we can all gather beneath Binns Clock once again.
Do you have your own story about meeting someone here?