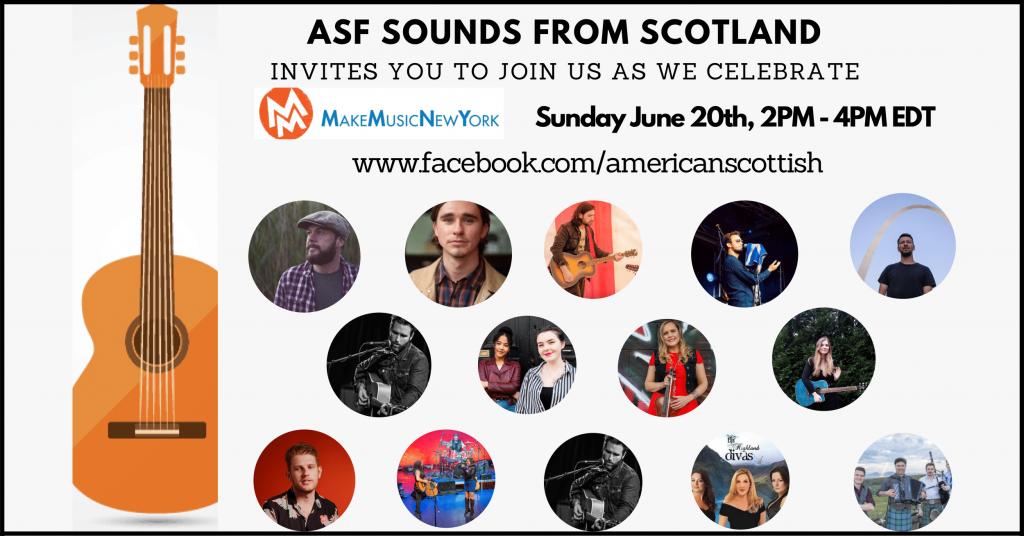 Make Music New York is New York City's only music festival for the people 
and by the people and their mission is to celebrate the 

vibrant

 and diverse music culture of New York City, bringing communities together in celebration and providing a platform for music to happen all over the city.
With over 1000 performances throughout NYC each year Make Music New York is a true celebration of music, culture and community.
Make Music New York celebrated the Summer Solstice on June 21st this year and in this special edition of Sounds From Scotland the American-Scottish Foundation pays tribute to New York City and the bonds of friendship with Scotland through music and greetings from Scottish musicians who have performed in New York City and engaged with the ASF's music and arts bursary programs. 
We are joined in conversation with James Burke, Executive Director of Make Music New York and Camilla G. Hellman, MBE, President of the American Scottish Foundation.
We have music and greetings from wonderful Scottish musicians including

Alan John Frew

,

Ainsley Hamill

,

Craig Weir

of

Gleadhraich

,

Jamie McGeechan

of

Little Fire

,

John Rush

,

Kodak Ghosts

,

Laura Mcghee Music

,

Lisa Kowalski

,

Mike Nisbet

,

Nick Morgan

,

Noisemaker

,

Reely Jiggered

,

The Highland Divas

and

Whisky Kiss.
——————————————————————————————————————————————————————————————-
MAY 2021
Our guests this month are:
Craig Weir is an award winning bagpiper and singer-songwriter from Dundee, Scotland who has performed with music legends such as Queen, Bay City Rollers and The Libertines. With performances throughout the world including NYC Tartan Week, Germany, China and Belgium. Craig is an ambassador for World Peace Tartan and 21st Century Kilts. Craig shares his influences, inspirations and experiences of performing solo and with Gleadhraich and Craig Weir & the Cabalistic Cavalry.
Daniel Gillespie from chart topping Scottish sensations Skerryvore joins us to talk about how the band have been keeping busy over the last year with number 1 records, their recent ONBOARD performance, producing their own music festivals and about how the unique sound of Skerryvore comes together.
Hosted by Jamie McGeechan
New Music Report with Cameron Steer
——————————————————————————————————————————————————————————————-
APRIL 2021
Sounds From Scotland Program April, 2021
Join us for music, news and interviews as part of our monthly Sounds From Scotland program.
On this episode we are joined by award winning Scottish singer Iona Fyfe who shares with us her work to promote awareness of the Scots language and music in Scotland and to international audiences.
We are joined by Stuart Cassells, founder of the globably renowned Red Hot Chilli Pipers. Stuart has been at the forefront of promoting bagpipes and Scottish culture across the world for many years. With music videos from Lisa Kowalski and John Rush. Intro music by Colin Hunter (Red In My Painting)
——————————————————————————————————————————————————————————————-
Sounds From Scotland – Jamie McGeechan and Scott Macdonald. Live music on The American-Scottish Foundation® Facebook page
– Jamie McGeechan aka Little Fire, originally from Ayr in Scotland has performed With Dougie MacLean, Eddi Reader and has released two albums of original songs, High Hopes and Midnight Kingdom.
– Scott Macdonald is a Scottish singer/songwriter from Glasgow.
He has toured throughout Europe & Canada & US. His latest album "When this is all over' was written and recorded during the first virus lockdown last year from a WW2 air raid shelter he has in his back garden which he converted into a studio during the lockdown.
——————————————————————————————————————————————————————————————-
Saint Andrew's Day Concert November 30th Sounds From Scotland Album Launch 
American Scottish Foundation Saint Andrew's Day Celebration Concert and the launch of our Sounds From Scotland album!
Performing for us today are:
Buy the Sounds From Scotland album at