An Important American Document's Past and Present Scottish Ties
This rare signer's copy of William Stone's printing of the Declaration was remarkably found in a Scottish ancestral home by Freeman's sister auction house, Lyon & Turnbull, headquartered in Edinburgh, and will be offered at Freeman's in Philadelphia on July 1.
Founding Father Charles Carroll of Carrollton's copy of William J. Stone's printing of the Declaration of Independence—which will be offered at Freeman's on July 1—was recently found within a pile of historical papers in a Scottish ancestral home by Freeman's sister auction house, Lyon & Turnbull, headquartered in Edinburgh.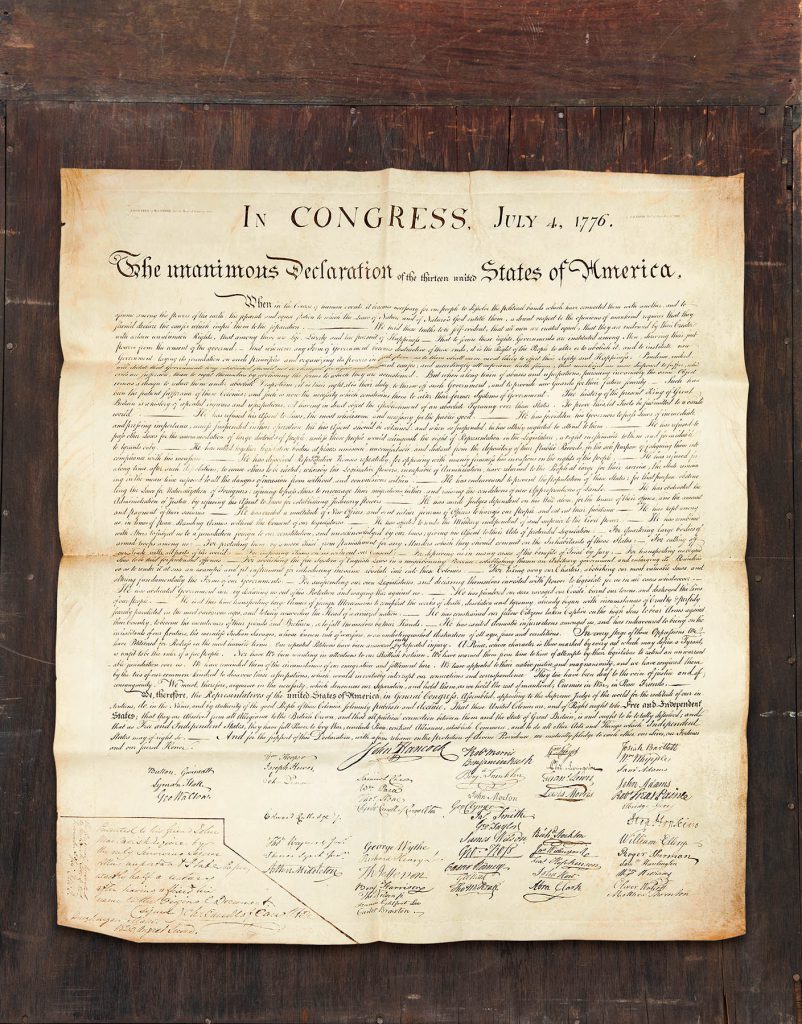 This occasion of a Stone facsimile turning up overseas has precedent in a copy that was found in France, though that copy did not have the added significance of belonging to an original signer. It may seem remarkable, unfitting, and even ironic that such an important and distinctively American document should resurface not only outside of the United States, but also in a country that formed part of the very kingdom that our nascent nation severed connection with in 1776. The location of the present copy's rediscovery, however, is rendered less surprising by its provenance.
The document is signed, dated, and annotated on the front, lower left corner by John MacTavish (1787-1852)—a Scottish-Canadian diplomat and businessman who served as British Consul to the State of Maryland and married Charles Carroll's granddaughter and later executrix, Emily Caton (1794/5-1867).
The two inscriptions jointly elucidate how each of Charles Carroll's two copies passed through MacTavish's hands: One copy was presented to him by Carroll in 1826 and then gifted to the Maryland Historical Society (now the Maryland Center for History and Culture) in 1844; this present copy presumably passed to him and his wife by descent after Carroll's death in 1832. Though the couple primarily resided and eventually died in Maryland, John's ancestors in Scotland, Emily's relations in Britain, and their first son Charles Carroll's diplomatic career in the United Kingdom all provided ample opportunity for the document's subsequent transatlantic travel.
Though undoubtedly a symbol at the very core of American identity, the original Declaration of Independence was, in fact, signed by eight men who were not native-born Americans; James Wilson and John Witherspoon both hailed from Scotland, while many other signers—not to mention important politicians and notable figures instrumental in shaping the young country—were of Scottish descent. The present copy's links to that country through both its more distant and most recent past reminds us just how interconnected America remained with Great Britain in spite of our newfound freedom.
Freeman's is delighted to offer this significant piece of American history fittingly just ahead of Independence Day in Philadelphia, the birthplace of our country. In recognition of the document's Scottish/American ties as well as Freeman's ongoing alliance with Lyon & Turnbull, the auction will be led by Freeman's Chairman and Scotsman Alasdair Nichol.
View the auction and register to bid and watch the auction live on July 1st here.