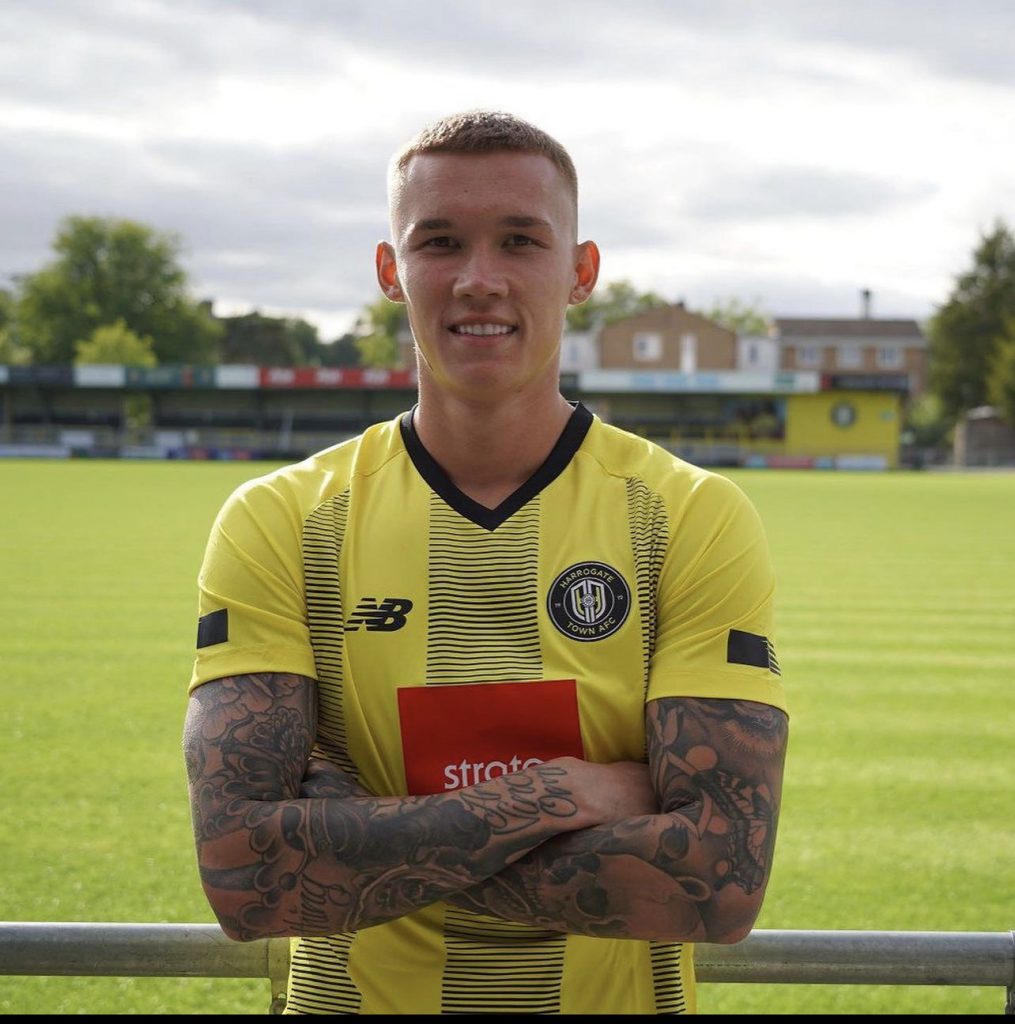 Scots have been coming to America seeking experience playing and coaching for about as long as the game has been in existence on these shores; in fact, many give credit to the Scots for founding the game and would probably cite the Kearney Scots of New Jersey as a key point in their argument. Scots' involvement in the game of "Soccer" as it is called here in America isn't just historical, its current and larger than ever, especially over the last twenty years or so where we have seen an influx of young Scots coming to America to pursue their academic and athletic dreams in the NCAA (National Collegiate Athletic Association) through receiving "Soccer Scholarships" from colleges in America after graduating high school back home.
These journeys allow young players who might not have had the opportunity to continue playing at a high level back in Scotland to come out to America and have world class athletic facilities and coaches provided by the universities and colleges. Alongside the great development opportunity athletically, these young men and women also have the chance to earn a bachelor's degree during their four years of competing at their sport. The NCAA is a highly respected governing body to compete under, and so often can provide further opportunities as a pathway to professional sport for athletes who have the potential to take the next step. Over the next few months, I will be highlighting some notable young Scots who have come to these shores to play a variety of sports on scholarships and tell the stories of their journeys. Starting with my friend, Kyle Ferguson.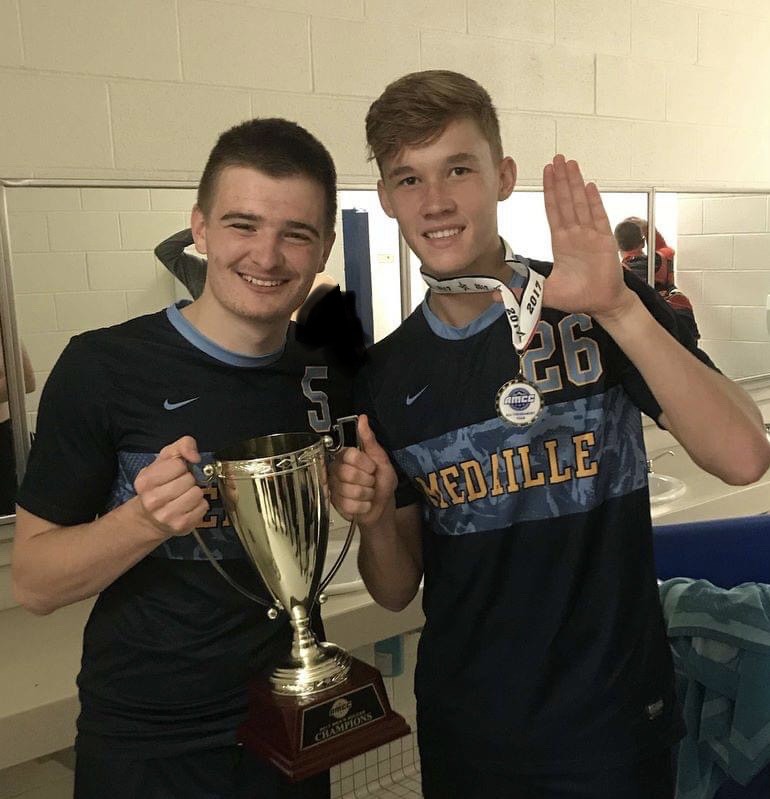 As many of you will know, I myself had the opportunity at seventeen years old to leave Scotland to compete for four years in America at Lacrosse and Soccer, having the honour of representing Medaille University on the field in Buffalo. Though professionally it didn't work out for me or any other boys from our team, my friend Kyle Ferguson found significant success after climbing the ranks of American Soccer through college and the semi-pro game. Kyle also studied at, and helped me get recruited to Medaille, so I had a front row seat to watch his game develop during our freshman year in America.
Kyle played Centre-Defensive-Midfielder all throughout his youth in Scotland, however, upon his arrival in the states our coach, made the call to change Kyle to Centre-Back to make best use of his strength, height and reading of the game. This was a revelation which saw Kyle dominate the Allegheny Mountain Collegiate Conference as he marshalled the Medaille defence all the way to the conference championship in 2017, where he was named to the all-conference and all-tournament teams at the age of just eighteen (having played most of the season as a seventeen-year-old against men in their twenties) which is quite outstanding.
This successful first year in America got his name out there amongst the elite of the college game, earning him a transfer to Lander University Men's Soccer in the NCAA Division Two where he took his game to another level, commanding and inspiring Landers backline on their way to winning the Regional Championship, Kyle subsequently being named to the Regional Team of the Season. During his time playing in the Carolinas, Kyle was signed to USL 2 side SC Bantams where he enjoyed a successful summer playing a high level of football in the south, however this was anything but a summer holiday in the sun for  Kyle as his efforts and quality earned him several accolades in the end of season awards for the league: Young Player of the Year, Best Player from the United Kingdom, a place in Team of the Year, and then in the Southern Conference Team of the Year for his time spent playing over summer.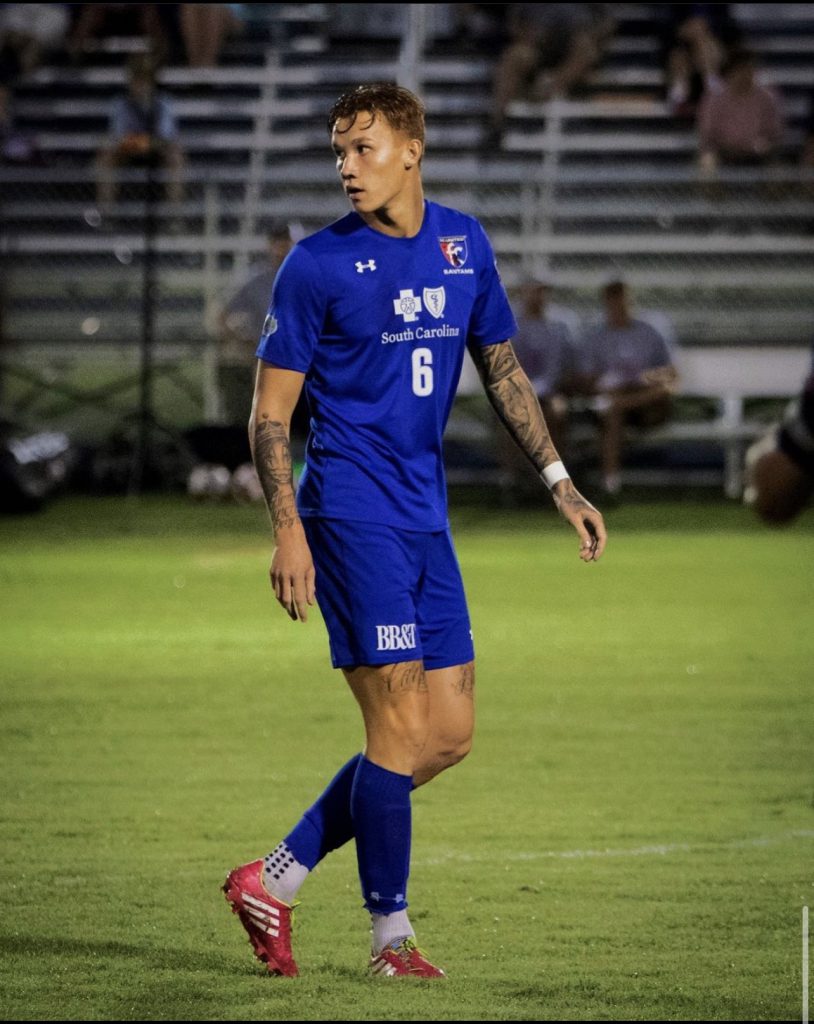 Following his successful run in America, Kyle went on to build his professional foundations in Sweden signing for Ytterhogdal IK in Division Two of Swedish football. Sadly, his run here in Sweden was cut short by the global Covid pandemic, though the reputation he built in Scandinavian professional football stood him in good stead to earn a move to Waterford FC in Ireland once the world of sports started to open up again. This step into the Irish Second Division gave Kyle yet another different experience of the game of Football, but just as many times before in his career, Kyle adapted and built a strong reputation on the Emerald Isle before taking the jump into the English Football League where he currently plays professionally for Harrogate Town in EFL League 2.
I always knew that Kyle would end up playing professionally someday, even from our early days playing together in high school he just had something different about him, a competitive edge, air of professionalism, composure and humility. For all the talent this lad has, and the trajectory of his success, I think that the biggest credit i could give him would not be for his skill in the game, his accolades or achievements, it would be that even after all of the success and heightened fame he's received, he's still remained the same Kyle from Lanarkshire I've always known, when the success comes as young and as quick as it has for Kyle, I think it can be hard to remain humble and keep that humility but that's something he managed to do. Fantastic footballer, even better person. We at the American-Scottish Foundation wish Kyle all the success in the world as his young career grows.