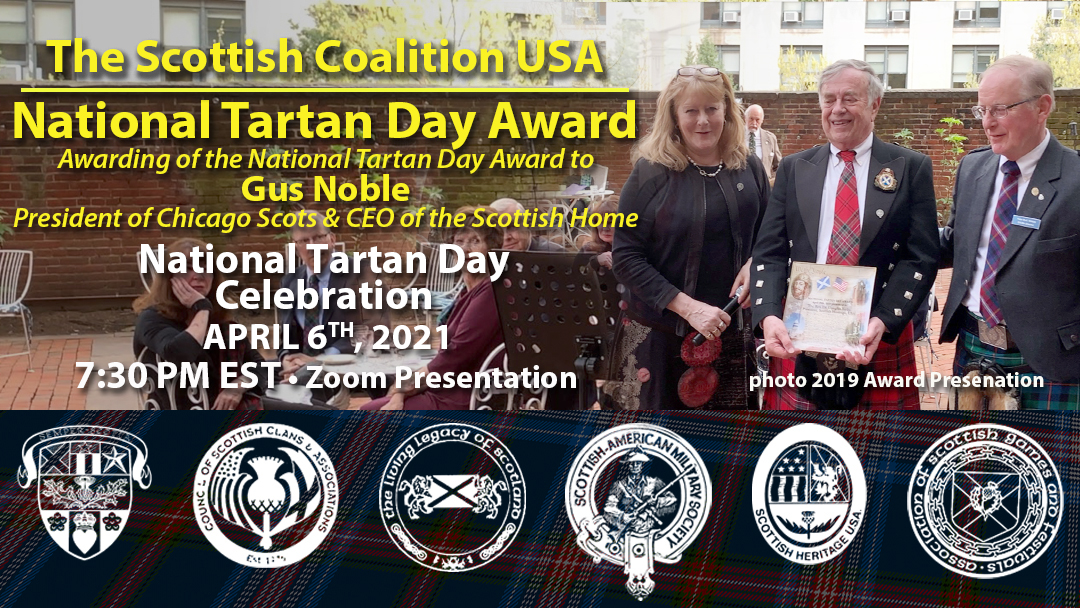 The Scottish Coalition USA
Presents
The National Tartan Day Award
for Outstanding Leadership in the Scottish-American Community
Gus R. Noble
President of the Chicago Scots and Caledonia Senior Living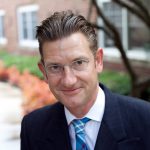 Gus Noble was born in Dundee, Scotland, and graduated from the University of Stirling in 1992.  After graduation he moved to Chicago and worked for the British Consulate General for seven years before establishing the first international office of the Welsh Assembly Government in Chicago which he led for five years. In August 2004, Gus was named president of the Chicago Scots and Caledonia Senior Living and Memory Care. 
His civic role includes serving on the boards of the Admiral at the Lake, the oldest elder care community in Chicago, and the Rosehill Cemetery Reserve Fund, which governs the cemetery where Chicago Scots owns more than 600 plots and many Scots are buried. He supports Newcastle United Football Club and plays electric bass guitar in a Scottish-American honky-tonk band. He and his wife, Aisha, have two sons, Bobby and Langston.
Many Scottish-Americans know Gus for his 17-year commitment to growing the Scottish North American Community Conference, started in 2003, to enhance understanding, communication and cooperation within the Scottish North American community.


Going forward many Scots will know Gus for his leadership of Chicago Scots during its 175th anniversary year as the oldest charity in Illinois and for saving every resident at Caledonia Senior Living and Memory Care during COVID-19.
---
This presentation is part of the Scottish Coalition's and the National Tartan Day Capitol Committee's Tartan Day Commemoration Event.
The Commemoration will include with readings, music and messages from various Scottish American organizations across the USA celebrating Tartan Day locally in their own ways.
The 2021 National Tartan Day Award will be awarded to Gus Noble, President of the Chicago Scots and Caledonia Senior Living. Awarded annually by the Scottish Coalition USA the NTD Award Recognizing the efforts of an outstanding volunteer that help to sustain and grow the Scottish American Diaspora April 6th is National Tartan Day following 1997 by Congressional, Senate (2003) and finally Presidential decree (2006).
---
TENTATIVE PROGRAM FOR NATIONAL TARTAN DAY COMMEMORATION
6.15pm Music Interlude
6.30pm Program Starts
6.45pm READINGS
7:30pm Presentation of the National Tartan Day Award to Gus Noble, President of the Chicago Scots and Caledonia Senior Living
---
Tickets for the Tartan Day Events April 6 are:
$20 Members
$25 Non-members
     
---
Ticket Bundle for 250th Anniversary of Sir Walter Scott, April 7 and Tartan Day April 6:
Tartan Day ticket purchasers also have the opportunity to bundle purchase tickets to the 250th Anniversary of Sir Walter Scott Event – April 7, 2021 starting at 6.30pm. 
Tickets for the both April 6 and 7 events are:
$25 Members
$35 Non-Members
---
EVENT REGISTRATION FORM
[wpforms id="664″]
---
The Scottish Coalition USA
Council of Scottish Clans (COSCA)
American Scottish Foundation (ASF),
Living Legacy
Scottish American Military (SAMS)
Scottish Heritage USA (SHUSA)
Association of Scottish Games & Festivals (ASGF)
---
National Tartan Day History
Americans of Scottish descent have played a vibrant and influential role in the development of this country. However not until 1997 was this influence recognized by a single-year U.S. Senate Resolution that appeared in the Congressional Record of April 7, 1997. In 1998, National Tartan Day of April 6 was officially recognized on a permanent basis when the U.S. Senate passed Senate Resolution 155 recognizing April 6th as National Tartan Day. This was followed by companion bill House Resolution 41 which was passed by the U.S. House of Representatives on March 9, 2005. The passage of this bill was due to the work of the National Capital Tartan Committee, Inc. and president James Morrison.
The date of April 6 commemorates the signing of the Declaration of Arbroath in 1320, which asserted Scotland's sovereignty over English territorial claims, and which was an influence on the American Declaration of Independence.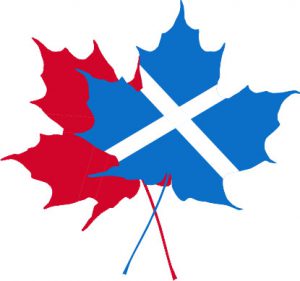 Canada has been celebrating "National Tartan Day" since 1993. The idea and motivation for creating a similar American holiday was provided by the Scottish Coalition, a group of national Scottish-American cultural organizations.