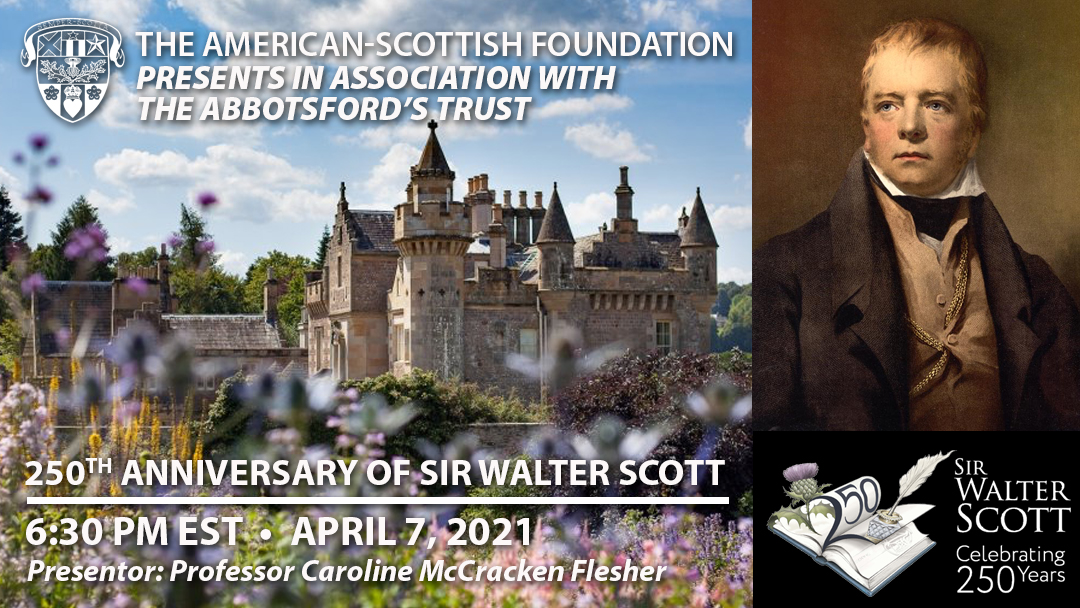 American-Scottish Foundation Presents
250th Anniversary Celebration of Sir Walter Scott
in Association with Abbotsford
Join us as we explore the life and legacy of Sir Walter Scott – 250th Anniversary – 6.30pm – 8pm, Zoom Event presented in association with Abbotsford Trust, with insight from Professor Caroline McCracken Flesher.
Professor McCracken-Flesher is a past Convenor of the International Association for the Study of Scottish Literature, an honorary fellow of the Association for Scottish Literary Studies, and holds the Order of the Stag from the Clan Scott Society.
---
Tickets for the 250th Anniversary Celebration for Sir Walter Scott April 7 are:
$20 Members
$25 Non-members

---
Ticket Bundle for 250th Anniversary of Sir Walter Scott, April 7 and Tartan Day April 6:
Tartan Day ticket purchasers also have the opportunity to bundle purchase tickets to the 2021 Tartan Day Commemoration – April 66, 2021 starting at 5.00pm. 
Tickets for the both April 6 and 7 events are:
$25 Members
$35 Non-Members
---
EVENT REGISTRATION FORM
---
[wpforms id="966″]
---

Caroline McCracken Flesher
Caroline McCracken Flesher hails from Northern Ireland, and was educated at Edinburgh, Oxford and Brown universities. She is Professor of English at the University of Wyoming, where she also directs the Center for Global Studies and its signature program UW in Scotland. Dr. McCracken-Flesher publishes widely on Scottish literature. Her books include Possible Scotlands: Walter Scott and the Story of Tomorrow (Oxford, 2005), The Doctor Dissected: A Cultural Autopsy of the Burke and Hare Murders (Oxford, 2012), editions of Robert Louis Stevenson, and edited volumes on themes such as Culture, Nation, and the New Scottish Parliament, teaching the works of Stevenson, and Scotland As Science Fiction. Forthcoming this year is Walter Scott at 250: Looking Forward, edited with Matthew Wickman. Professor McCracken-Flesher was awarded the Order of the Stag by Clan Scott Society.
---