The American-Scottish Foundation® - Events
The Big Apple Clef Award - 'Song of Return'

During Tartan Week, the Big Apple Clef Award winner, "Song of Return", presented in association with Creative Scotland and Nordoff Robbins, will perform in New York.


The ASF together with Creative Scotland presented 'Song of Return', winners of the Big Apple Tartan Clef Award, at the Nordoff Robbins Scotland Clef Awards on November 19th. The Award is the result of a competition run throughout Scotland to find the best new band.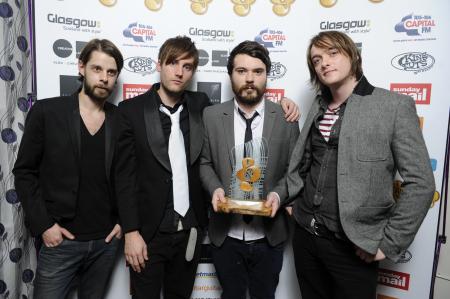 'Song of Return' will be playing various shows during Tartan Week 2012:
www.myspace.com/asongofreturn/music/songs/shackles-79888452


In the past eighteen months since 'Song of Return' formed in 2010 they have achieved wide acclaim for their live shows and for their first album "Limits" released in June 2011. They have followed that up with an EP, 'Trajectory' scheduled for release in December 2011.


Alongside their live shows and recordings 'Song of Return' won the 2011 Big Apple Tartan Clef recognizing them as the newest freshest talent in Scotland: Best New Band of 2011. The award is part of the Nordoff Robbins Music Therapy in Scotland Clef Awards and will see the band travel to New York and undertake a series of showcases during Scotland Tartan Week 2012 as a part of The Year of Creative Scotland.


The Big Apple Award is a collaborative partnership between renowned music charity Nordoff-Robbins Music Therapy in Scotland, Creative Scotland, The American-Scottish Foundation® and sponsored by Clash Magazine.


The music of 'Song of Return' is as BBC Radio Scotland noted "Huge stadium sized sound..moody and intense..extremely accomplished" - a here and now collection of unsettling dark sounds matched against light to dark vocals, sweeping harmonies & carved melodies within an industrial post-rock frame".


'Song of Return' were formed by Craig Grant and Chris Gordon who have worked together on various other projects including the widely acclaimed "Union of Knives", and with such production giants as multi-platinum selling British producer Steve Osborne (Elbow, Suede, New Order) & Oscar winning producer Atticus Ross (OST The Social Network, OST The Book of Eli, Nine Inch Nails).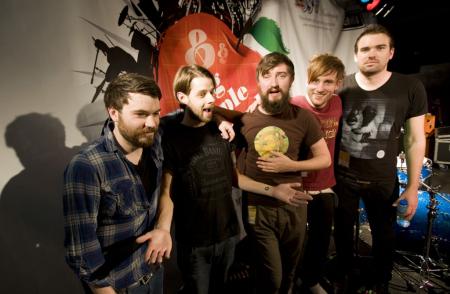 'Song of Return' have received praise for their recorded work from broadsheets, podcasts & blogs and a got-to-be-seen live show that has graced stages as diverse as a converted church to legendary venue King Tuts Wah Wah Hut to a disused seminary to railway arches - and now to the stage of the Nordoff Robbins Scotland Clef Awards.

"...moody, intense electro with ethereal male vocals..." Radar Scotland

"Huge stadium sized sound..moody and intense..extremely accomplished"
Vic Galloway, BBC Radio Scotland

"The combined vocal prowess of Craig Grant and Louis Abbott, coupled with top drawer musicianship throughout the band, makes for an enthralling prospect. They also seem to be getting better every time I see them, so try and make it along to a show - their songs take on a whole new intensity live." Euan Roberston, The Scotsman

"Song of Return are undoubtedly dramatic, they neatly sidestep any melodrama to deliver a brilliant, malevolent, soundtrack to some mad scientist's wildest nightmare. There's so much going on on every level, but it's still somehow pent and wound tight. It builds anticipation around their debut album Limits." Nick Mitchell

"Musically its a glorious hybrid of orchestral, electronica and rock, like the cool soundtrack to a dark movie … wonderful musical landscape" Jim Gellatly, The Sun/In Demand Radio Clyde

"Song of Return have arrived.....their musical depth is extraordinary as they can oscillate between fragile, glimmering glows of melody and the full onslaught of heart pounding soundscapes. Song of Return have created music that is beautifully ambient, audibly stunning and an example of what lucid, honest and talented foresight can create. They are simply precious." Halina Rifai, Glasgow Podcart


For further information on Song of Return please contact :
Malky B
Never Make Friends Management
Tel +44 7754495243 Email : malkyb@nevermakefriends.com


For information and US details of the Big Apple Tartan Clef please contact :
Camilla Hellman
American-Scottish Foundation
Tel : +1 212 605 0338 x 4 Email : asfevents@wwbcny.com


To learn more of Nordoff Robbins Music Therapy, view:
www.tartanclef.org/big_apple.html
---
Phamie Gow, with friends...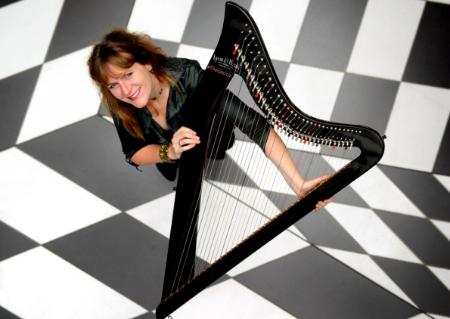 Phamie Gow performed at Parliament Hill in Canada on St. Andrew's Day

Phamie Gow will be performing in New York during Scotland-Tartan Week.


Multi-talented, instrumentalist, singer-songwriter and composer, Phamie Gow has been described as being, 'Scotland's most unique talents' and 'a star of the highest order'. 6 solo albums under her belt, and her 7th album, a commissioned work entitled The Edinburgh Suite featuring the LMO orchestra and The Royal Scots Dragoon Guards due for release this year; there is no doubt that this charming artiste will entertain you with her ground breaking celtic-electric harp compositions, and beautiful celtic ballads self accompanied on the piano.


Phamie takes the harp to a new level with her innovative compositions and passion for the instrument that goes beyond any musical and cultural boundaries.


She is proud to be an Ambassador of Nordoff Robbins Music Therapy Charity, Scotland.


Read more about Phamie at www.phamiegow.com

Download a PDF of a recent article about Phamie Gow in The Scotsman, and three pages of write-up in the Edinburgh News here, here and here.
---

Clive Robbins, Developer of a Method of Music Therapy, Dies at 84
By Margalit Fox, December 12, 2011
Photo: Tim Farrell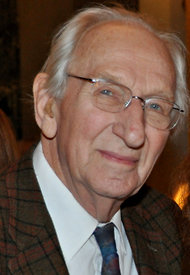 Clive Robbins, a developer of an influential brand of music therapy designed to help people with various disabilities meet the physical, mental and social challenges that are facts of everyday life, died on Wednesday at his home in Jersey City. He was 84.


His death was announced by the Nordoff-Robbins Center for Music Therapy at New York University. Alan Turry, the center's managing director, said that Mr. Robbins had been ill with cancer and heart disease for some time.


With his wife, Carol, Mr. Robbins established the center in 1989 and was its founding director. Part of the university's graduate program in music therapy, the center is responsible for professional training, clinical care and research, rooted in the particular brand of music therapy conceived by Mr. Robbins and Paul Nordoff more than 50 years ago.


Mr. Robbins, a British-born special-education teacher, and Mr. Nordoff, an American pianist and composer, first joined forces in England in the late 1950s. Their aim was to design a therapy, centered on music, that would help hard-to-reach children acquire linguistic and social skills.


Known as Nordoff-Robbins music therapy, their method is now used by hundreds of therapists around the world to treat people of all ages. The conditions treated include autism, mental retardation, psychiatric illnesses, stroke, Alzheimer's disease and physical and learning disabilities.


Read the full obituary in the New York Times here...