Upcoming ASF Events 2017/2018
All events are open to both members and non-members of the ASF unless otherwise stated. All are encouraged to become members of the Foundation in order to receive special pricing for certain functions and notice of special events.


May-December, 2017
John Muir Photography Exhibit - Alhambra, CA



September 24-28, 2017
The Scottish Waterways Trust invite ASF Members to attend
2017 World Canals Conference - Syracuse, New York



November 1, 2017
A SpOOky Night - in association with the Burns Society


Click for details

November 29, 2017
Eve of St. Andrew's Day Dinner
SAVE THE DATE
February 2, 2018
Annual Burns Night Dinner and Gala Celebration


SAVE THE DATE
April 7, 2018
Annual NEW YORK TARTAN DAY PARADE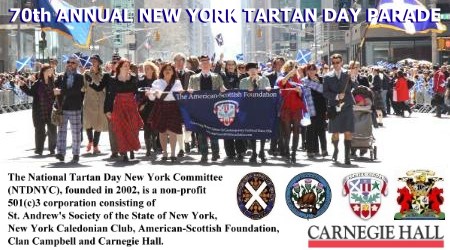 ---
Past Events 2017
January 20, 2017
22nd Annual Burns Night Celebration Dinner



April 3, 2017
The Scots Who Built New York's Landmarks -
1664-1750 - The Early Days


April 7 & April 8, 2017
Scotland on the Fountain Terrace:
Lunchtime Events at Bryant Park's Fountain Terrace
presented by the American-Scottish Foundation

The American-Scottish Foundation presents lunchtime concerts April 6 and April 8 leading up to the 19th Annual New York Tartan Day Parade, April 8.
Join us on the Fountain Terrace of Bryant Park to hear the sound of the Pipes and Drums from some of our leading Pipe Bands, as they prepare for the 18th Annual New York Tartan Day Parade.

Friday April 7 - 12.30pm

- Oban High School Pipe Band
on the Fountain Terrace, Bryant Park, New York

Saturday April 8 - 11.15 am-1pm

Tartan Day Observance
- in honor of National Tartan Day
- Readings from Senate Resolution & Presidential Decrees by Kenneth Donnelly
- Excerpts from the Declaration of Arbroath read by renowned actor and 2017 New York Tartan Day Parade Grand Marshal, Tommy Flanagan

Pipes & Drums on the Fountain Terrace
11.15 Shot of Scotch
11.35 Lathallan School Pipe Band
11.55 Oban High School Pipe Band
12.15 Bonnie Brae Knights Drummers
12.30 St Columba School Pipe Band
12.45 Shamrock & Thistle
No tickets required. The event is for all the community to enjoy prior to the Parade.

April 8, 2017
Tartan Day Observance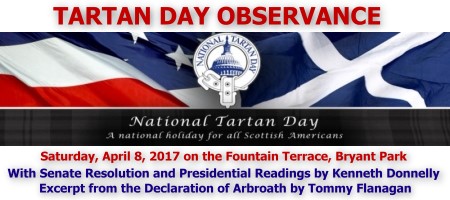 Read about the history of Tartan Day


April 8, 2017
Pipes & Drums on the Fountain Terrace - Bryant Park



April 8, 2017
19th Annual New York Tartan Day Parade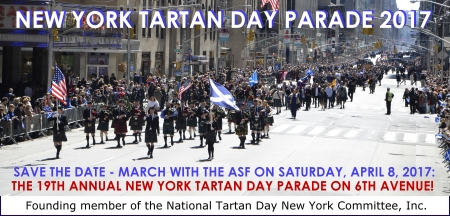 Registration is open. Click here for more...

April 8, 2017
ASF Post-Parade Reception



June 3, 2017
Carnegie Hall - The MET Orchestra,
featuring Scottish mezzo-soprano Karen Cargill


Special 15% discount to ASF members and friends! Use Special Code ASF26997. Click here for more...

June 14, 2017
2017 Flag Day - New York City



We invite ASF Members to email us if you'd like to join and march with us at 12 noon from City Hall.


July 3, 2017
Ayrshire Youtb Fiddle Orchestra - 70 young performers



Click here to view AYFO on the web, and their tour dates.
July 12, 2017
British-American Societies Annual Summer Garden Party




May 25-July 25, 2017
John Muir Photography Exhibit - Federal Hall, NYC




August 2, 2017
2017 Sunset Tea at The Arsenal


Join the ASF as a New 2017 Member and come to the Sunset Tea as our Guest (membership is for a year from month you join the Foundation)

August 10-12, 2017
2017 Scottish North American Leadership Conference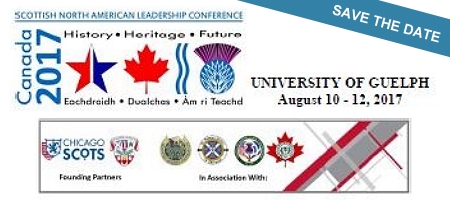 August 26, 2017
57th Annual Scottish Festival and Games - 8:00am-5:00pm



The ASF invites our members and friends to Join us at "The Games" in the wonderful setting of Old Westbury Gardens.