The American-Scottish Foundation®


The American-Scottish Foundation® invites members and friends to become involved in all that the Foundation is undertaking.

Visit our Events page often. Our E-News brings you monthly updates and if you are not already receiving our newsletters you may register here to receive them.

Details of Membership, both individual and corporate, are available. Membership is annual, from January 1; but new members joining this September will enjoy valid membership for the remainder of 2014 and throughout 2015!

If you have questions, please call the ASF Office on 212 605 0338.
We wish you good tidings at this time of celebration, and a Hogmanay worthy of the New Year!
Click to download a PDF of our Year End Holiday Card, which illustrates the variety of activities in which ASF is involved and through which you, as members and friends, can support the Foundation...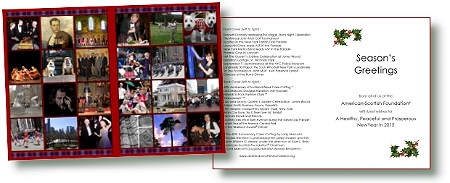 ---
Featured Events in early 2015


January 16, 2015
20th Annual Burns Night Celebration Dinner


February 9, 2015
The Scots who built New York's Landmarks

SAVE THE DATE for a talk on John McComb, Jr. and reception

April 11, 2015
New York Tartan Day Parade


---
The 17th New York Tartan Day Parade will be on April 11, 2015.



Led by the New York Metro Pipe Band, members and friends of ASF marched up Sixth Avenue NYC on April 5, 2014, in the 16th Annual New York Tartan Day Parade!



Thank you all, for marching with us! Will you join us in 2015?


---
Our Mission

The mission of The American-Scottish Foundation®, an international not-for-profit organization, is to establish links and strengthen ties between Scotland and the United States, through the pursuit of contemporary social, cultural, educational, and business activities.
The mission remains as relevant today as when ASF was founded in 1956 by Lord Malcolm Douglas-Hamilton - to champion the extraordinary relationship between the peoples of Scotland and the United States - a bridge between the two great countries - seeking to strengthen & support the future of the Scottish American diaspora, and its legacy.
Support Us
There are many ways to support the Foundation, including: attending events; being a member; making donations; and serving on a committee.
Our programs are varied and our Initiatives section showcases particular areas of ASF's work, enabling gifting to programs which you specifically wish to support.