ASF Corporate Members
Clan Hannay and Sorbie Tower



ASF is pleased to welcome Clan Hannay as a corporate member.
Restoration of Sorbie Tower
"Sorbie Tower is the ancient stronghold of Clan Hannay in Galloway, South West Scotland, from where those with the family names of Hannay, Hannah, Hanna, and Hanney originated.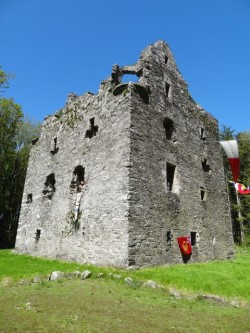 It is a 16th Century tower house which was abandoned in the 18th Century. In 1965, it was donated to the Clan Hannay Society, and during the following fifty years much time and money has been spent by the Clan in conserving the ruin. However, it is now in a dangerous state and after an option appraisal, it was concluded that only full restoration would ensure its future by providing accommodation and a centre for the clan.
We have therefore launched a campaign for its restoration which is a long term project. This will be phased according to the funds available, which so far have enabled emergency repairs to be carried out.
Learn more of Sorbie Tower and Clan Hannay here:
https://www.clanhannay.com/concrete5/blog/sorbie-tower

This year we are extending the campaign to North America, where the majority of clan members live, with a reception in New York during Tartan Week in April - the annual celebration of Scottish heritage."

The American-Scottish Foundation is proud to work with Clan Hannay to highlight the Restoration of Sorbie Tower project. It is a designated project of the Foundation. You may make a donation in support by downloading, completing and returning this form, or directly using our secure Paypal gateway, below:
Choose a donation amount
(from the drop-down menu)

Make a donation of your choice
The American-Scottish Foundation is a non-profit 501 (c) (3) organization. Donations are tax-deductible to the extent of the law