Photo Albums
Wallace Award® Gala Dinner: November 14, 2014


The Directors of the American-Scottish Foundation® invited guests to attend the ASF Wallace Award® Gala Dinner on Friday, November 14, 2014, at the University Club in New York City.

The event honored Claudio Del Vecchio, Chairman and CEO of Brooks Brothers, this year's recipient of the Wallace Award. The evening was also a celebration of the 40th Anniversary of the first Scotland Week in New York, the brainchild of Lady Malcolm Douglas-Hamilton, wife of the Foundation's founder.
The evening included an extensive Silent Auction and a Live Auction, which brought on enthusiastic bidding for unique items: from Bora and Johnson's cashmere throws, a stay in a cottage in the shadow of Ben Nevis, gourmet dinning at the Carlyle or the Gotham Bar and Grill... there was something for everyone. A thankyou to all who donated and to all the Committee for their hard work and help.

Highlights of the Live Auction, conducted by Robin MacMillan, included:

- Classic Castles, with Clan Chief Tours: A personal tour devised and conducted by The Lord Sempill for two persons - with visits to Drum Castle, Fyvie Castle, Crathes and Dunottar Castles. Overnight stay of two nights as guest of his Aunt, Kirstie Daranyi Forbes-Sempill at Terpersie Castle, with a very special visit to their ancestral home, Craigievar Castle. The tour also includes a tour of the home of the Chivas distillery. See details...
- A signed pair of photographic studies of the magnificent Kelpie sculptures, by their creator Andy Scott - 30"x24".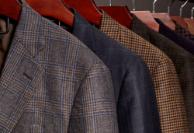 - A custom suit from Brooks Brothers. An opportunity to tailor a suit that in truly one-of-a-kind. Choose from over 1,500 of the world's finest fabrics, specially hand-selected by Brooks Brothers team of designers, and craft a suit individualized in both fit and style.

- A two night stay in the Executive Suite in one of London's most outstanding hotesl, the Rosewood, with a visit to the House of Lords as guest of The Earl of Caithness.
Funds raised, including those from the active Live and Silent Auctions, benefited the ongoing work of the American-Scottish Foundation.