Scottish North American Leadership Roundtable 2014
---
Scottish North American Leadership Conference Update
November 24, 2014 - by Harry, Watt Club, New York
Update on the recent SNAL Conference Roundtable by Michelle Albert, Heriot-Watt's Watt Club representative in New York.
Scottish North American Leadership Conference Roundtable – November 2014 – New York City
The 12th Annual Scottish North American Leadership (SNAL) Conference Roundtable was held at Scotland House in New York City on 15 November, 2014. Lawyer & Chairman of the American Scottish Foundation (ASF), Alan Lind Bain, JD, Columbia University & Heriot-Watt University Honorary Doctorate Award Recipient of June 2013, presided.
The ASF serves as an agent in the US for enhancing US relations with Scotland through a variety of activities and broad interests. The Foundation's status has been achieved by enhancing its visibility and credibility in Scotland through regular visits and events conducted there, by association with "Scotland The Brand" and its ScotFest initiatives in New York City, support of "UK with NY", its ongoing work with VisitScotland, numerous local Councils and arts and cultural organizations, educational institutions, and charities.
SNAL Conference attendees included leadership from Chicago Scots, St. Andrew's Detroit, University of Edinburgh, St. Andrews Society of NY, Scottish Government Representative from the British Embassy in Washington DC, ASF Facilitators and Alumni. The Keynote speech featured special guest, University of Aberdeen Vice Chancellor & President, Sir Ian Diamond, in town to launch the University of Aberdeen NY Alumni Group at a private reception, that followed the leadership conference.
Conference Highlights:
All Scottish Universities have international strategies at the center

Partnerships between universities and business is extremely important to the economy

Scottish Universities work together where it is appropriate – collaboration before competition

Higher Education is no nation state boundaries

"University of Scotland" is the umbrella getting all the universities together

"Connective Scotland" is a partnership with Royal Society of Edinburgh & the Education Sector

University of Edinburgh opened a NY Office

University of Glasgow Caledonian has a NY Office

University of Aberdeen is launching US Alumni groups in NY and Boston, among others

Scotland is a beacon of democracy & inclusive society

Conference Agenda:
2015 Robert Burns / Burns Supper
A Burns Supper is celebration of the life and poetry of the Scottish poet Robert Burns. Events take place on or around the poet's birthday, on January 25th. Suppers occur wherever there are Burns clubs, Scottish societies or expats. In NYC, there are many suppers held by organizations at private venues as well as dinner menus at local pubs featuring traditional food such as Haggis, neeps and taddies, Whisky.
2015 Scotland Week / NYC Tartan Day Parade
Tartan Day marks the signing of the Declaration of Arbroath in 1320 and was used as a basis for the American Declaration of Independence.
The Scottish Coalition USA lobbied and successfully established Tartan Day as a National Day on the 6th of April. Tartan day takes place in communities worldwide and now it also celebrates all that is great about Scotland. Additionally, Tartan Day honors Americans of Scottish descent who have played an influential role in the US.
The next NYC Tartan Day Parade is scheduled for 11 April, 2015. ASF is interested in featuring the higher education sector by having Scottish Universities participate by marching in the parade. The parade starts @ 2PM ET on West 45th Street & Avenue of the Americas in New York City, marches along Avenue of the Americas, ends at West 55th Street & Avenue of the Americas; and is followed by a reception at a local pub or at Scotland House.
2015 Themed Year
Year of Food & Drink Scotland 2015, a year celebrating Scottish Food and Drink will be launching shortly by "VisitScotland". The year will celebrate the role food & drink play in shaping economic success. A series of themed months, marketing campaigns, and events will take place during the year.
The campaign tag is #TasteScotland on Twitter and more information is available on the website www.visitscotland.org.
Concluding Remarks
The SNAL conference was both productive and very inspiring. All participants interacted well together, much was debated & exchanged and most of all, there was incredible passion demonstrated for Scotland.
We were not strangers to one another at this roundtable but instead felt a natural bond towards each other, a purpose driven mission; and this day was a meaningful shared experience for all attendees.
Michelle Albert
Heriot-Watt University Alumni New York


---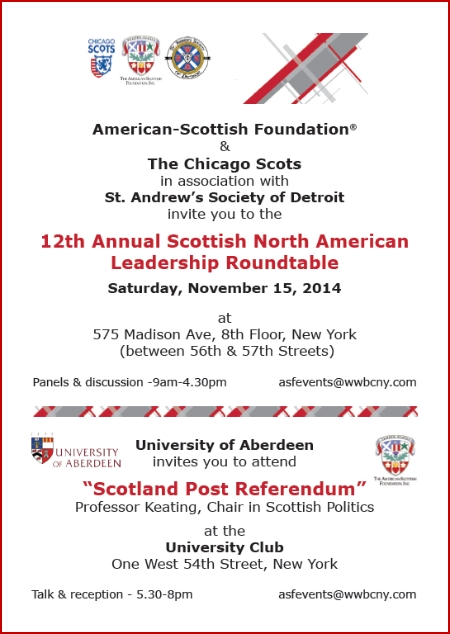 Download the full invitation here


Scottish North American Leadership Roundtable 2014
The 12th Annual Scottish North American Leadership Roundtable will take place at World Wide Business Centres, 575 Madison Ave, 8th Floor, New York (between 56th & 57th Streets) on Saturday, November 15, 2014. The 2014 Roundtable is an opportunity for the Scottish North American community to share views, values, experiences and best practices.

The Roundtable aims to raise awareness of Scotland and Scottish culture; to develop a better understanding of the roles, objectives and operations of the various government, academic, non-profit and private sector organizations that operate in the Scottish North American community and to identify opportunities to enhance communication and collaboration within the community.

The conference's focus will remain on refining, in a post referendum environment, the message of colaboration, mutuality of need and the benefits inherent in the relationship between Scotland and its international communities.

Panel discussions, from 9am-4.30pm, will include:

- Scotland post September 18th
- Plans surrounding The Year of Food and Drink from representatives of the Scottish Government
- Update on The International Scottish Leadership Conference scheduled to take place March 17-18, 2015 in Edinburgh

The Roundtable is presented by founding partners, the Chicago Scots and The American-Scottish Foundation, in association with hosting partners the Saint Andrew's Society of Detroit and the Scottish Studies Foundation in Toronto.

University of Aberdeen Talk & Reception
"Scotland Post Referendum"

The University of Aberdeen is delighted to invite ASF members to its "Scotland Post Referendum" evening. Professor Michael Keating (Chair in Scottish Politics and Director of the Scottish Centre for Constitutional Change) will present on the issues that Scotland faces in the wake of the historic referendum.
The University invites you to a reception and the opportunity to meet with Principal, Professor Sir Ian Diamond and founding members of its New York Alumni Chapter, which will be formally launched during the evening.



Tickets
9am-4.30pm - Scottish North American Leadership Roundtable
World Wide Business Centres, 575 Madison Ave, 10th Floor, New York

ASF Members $40
Non-Members $60

5.30-8pm - Talk & Reception
University Club, One West 54th Street, New York
Tickets $50
Aberdeen Alumni (2005-2014) $25


The drop-down menus in our secure Paypal facility, below, offer a choice of reservation options in each category i.e. Roundtable, Reception or both:

| | |
| --- | --- |
| ASF Members | Non-Members |
| | |
| Aberdeen Alumni (ASF Members) | Aberdeen Alumni (Non-Members) |
| | |
Alternatively, you may make your reservations by mail using this downloadable invitation.



Agenda
Scottish North American Leadership Roundtable
November 15, 2014 : World Wide Business Centres
9.00am-4:30pm

9.00-9.30am - Registration : Light Refreshments
Networking

9.30-9.50am - Welcome, introductions and Round Table Objectives
Alan Bain, Gus Noble

9.50-10.45 am - 1. Themed Years 2015 and Beyond
What Homecoming 2014 has meant and future Gatherings

- Visit Scotland - TBC
- Scottish Enterprise - TBC
- National Trust for Scotland - TBC
Q&A
10.45-11.15am - COFFEE BREAK

11.15am - 12.30pm - 2. Scotland and its International Communities - The Scottish Government – The Way Forward
Donnie Jack, Scottish Affairs Counsellor for the Americas

12.30-1.45pm - LUNCH

1.45-2.30pm - 3. Scotland's Educational Outreach to the World
Remarks - Ian Diamond, Vice Chancellor and President, Aberdeen University

Panel Discussion
4. "Collegiality or Competition; Relevance of Scottish Culture, Education and Heritage to the International Community"

Aberdeen University
Edinburgh University - TBC
Glasgow Caledonian University - TBC
Guelph University/ McGill University/ Simon Fraser University - TBC
Highlands and Islands University - TBC
The Scottish Conservatoire - TBC
National Galleries for Scotland - TBC

Q&A

2.30-3.15pm - 5. The International Community of Scottish Friends - "International Community Post Referendum Aspiration for its Relationship with Scotland"

Panel Discussion

American-Scottish Foundation - ALB
Chicago Scots - GN
Detroit St Andrew's Society - TBC
Asia Scotland Society - Roddy Gow, OBE
SAS NY-TH - TBC

3.15-3.45pm - 6. TARTAN DAY & maximizing it nationally

- The Scottish Coalition USA
- Assoc. of Scottish Games & Festivals
- Alan Bain
(Other Tartan Day event organizers to be invited)

3.45-4.00pm - REFRESHMENTS

4.00-4.30pm- 7. Closing Remarks
---
Informal Networking and Guided Tours of the University Club
(limited to 2 groups of 10)

4.30-5.30pm - 8. Tea, Coffee and Soft Drinks, 9th floor

5.30-8.00pm - University of Aberdeen Talk & Reception: "Scotland Post Referendum" : 9th Floor, University Club

6.30-7.15pm - Remarks with Q&A
Professor Michael Keating, Chair in Scottish Politics and Director for Constitutional Change
Optional Dinner - Details to be Announced
---

March 17-18, 2015
Global Scottish Leadership Initiative


For further information, contact the ASF Office : 212 605 0338
---

Earlier SNALC events...




On Monday July 7, the Scottish North American Leadership Conference International held a "by invitation" round table to discuss and finalise details for the forthcoming International Conference.

Hosted by the American-Scottish Foundation and Chicago Scots in association with the Asia Scotland Institute, the conference seeks to explore and discuss the maximization and strength of all that is the international diaspora.


Click here to review the AGENDA followed on July 7, 2014
---

2013 Scottish North American Leadership Conference details.

2012 Presentation Downloads available. Click here.