The American-Scottish Foundation® - Events
The 19th Burns Night Gala Celebration



The American-Scottish Foundation® invites members and friends to join for the 19th Annual Burns Night celebration, held in association with the University Club, New York, on Friday, January 17, 2014.


Join us as we honor and celebrate Scotland's national bard, Robert Burns, in words and music. Reserve your tickets for a wonderful evening in true Scottish style and tradition!

The evening will begin with a Reception, and Whisky Tasting. Guests will then be piped into dinner where a traditional Burns Night Dinner will follow.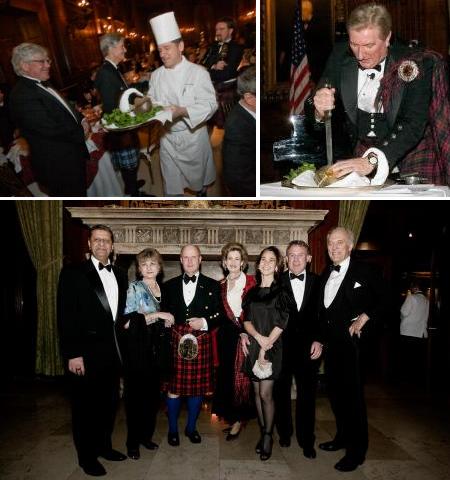 The Presentation and Address to the Haggis, and Burns Night guests

Master of Ceremonies David McNicoll will introduce us to the world of Scotland's national bard, Robert Burns. The Haggis will be piped in and presented to all, with orator Kenneth C. Donnelly delivering a resounding and animated recital of Burns' "Address To A Haggis".

Hannah Read and Friends will bring their wonderful fusion of Celtic American roots music to the evening, with featured performances from vocalist Maureen McMullen and Mike Ogletree delivering the "Toast to the Lads and the Lassies", followed by after dinner Scottish country dancing.


The Winter Raffle will be drawn with many exciting prizes! Click on the banner above for more details!

Expect plenty of good company and cheer! For help with your reservation please call the ASF Office: Tel. 212 605-0338 Ext. 4

To purchase Burns Night tickets, you may do so online, below; or by downloading this invitation and reply form and returning to ASF. To purchase Raffle tickets, please download the form and return to ASF by Fax : 212 605 0222 or email: asfevents@wwbcny.com (raffle tickets cannot be sold through Paypal).


TABLES
(select from drop down menu)


INDIVIDUAL TICKETS
(select from drop-down menu)



Thank you to our sponsors of the evening:



See pictures of BURNS NIGHT 2013!