---
2023 TARTAN WEEK EVENTS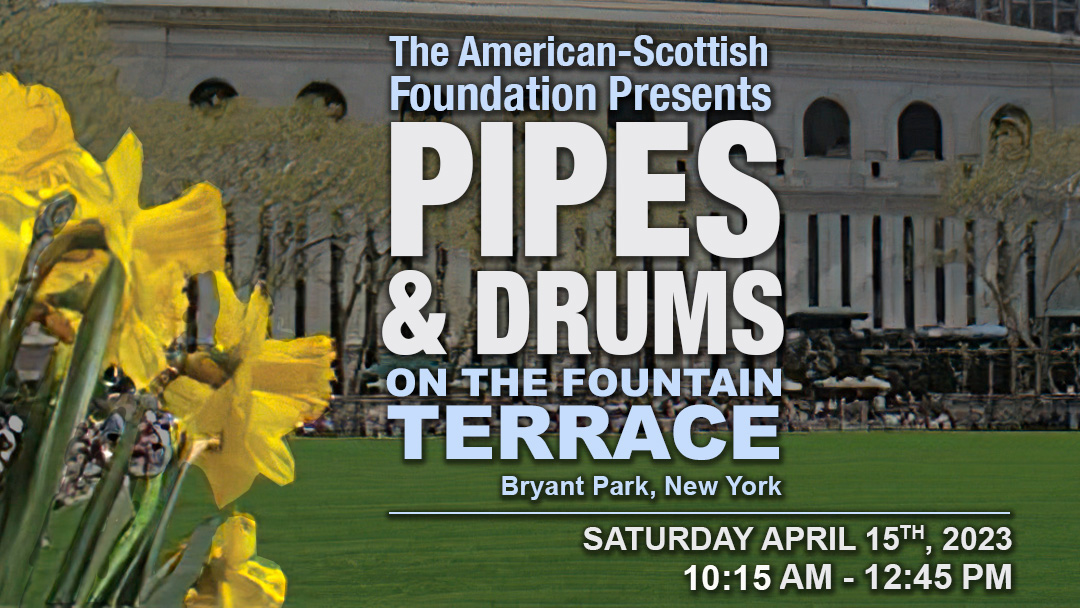 Hear the sound of some of our leading Pipe Bands as they prepare for the 25th Annual New York Tartan Day Parade.

Event Information
DATE: Saturday April, 15th, 2023
TIME: 10:15 AM - 12.45 PM
LOCATION: Bryant Park
TICKETS: No tickets required. The event is for all the community.
Musical program includes:
Shot of Scotch
Scottish Police Community Choir
Fŕilte From the Hebrides
Noisemaker
Robert Burns World Federation Pipes and Drums
with Alan Beck
Morrison Academy Pipe Band
St Columba Pipe Band
Oban High School Pipe Band
The Stony Creek Fife & Drum Corps
Scots College Pipes and Drums, Sydney
Shamrock and Thistle
---
Performers
Shot of Scotch, Highland Dance Troupe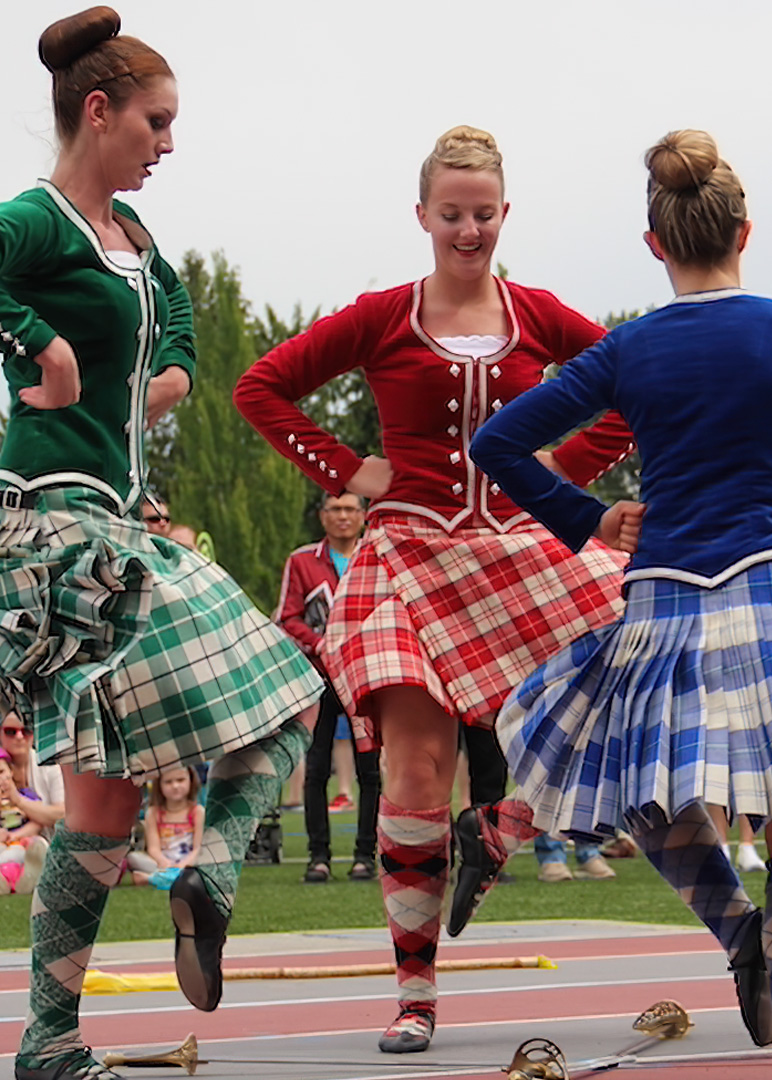 The members of Shot of Scotch all have solid backgrounds in competitive highland dance and many are teachers with a wide range of skills including Scottish country dance, singing, guitar, fiddle, tap dance, acting and more that allows them to explore far beyond the expected bounds of a Scottish highland dance troupe!

Shot of Scotch has been seen performing all across the lower mainland and around the world. A highlight of 2016 was an invitation to Paris France to perform and teach at the 8th Annual International Body Music Festival, a large international gathering of top caliber artists from all across the globe.

The dance company has worked with Alasdair Fraser & Natalie Haas, the Royal Academy of Bhangra, the Seaforth Highlanders, RCMP Division "E" Pipes and Drums, popular Celtic band Blackthorn, Vancouver Fiddle Orchestra, among may other pipers, fiddlers and renowned musicians. The dance company has also collaborated with other ethnic dance groups including Serbian and South Asian troupes for a unique multi-cultural persenation.

Shot of Scotch brings innovation, showmanship, and passion for highland dancing to every event.
---
Scottish Police Community Choir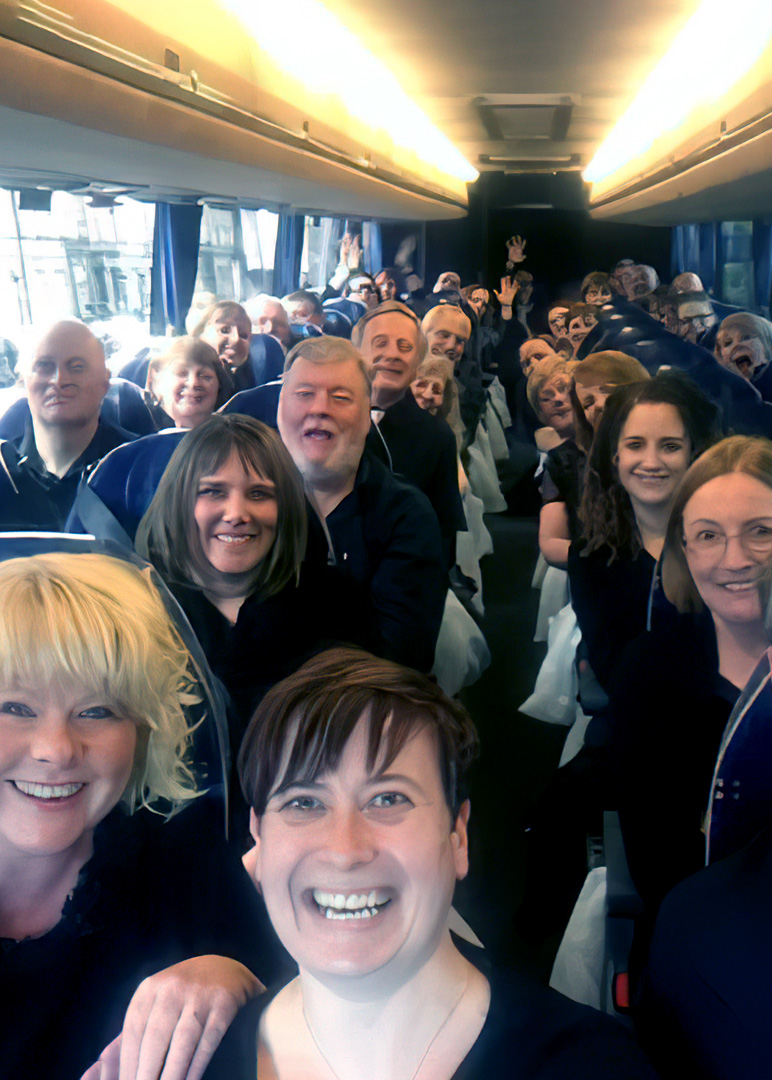 Formerly Tayside Police Choir (founded 2010) and Strathclyde Police Choir (founded 2012), we have gone from strength to strength and with changes to the national police force, we became the Scottish Police & Community Choir in 2013.

We perform at fundraisers, charity functions, memorial events, weddings and celebrations of all kinds, both local and national. In the past we have supported CHAS at Rachel House, Kinross, Scotlands Charity Air Ambulance, Playlist For Life , RNLI, SAMH, Guide Dogs for The Blind, Yorkhill Hospital, British Heart Foundation, Maggies Dundee, Mindspace and Perth Autism Support to name a few.
---
Fŕilte From the Hebrides
Experience some of the winners from Scotland's annual festival of Gaelic language, culture, music and sport - "The Mňd".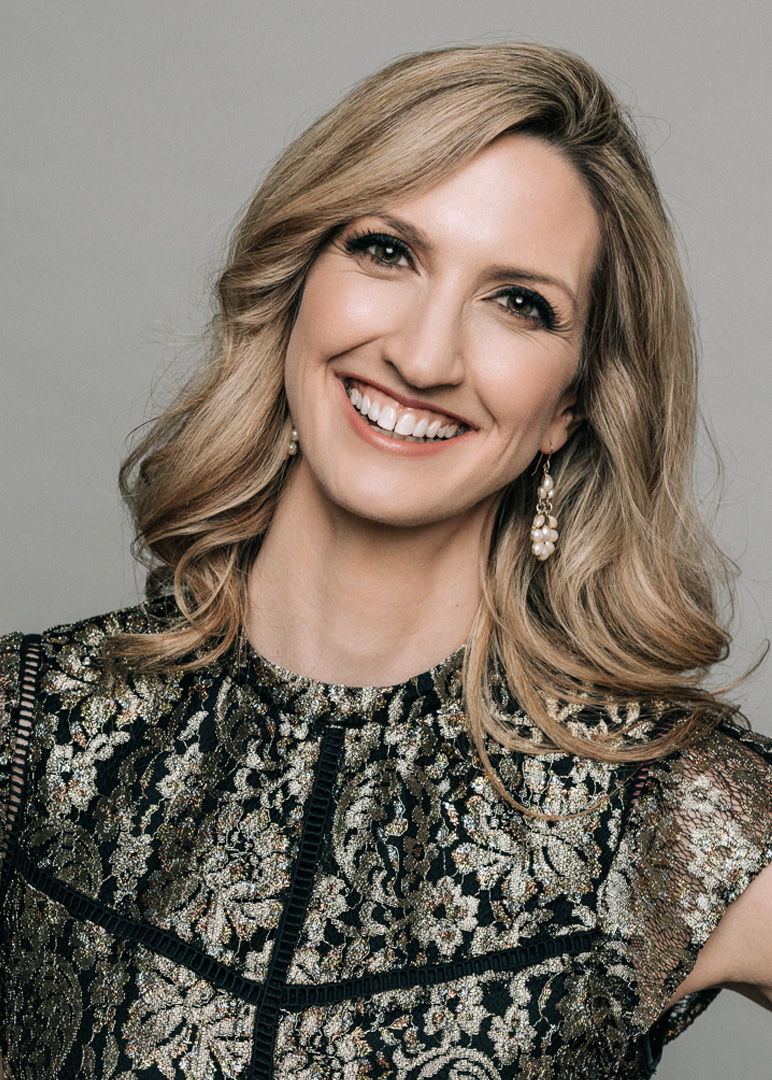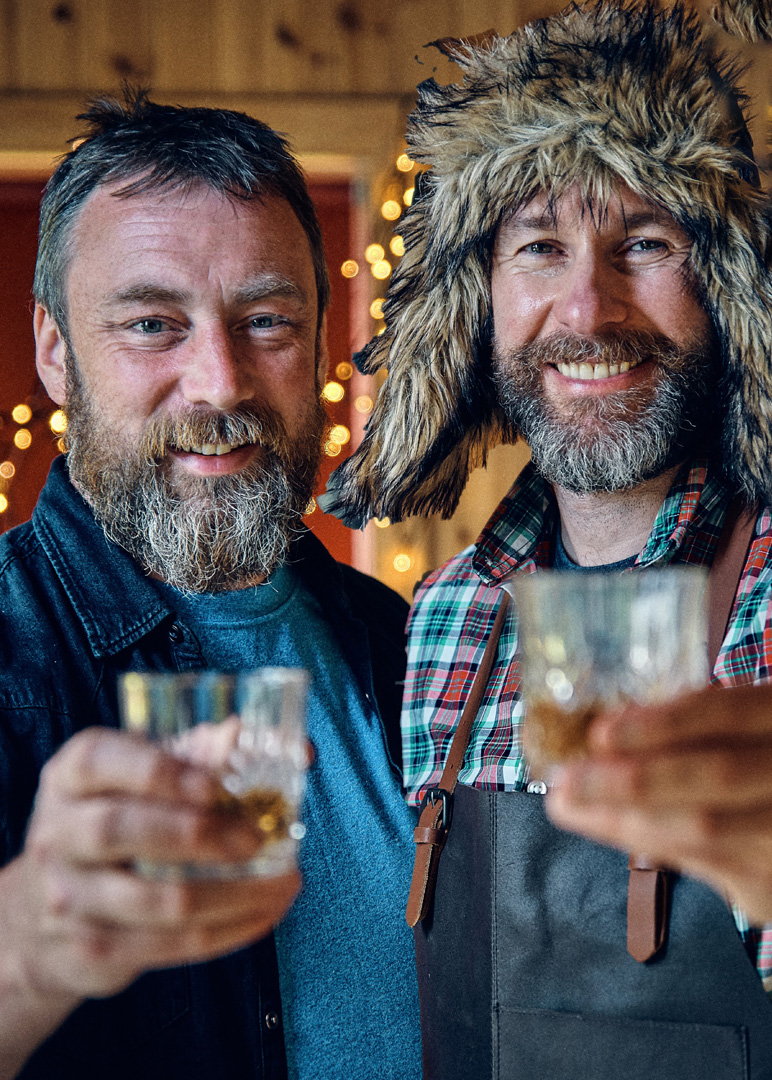 Mňd Gold Medalist Joy Dunlop, Royal National Mňd Duet Champions Coinneach Macleod & Pŕdruig MacQueen and NYTW Mňd Champion 2023 (winners of the prestigious singing contest 2022 and 2023)

We will do a selection of up tempo Gaelic songs and puirt a beul and bring an island cčilidh to Bryant Park!
---
Noisemaker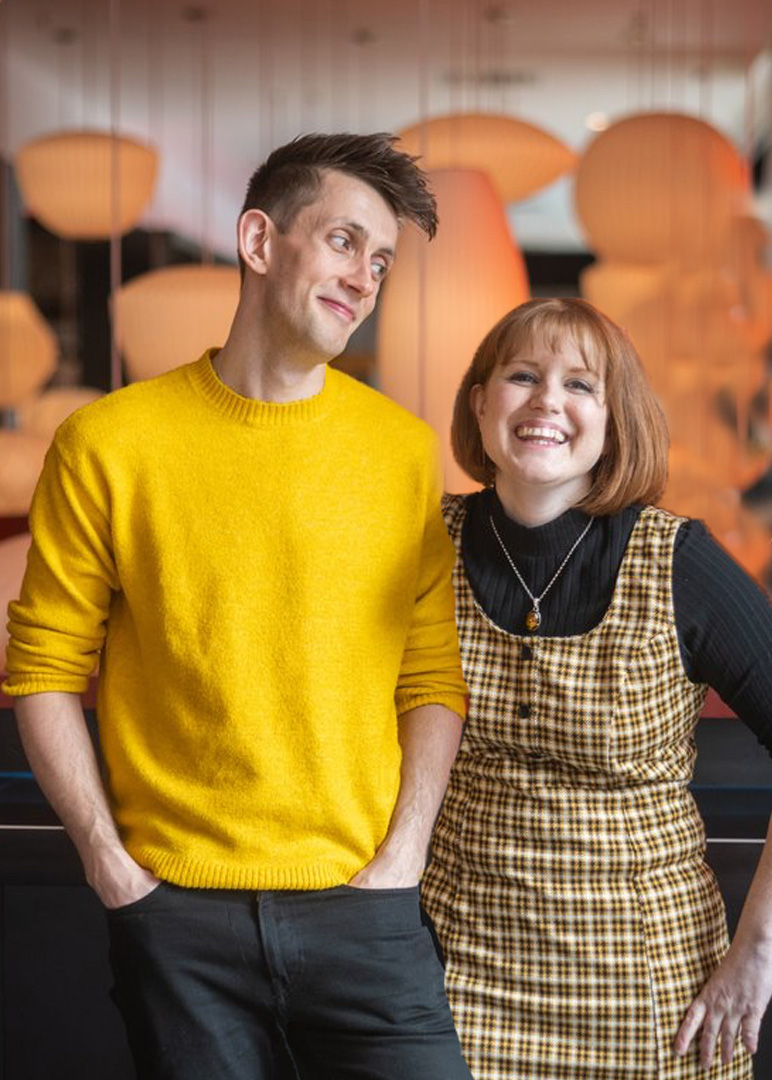 Noisemaker is the award-winning writing partnership of Scott Gilmour and Claire McKenzie. Both graduates of the Royal Conservatoire of Scotland, the pair work throughout the UK and internationally to create and develop innovative, original stories that celebrate and challenge the form of musical theatre.

Now ten years later, Noisemaker have worked across the globe: from Glasgow to New York, London to Chicago, we've collaborated with a wide variety of companies and artists to find new and compelling ways of storytelling and further explore how music and song may be used to connect with and affect our audiences.

As a Scottish partnership, we began writing and developing our work in Glasgow initially before expanding to theatres and audiences throughout the UK. In 2015, we were chosen by Walt Disney Imagineering and NMI Inc. for their New Voices Award. This scheme recognises the most promising new writing talent in the field of musical theatre and resulted in a concert of our work in Burbank, Hollywood plus expert songwriting mentorship. It also began to share our work on an international scale.
---
Morrison's Academy Scottish Pipe Band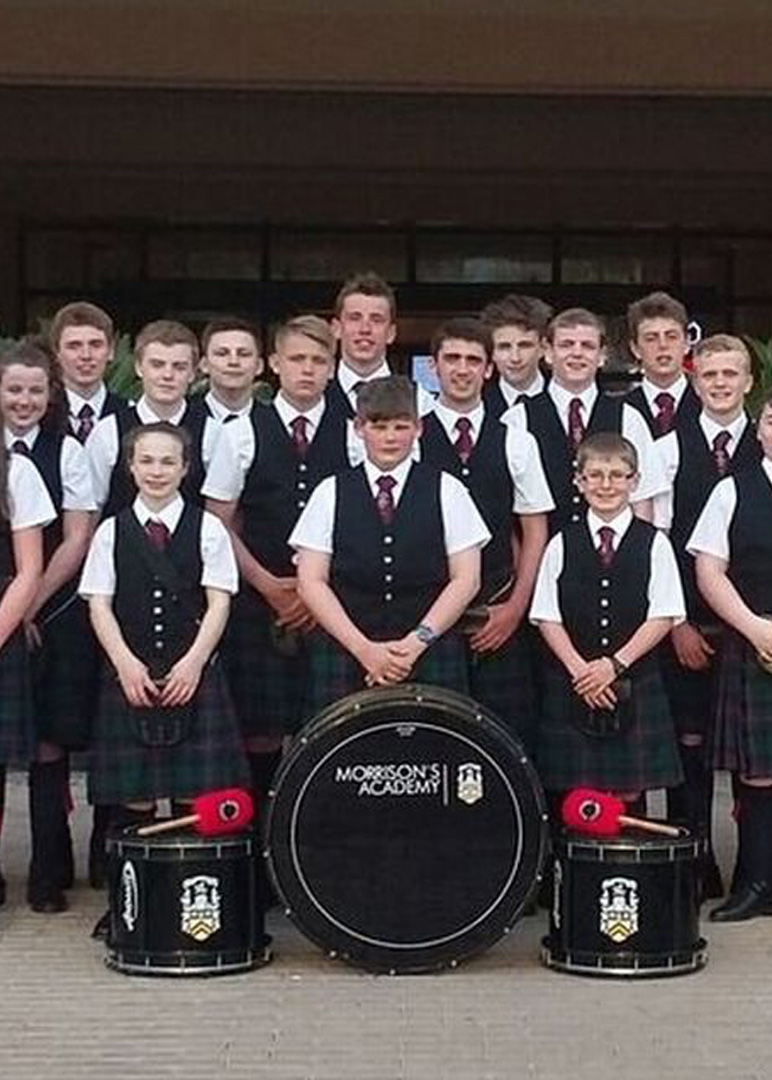 Morrsion's Academy Pipe Band hail from Crieff, Perthshire in Scotland.

Director Scott Murray, is a very experienced piper with over 30 years of competing experience with Grade 1 Bands. He was the Pipe Major with Perth & District Band for six years and has played with the Duke of Atholl's Private Army Pipe Band for the last 14 years.

In recent years, The Band have made a number of trips to play high-level events in Hong Kong, New York, Oman and Dublin. We have led the Tartan Day Parade in New York City, joined the Hong Kong Police Band, and played at the British Embassy in Dublin.
---
St Columba's School Pipe Band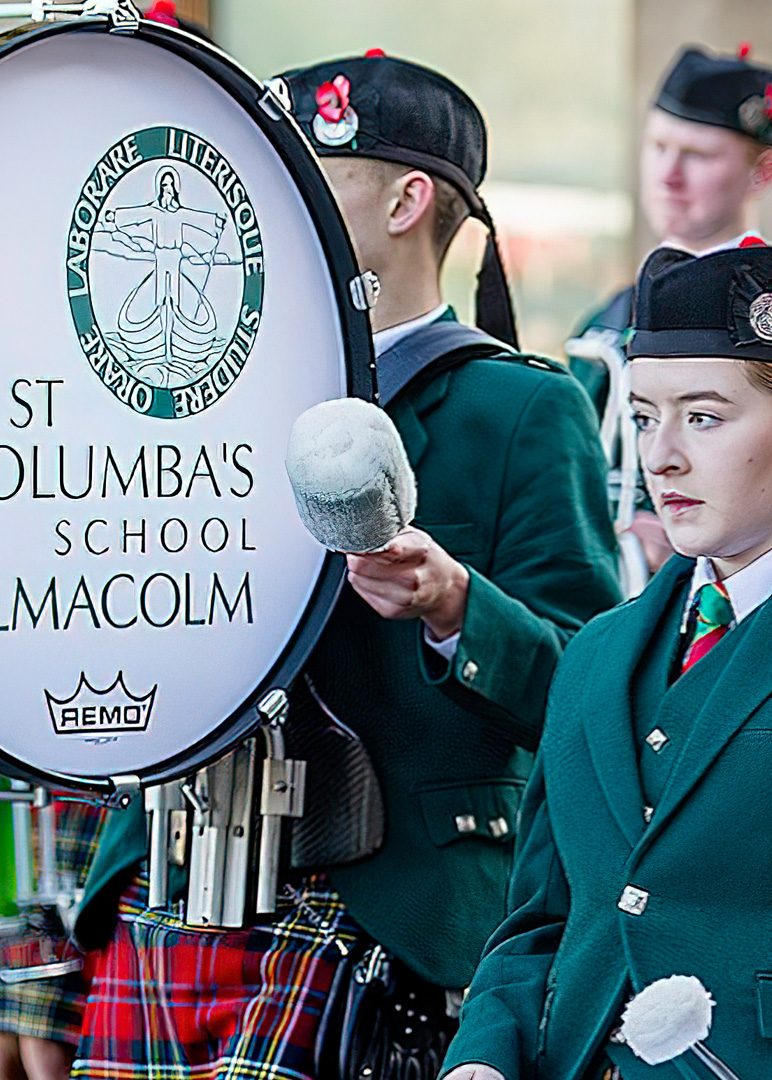 The award-winning Pipe Band at St Columba's School is renowned for its first-class performances.

Around 130 pupils from Junior 3 to Senior VI are involved in the School's Piping and Drumming Programme from a grass-roots level to the full Pipe Band.

Pipe Band I is made up of over 90 pupils. The Band plays at all major School occasions as well as for many local community events including annual gala days and is regularly invited to play at Clydeport, Greenock, to entertain passengers on visiting cruise ships. The Band regularly participates in the Tartan Week celebrations in New York and enters a range of competitions for solo and ensemble performances.
---
Oban High School Pipe Band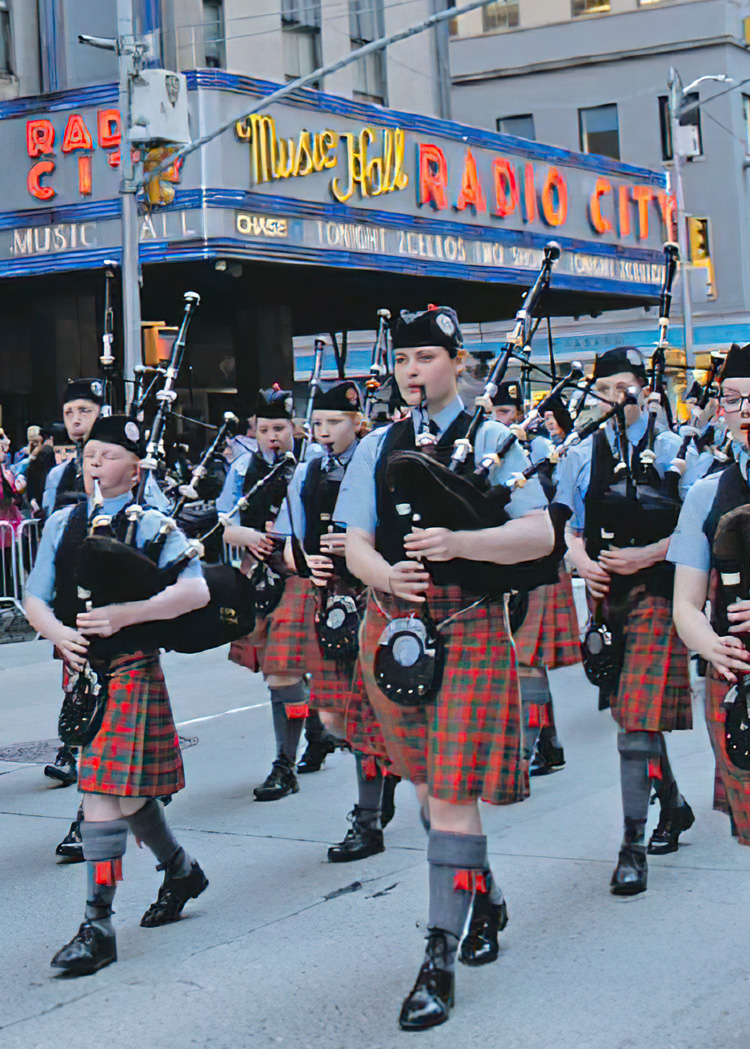 In 2005 Pipe Major Angus MacColl, in conjunction with the Netherlorn Piping Society, had an idea to set up a youth pipe band, the main aim of which would be to promote the piping and drumming traditions of North Argyll and to serve the people of Oban and Lorn. And so the Oban High School Pipe Band was formed.

Since then the Band has developed in number to more than 40, and in stature to a full competing Juvenile Pipe Band, made up entirely of young people under the age of 18.

The Band is now fully registered and has the ability to compete at the highest level in recognized juvenile Pipe Band competitions, including the major competitions organized under the auspices of the Royal Scottish Pipe Band Association.
---
The Stony Creek Fife & Drum Corps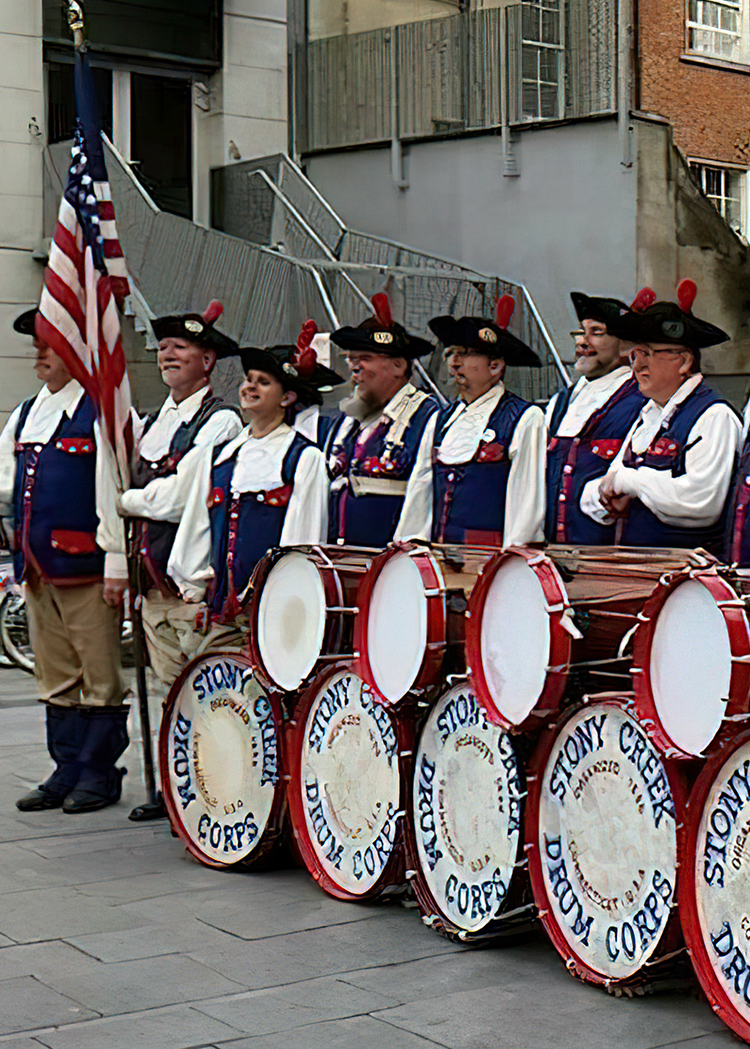 Since its founding in 1886, thousands have enjoyed the music of the Stony Creek Fife & Drum Corps. The perpetuation of the "ancient style" of fifing and drumming is alive and well in the village of Stony Creek, located within the coastal town of Branford, Connecticut.

 Corps members of all ages volunteer their time and talent to continue a long tradition of dedication to American martial and patriotic music.  Performing regularly at parades and musters, they are described as a living historic and cultural treasure.
---
Scots College Pipe Band Sydney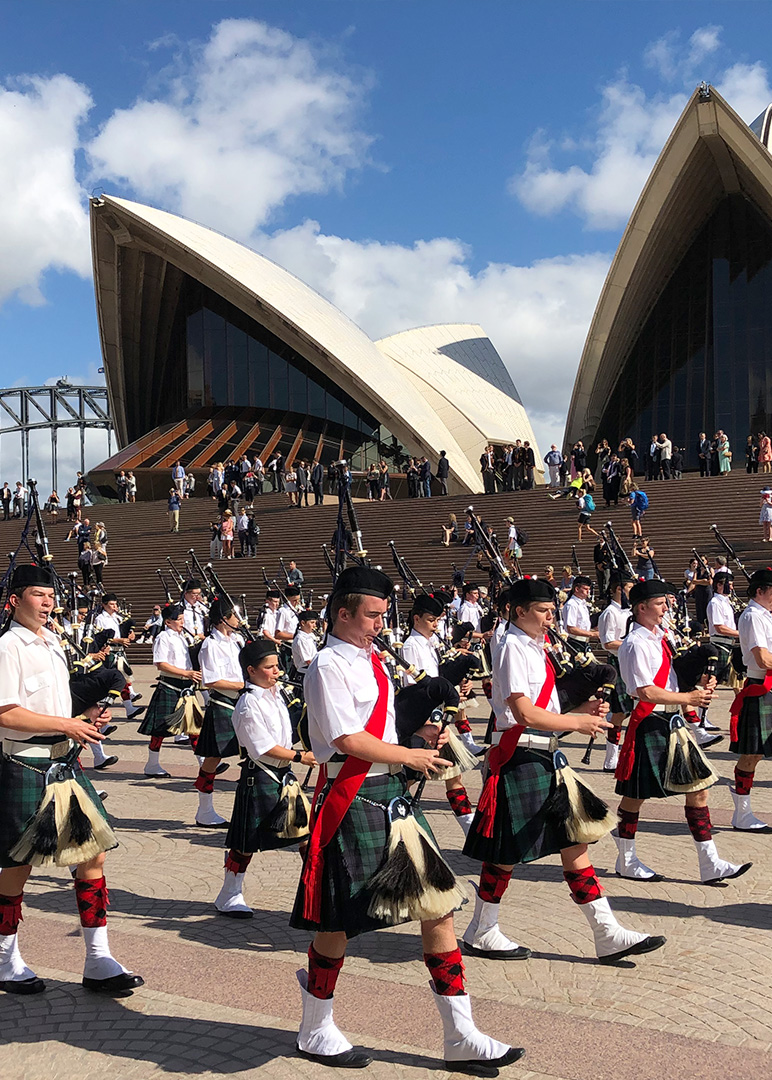 The Scots College Pipes and Drums, Sydney are synonymous with the College's heritage and have proudly worn the tartan of the Black Watch (Royal Highland Regiment) since they were given permission to do so back in 1931.

The Band was formed in 1900, when five boys joined the Cadets as Pipers. At present, there are over 450 boys learning to play or playing the bagpipes or drums. Since 1900, the Pipes and Drums boast a proud record of representing the College at National and International venues.

The award-winning Pipes and Drums offers co-curricular tuition in challenging band skills and wonderful experiences. The Pipes and Drums have performed at a number of Regal and Vice Regal functions and have performed in front of capacity crowds at a number of international sporting fixtures here in Sydney.

The band has attended many International Tattoos and Competitions including The Royal Edinburgh Tattoo, Royal Nova Scotia Tattoo, The Basel Tattoo, The World Pipe Band Championships and many more. The band has been placed in the top six at the World Pipe Band Championships on 2 occasions.

The Pipes and Drums take part in major College activities and parades including Remembrance Day, Speech Day, Commonwealth Day and other ceremonial parades.

The Band also takes part in the Australian Pipe Band Championships, and the various Highland Gatherings in New South Wales. Our massed Pipes and Drums often lead the Anzac Day parade in the City of Sydney, and a number of charity functions throughout the year.

Our competition band has successfully competed to become NSW Champions on many occasions.
---
Shamrock and Thistle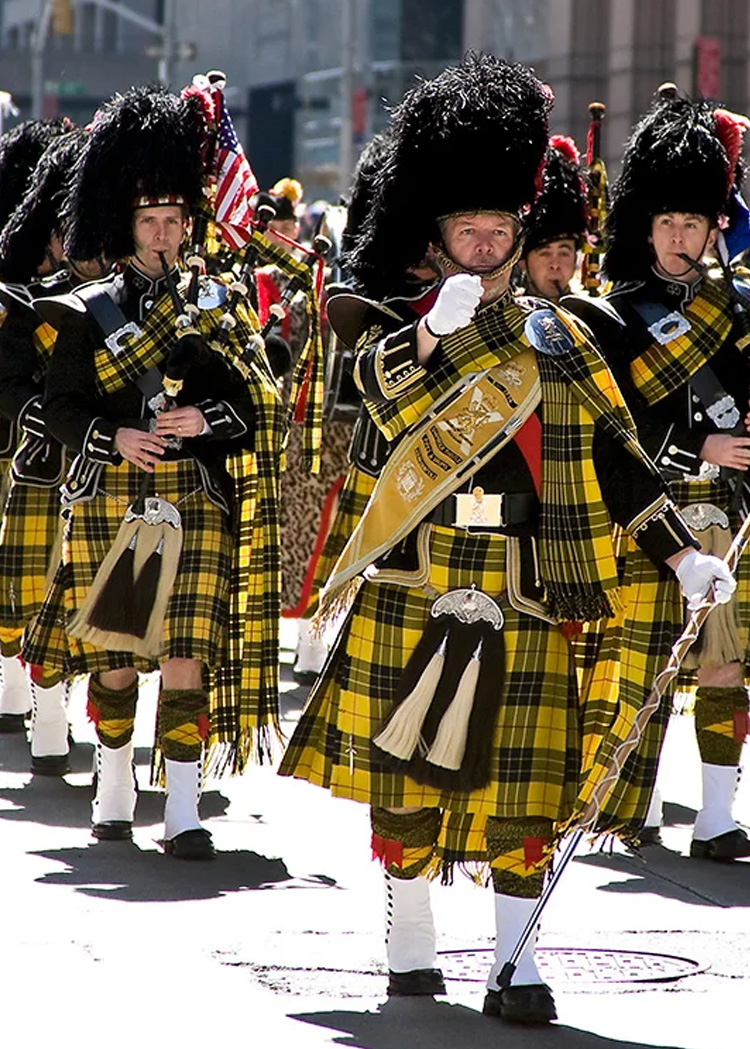 The Shamrock and Thistle Pipe Band was founded in February 1974 under the direction and tutelage of Pipe Major Dennis Staer and Drum Sergeant, William King, Sr.

The original idea for the band was that of James Curry, Esquire, a Toms River attorney whose love of bagpipe music, although not a player, promoted the initial gathering of prospective students. Through long and tedious lessons, and countless hours of practice, the band began to emerge.

After 49 seasons the Shamrock and Thistle Pipe Band has compiled an admirable record, including numerous appearances at festivals, ethnic affairs, and bicentennial events. The band attended dedications all over New Jersey and New York , including the New Jersey Vietnam Memorial, Gulf War Veterans in Seaside Heights, and the 175th Anniversary in Freehold for the Adelphia Fire Company.

  The bright yellow color of the dress MacLeod Tartan, the "skirl" of the pipers and drummers led by Drum Major Thomas J. King, Pipe Major William J. King, Pipe Sergeant Keith A. Tice, and Drum Sergeant John J. King, will surely strike a thrill in your soul. Our instructor for piping is: John Cumming for beginners. Drumming instructors are: Drum Sergeant John J. King for snare drummers, Thomas J. King for bass, and Tim Cook for tenor drummers.
---