Past Tartan Weeks

2010
New York celebrated Scottish-American heritage April 3 to 10, culminating in the National Tartan Day Parade
The National Tartan Day New York Committee invited all New Yorkers to join in celebrating the 12th Annual Tartan Week from April 3 to 10, with a full range of Scottish-themed activities and events that covered the city. From a 10k run in Central Park, to the sound of bagpipes and Scottish music in Lower Manhattan; from the celebration of fashion innovation to the discussion of business opportunities; there were events for all during the week.

On Saturday April 10, the thrilling sounds of marching bands brought the 12th Annual Tartan Day Parade to the Avenue of the Americas. The parade began at 2pm and Alex Fergusson, Presiding Officer of the Scottish Parliament, was Grand Marshal. The parade ran from 45th Street to 55th Street. Over 3,000 pipers, drummers, enthusiasts, and members from Scottish clans and societies near and far were joined by the biggest pack of wee Scotties and Westies in any parade, bringing New Yorkers together in celebrating Scottish-American heritage and friendship.


Events During Tartan Week 2010 included :
Friday, April 2-Sunday, April 4
On Ellis Island, there will be two days of events and pageantry representing Scottish immigrant history. www.tartandayonellisisland.com
Saturday April 3
Tartan Week began with the annual Scotland Run, a 10k event through Central Park commencing at 10am on Saturday April 3rd: www.nyrr.org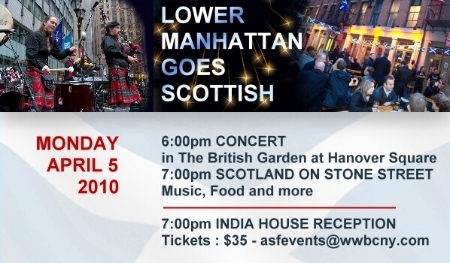 Monday, April 5
Lower Manhattan was filled with the sound of bagpipes, from Stone Street to Water Street, as Scotland's contribution to the US is celebrated. Stone Street's cobbled walkways once again rocked with a range of Scottish and Scottish-American music, following a concert at 6pm in The British Garden at Hanover Square with MacTalla Mor, Laura McGhee, A Whisky Kiss "unplugged" and the New York Scottish Pipes and Drums. Music continued on Stone Street from 7pm with performances at Ulysses and Beckett's.
Later that evening, fashion took center stage with Dressed to Kilt, a gala evening of celebrities and models showing tartan-inspired fashion with a definite twist: www.dressedtokilt.com

Tuesday, April 6
On Tuesday afternoon The American-Scottish Foundation® hosted, in association with the Scottish Government and the Financial Times, the Adam Smith Business Forum. The discussion was on the very timely topic of moral leadership and "the economic imperative."
Wednesday, April 7
One of Scotland's leading exports was highlighted at the Chelsea Piers, when Whisky Live presented an evening of great whisky, fine food and entertainment: www.whiskylive.com
Thursday, April 8
The St. Andrew's Society hosted a reception and private viewing of an exhibit of Harry Benson's photographic work. www.standrewsny.org
Friday, April 9
The New York Caledonian Club hosted their annual Pre-Parade Ceilidh (pronounced KAY-lee), a true down-home Scottish dance party: www.nycaledonian.org
Saturday, April 10
Parade Day began at 10am with the Kirkin' o' the Tartan, followed by the Parade up Sixth Avenue at 2pm: www.tartanweek.com
Having watched and joined in the fun of the Parade on April 10, patrons headed to Stout, 133 West 23rd Street, which featured the best in live Scottish music as Enter The Haggis and Barleyjuice rocked the stages, starting at 4.30pm and running to the late hours.
Sadie is indeed a Great Scot! Sadie the Scottie wins Westminster…
Scottish terrier Sadie has became America's new top-dog, winning Best In Show at the Westminster Kennel Club Dog Show at Madison Square Garden, New York.
This is Sadie's 112th Best In Show ribbon … so this really gives the New York's Scotties a reason to come join the Parade.
Pictures from the 2010 National Tartan Day Parade: