Thanks to everyone who came out to celebrate NYC Tartan Week with us! The Pipes & Drums event at Bryant Park was one of the day's highlights!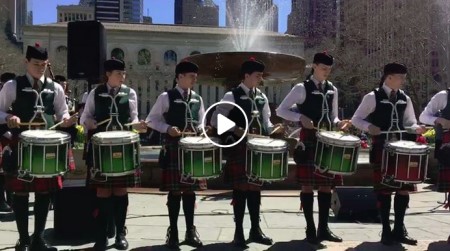 We joined our Grand Marshal Tommy Flanagan, who read the Declaration of Arbroath, and enjoyed incredible performances by Shot of Scotch - NYC's Premier Scottish Highland Dancers, Lathallan School Pipe Band, Oban High School Pipe Band, St. Columba's School Pipe Band, The Highland Divas, Shamrock and Thistle Pipes and Drums, and more!
Then we headed up Sixth Ave for the 19th Annual New York Tartan Day Parade, with over 3,000 other marchers!
If you weren't able to join us but are on Facebook, experience a bit of the fun with this clip above of the St. Columba's School Pipe Band.
---
JOIN US TO MARCH IN THE
20TH NEW YORK TARTAN DAY PARADE
ON APRIL 7, 2018!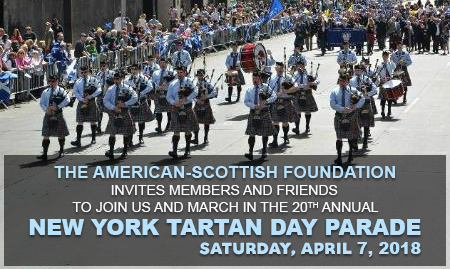 Click here for shots from the 2017 event.



Let us know if you'd like to march with us!

If you are a Member or Friend of the ASF and wish to march with the American-Scottish Foundation please complete this form and return it to us so that we can register you as marching with ASF.
The Parade starts at 2.00pm on April 7 at W45th Street and marches up 6th Avenue to 55th Street.

Please be in touch with any queries at americanscottishfoundation@gmail.com

Not marching with the ASF? If you are a Pipe Band, Dancers, Organization, Clan or will join the Westies and Scotties marching in the Parade, please click below to register at the NTDNYC site...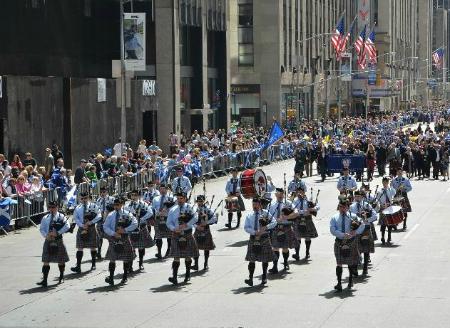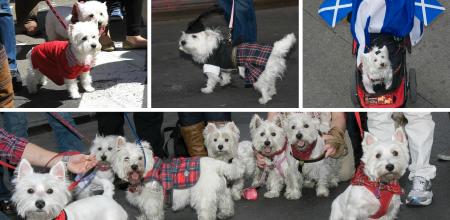 Read all about the 2017 event in the June issue of Scottish Banner!

THE SCOTTISH COALITION, USA
The American-Scottish Foundation® is a founding member of TSC, USA with ASF Chairman Alan L Bain serving as President of TSC, USA.
Members of TSC, USA are:
The American-Scottish Foundation®
Scottish Heritage, USA
The Living Legacy of Scotland, Inc.
The Association of Scottish Games and Festivals
Scottish American Military Society
Council of Scottish Clans and Association (COSCA)

The National Tartan Day Committee of the TSC works to help regional organizations in their plans for Tartan Day through
a network of representatives.
Following the lead of Canada who have celebrated "National Tartan Day" since 1993, the Scottish Coalition USA led the initative for a national day of recognition and celebration resulting in the Congressional, Senate and Presidential recognition of National Tartan Day each year on April 6.

To learn more of the work of TSC, USA, click here

About the National Tartan Day New York Committee
The National Tartan Day New York Committee was formed in 2002 by the Saint Andrew's Society of the State of New York, the New York Caledonian Club and the American-Scottish Foundation® to organize New York City's Tartan Day Parade, help perpetuate Tartan Day and coordinate Tartan Week activities. Since 2002 the Committee has grown and now includes Clan Campbell.
The Committee is a non-profit 501(c)(3) corporation organized under the laws of the State of New York.


About Tartan Day
Americans of Scottish descent have played a vibrant and influential role in the development of this country. However not until 1997 was this influence recognized by a single-year U.S. Senate Resolution that appeared in the Congressional Record of April 7, 1997.
In 1998 National Tartan Day was officially recognized on a permanent basis when the U.S. Senate passed Senate Resolution 155 recognizing April 6th as National Tartan Day.
This was followed by companion bill House Resolution 41 which was passed by the U.S. House of Representatives on March 9, 2005. The passage of this bill was due to the work of the National Capital Tartan Committee, Inc., and president James Morrison.
That date commemorates the signing of the Declaration of Arbroath in 1320, which asserted Scotland's sovereignty over English territorial claims, and which was an influence on the American Declaration of Independence.
Canada has been celebrating "National Tartan Day" since 1993. The idea and motivation for creating a similar American holiday was provided by the Scottish Coalition, a group of national Scottish- American cultural organizations.