The Scots Who Built New York


JOHN McCOMB, JR.
1763-1845 John McComb Jr. and his father John Sr. were major architects and builders during the reconstruction of NYC after 10 years of British occupation following the Revolution. John McComb Jr. has 8 extant Landmarks in NYC, more than any other architect to date.
Among them is City Hall, Alexander Hamilton's home The Grange, and St. Mark's Church.
Click here to learn more about ScotsBuiltNYC and how to become involved...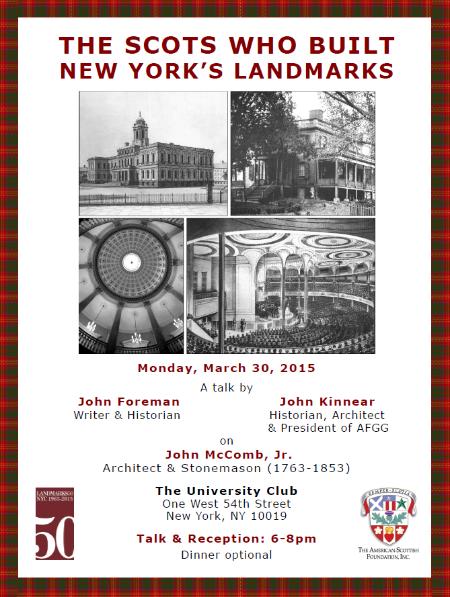 John McComb, Jr. was a noted New York architect and stonemason of Scottish descent and was responsible for many of New York City's iconic buildings. The illustrated talk by John Foreman and John Kinnear took the audience through his personal history and achievements.


JOHN FOREMAN, writer & historian, has been a partisan of historic preservation for almost 50 years. Returning from college to a beleaguered Manhattan in the late 1960s, he immediately became a "brownstone pioneer," one of a hearty band who saw beauty and architectural value in Manhattan's dilapidated Upper West Side. He subsequently owned and labored on a string of important houses in Tuxedo Park before settling down 32 years ago in a grand and (formerly) ruined Victorian wedding cake in Millbrook, New York.
Throughout a parallel career as a real estate broker for the Halstead Property Company, John has written, spoken and blogged extensively on architectural preservation. Louis Auchincloss described his 1991 book, "The Vanderbilts and the Gilded Age" as "likely to become the definitive book on the Vanderbilts." Last year, the Victorian Society of New York gave John's blog, "Big Old Houses," their award for "Best New Media."
Two years ago, David Patrick Columbia's New York Social Diary picked up the blog and made John a regular weekly contributor. "Big Old Houses" now appears every Tuesday at the head of Social Diary's "Today's Features," sharing a monthly audience of approximately 700,000 visitors. Each of John's columns is illustrated with approximately 100 of his own photographs, and accompanied by a pithy text that demythologizes owners and architects and brings their worlds and their work realistically to life. John's readers see his houses literally from top to bottom, including areas normal visitors never see. Nowhere else - in print or online - are vintage kitchens, serving pantries and old bathrooms so lovingly documented as they are on "Big Old Houses."
John says he's very flattered – and not a little surprised – to receive this award, and thanks the Society for the honor of this award.


JOHN KINNEAR, Principal of John Kinnear Architects and President of the American Friends of the Georgian Group, has an architectural practice based in Manhattan, which undertakes projects throughout the United States.
The firm is noted for its historical preservation as well as new structures incorporating traditional design styles.
Recent projects include the restoration of the Ruth Mansion in Delaware, 26 Commerce Street in Greenwich Village, and The Queen Elizabeth II September 11th Garden in Hanover Square for which he was the Project Architect.