American Scottish Foundation Events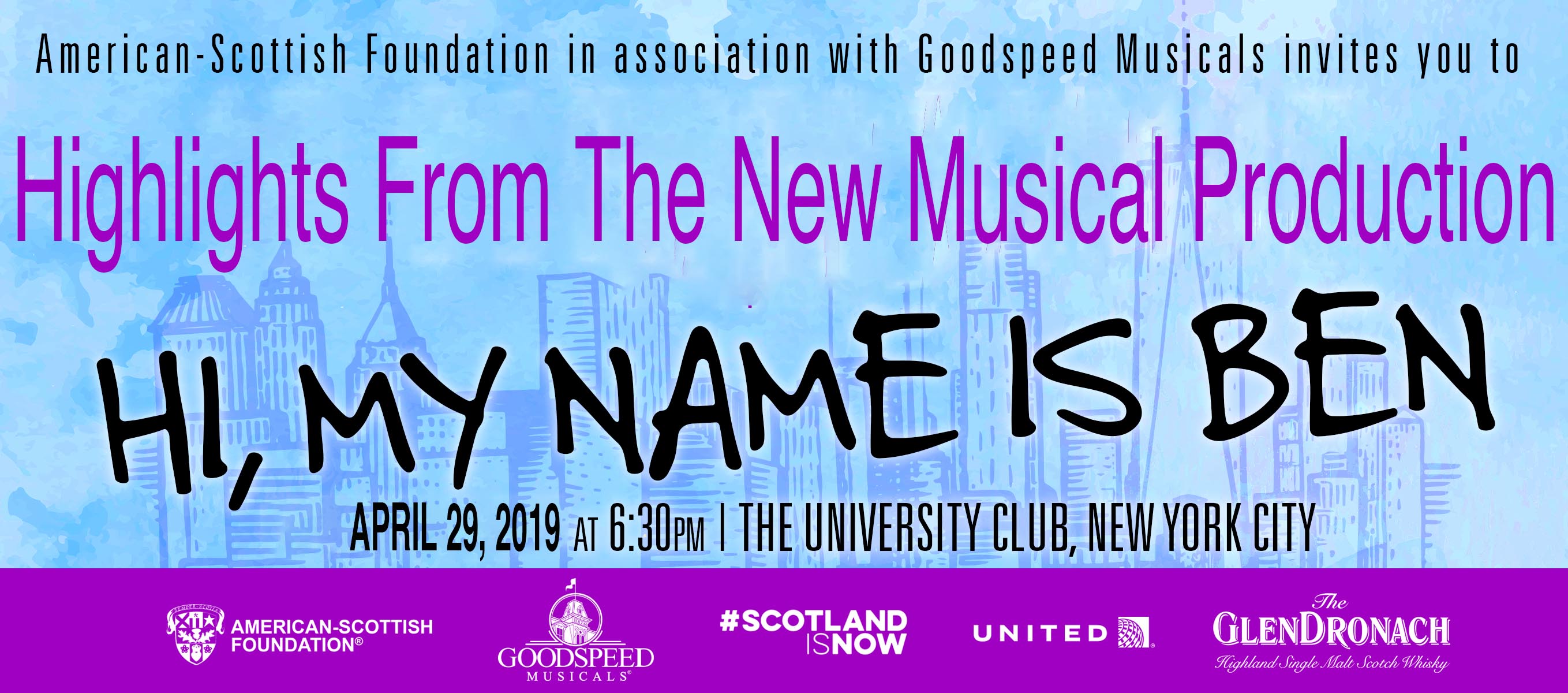 American-Scottish Foundation
In Association With
Goodspeed Musicals
Presents

Highlights From The New Musical Production
Claire Mackenzie†& Scott Gilmour of Noisemaker


Reception and Whisky Tasting
by Glendronach Single Malt Scotch Distillery
Monday April 29th
University Club
One West 54th Street, New York City
| | |
| --- | --- |
| 6.30 - 9pm | Business Suits |
| Reception & Performance | Reservations via links below |
-
Hi, My Name Is Ben
is the true story of an ordinary man and his extraordinary life. Featuring a joyful, folk-inflected score by internationally recognized writing team,
NOISEMAKER
in collaboration with one of Scotlandís leading theaters
DUNDEE REP
with Andrew Panton, Artistic Director and one of the USís most respected regional theatresó
GOODSPEED MUSICALS
.
Hi, My Name Is Ben
- Opening at the Goodspeed CT in May, the evening with feature musical exerts from one of Scotland's most highly acclaimed young production teams.
EVENT TICKETS $65
tax deductible portion on $65 is $20


PATRON TICKETS $125
tax deductible portionion $125 is $80


Download
a pdf ticket/registraion form


FOOTNOTES
Noisemaker is the award-winning writing partnership of bookwriter/lyricist Scott Gilmour and composer Claire McKenzie. Both graduates of the Royal Conservatoire of Scotland, the pair work throughout the UK and internationally creating innovative, original work to challenge the expectations of musical theatre.

As individuals, Scott and Claire have worked with a wide variety of companies including The National Theatre of Scotland, The Royal Lyceum, The Other Palace, New York Musical Festival, Northwestern University, The Sheffield Crucible, Dundee Rep, Citizens Theatre, Royal Conservatoire of Scotland, Channel 4 Films and The BBC.

As Noisemaker, their work has taken them across the globe and most recently the pair was awarded Unique Business of the Year 2018 at the Scottish SME Business Awards.

Both are delighted to be collaborating with Goodspeed Musicals and Dundee Rep on their newest work; HI, MY NAME IS BEN. Noisemaker credits:


MY LEFT/RIGHT FOOT (National Theatre of Scotland/Birds of Paradise)
SONGS FROM THE SEVEN HILLS (Sheffield Crucible)
CEILIDH (Noise Opera/Glasgow 2018 European Championships)
ATLANTIC (Assembly/ AMTP Northwestern University, Chicago/Royal Conservatoire of Scotland - Herald Angel Award Winner 2017)
LITTLE RED AND THE WOLF (Dundee Rep Theatre - Nominated for Best Production for Children and Young People UK Theatre Awards and Criticsí Awards for Theatre in Scotland 2016)
THE LION, THE WITCH AND THE WARDROBE (Royal Lyceum, Edinburgh)
FOREST BOY (NYMF, New York/The Other Palace, London/ Edinburgh Fringe Assembly - Winner of S&S Award for Best Musical in Development, The NYMF 2016 Publishing Award)
THE GIRL WHO (Merry Go-Round Playhouse/Edinburgh Fringe Assembly)
FREAKSHOW (The Roundhouse/ The Arches - Winner of the Scottish Daily Mail Drama Award 2012)
Upcoming Projects:
Noisemaker are working with acclaimed Scottish band Belle & Sebastian to develop their concept album, GOD HELP THE GIRL, into a live stage show in collaboration with the Citizens Theatre, Glasgow.
Alongside HI, MY NAME IS BEN, Dundee Rep has commissioned the pair to write a new musical adaptation of Hans Cristian Andersonís THE SNOW QUEEN which will premiere Christmas 2018 in Dundee. Scott and Claire were also selected as the New Voices 2017 - an award for emerging writers from across the globe chosen by New Musicals Inc. and Walt Disney Imagineering Creative Entertainment.
Goodspeed Musicals
Goodspeedís beginnings date back to 1963 when we opened our doors as a professional musical theatre in an historic building on the banks of the Connecticut River in East Haddam. Under the direction of Michael Price from 1968 to 2014, Goodspeed transformed from a struggling entity into a non-profit arts organization with a mission. At first, Goodspeedís commitment was to discover rarely produced musicals from the repertoire, reworking them and bringing them to life. We were also intent on adding to the repertoire by discovering and nurturing promising new musicals presented at both the Opera House and the Norma Terris Theatre in neighboring Chester.
In our history, we have produced over 250 musicals, including over 70 world premieres, and exported 21 productions to Broadway. Goodspeed stands as the first regional theatre in America to earn two special Tony Awards, one in 1980 for outstanding contributions to the American musical and a second in 1995 for distinguished achievement for a regional theatre.
Dundee Rep
Dundee Rep and Scottish Dance Theatre sit at the cultural heart of Scotland and the City of Dundee. Founded in 1939, the Rep is a centre of creative energy, a space for engagement with a wide range of art forms, whilst also playing a lead role in arts education and engagement across the city and beyond. Proud of its Scottish roots, the Company looks outwards, creating and delivering work for a local audience, as well as on a national and international scale, for and with a diverse audience.
Dundee Rep Ensemble was established in 1999 with the mission of bringing together a permanent full-time company of actors, the only company of its kind in Scotland. Dundee Rep Ensemble has created a number of award-winning productions, establishing a reputation as one of the UKís foremost theatre companies.
Andrew Panton (Director)
Andrew is Artistic Director of Dundee Rep Theatre and Artistic Director of Musical Theatre at the Royal Conservatoire of Scotland where he recently was awarded a Professorship.
Born in Fife, Scotland, Andrew has worked internationally across theatre, television, film and music. He became Artistic Director of Dundee Rep last spring, where he has directed the Scottish Premiere of August: Osage County, A Christmas Carol, Love Song and The Mill Lavvies and was Movement Director for the TMA and CATS award-winning production of Sweeney Todd. He recently directed the 21st anniversary production of Stephen Greenhornís Passing Places. Andrew has directed productions for the National Theatre of Scotland, Edinburgh Royal Lyceum, Glasgow Citizenís Theatre, Royal & Derngate, Perth Theatre and The Stephen Joseph Theatre.
Work for TV includes Children in Need, Gareth Maloneís The Naked Choir and The Voice, all for the BBC. Andrew was vocal director for Susan Boyle on her last five albums and devised and directed her UK and international concert tours. In 2014 he directed a section of the opening ceremony of the Glasgow Commonwealth Games which was broadcast to 1.25 billion people worldwide.