American Scottish Foundation Events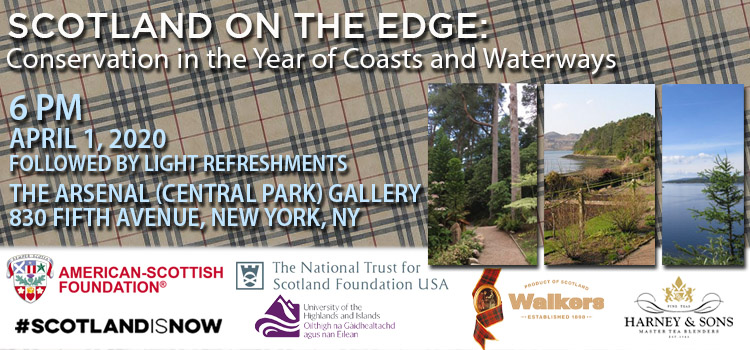 Scotland on the Edge:
Conservation in the Year of Coasts and Waterways
American-Scottish Foundation
in association with
National Trust for Scotland Foundation USA
& University of the Highlands and Islands
invite you to a
Talk and Light Refreshments

Kirsten Bridier,
Executive Director, National Trust for Scotland, USA
&
Professor Stuart Gibb
Vice-Principal International and External Engagement &
Director of the Environmental Research, North Highland College UHI.

Wednesday, April 1st, 2020
at
The Arsenal (Central Park) Gallery
830 Fifth Avenue, New York, NY 10065

6pm Program
followed by light refreshments

The National Trust for Scotland cares for 10,000 miles of Scottish coastline. That's a distance stretching from Glasgow to Perth – Perth, Australia, that is!

Every day, the Trust undertakes critical conservation measures tailored to individual coastal habitats, from St Kilda to St Abb's Head. This work is shaped by the twin realities of climate change and Brexit. Learn how Scotland's leading conservation charity is protecting Scotland's seas, demonstrating best practices in tourism management, and mitigating climate change – providing leadership on an international stage, all for the benefit of future generations of Scots.

Kristirstin Bridier, Executive Director, The National Trust for Scotland Foundation USA and Professor Stuart Gibb, Vice-Principal International and External Engagement & Director of the Environmental Research, North Highland College UHI disscuss SCOTLAND ON THE EDGE.

Tickets via Paypal ASF/NTS USA Members $35 Guests $45


MEMBER TICKETS
$35


NON MEMBER TICKETS
$45


Please call the ASF Events Office with any questions: (929) 499-9025

Professor Stuart Gibb
Vice-Principal (International and External Engagement) and
Director of the Environmental Research Institute at North Highland College UHI.
Prof. Gibb joined North Highland College UHI to establish the Environmental Research Institute in Thurso. Committed to developing research and knowledge exchange; learning & teaching; enterprise and outreach around contemporary environmental issues focused on the priorities of 'Renewable Energy and the Environment'; 'Carbon water and Climate', and 'Environmental Contamination and Ecological Health'
He has worked with Scottish Environmental Protection Agency, Research Council of Norway and NASA in the USA. He is currently chair of the European Offshore Windfarm Deployment Centre Environment Committee and of the Peatland Partnership, and will become the next President of the Association of Chemistry and the Environment. 

Kirsten Bridier
, Executive Director
The National Trust for Scotland Foundation USA.
She previously served as the curator of education for the Nantucket Historical Association during the renovation and reinterpretation of their flagship Whaling Museum and led corporate and foundation giving for the Isabella Stewart Gardner Museum and Museum of Fine Arts, Boston. Kirstin attended Smith College and holds an M.Sc. in historic preservation from the University of Pennsylvania.

The National Trust for Scotland
was founded in 1931 to harness the energies of the people of Scotland to conserve the country's history and its natural, built, and cultural heritage. It has grown to be Scotland's largest conservation movement and membership organization, with 400,000 members. On behalf of the nation, the Trust now owns and manages more than 125 visitor properties on 200,000 acres, including coastlines, islands, mountains, woodlands, battlefields, castles and cottages.