The American-Scottish Foundation
in association with
American Friends of the Georgian Group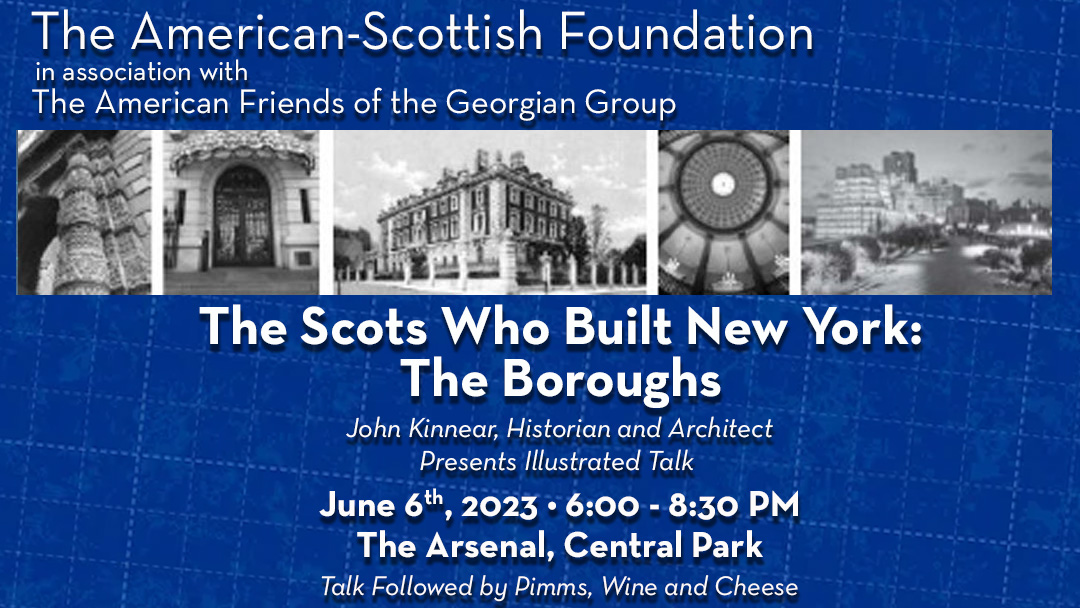 The Scots Who Built: New York's Boroughs

Illustrated Talk Presented by
John Kinnear, Historian and Architect
The Scots who Built New York Phase 1 and 2 discovered the impact of Scots and Scottish Americans on the building of New York  - now we turn to the Boroughs of New York.

Join as we learn of the impact of the Scottish and Scottish American architects, engineers and artisans on the development Brooklyn, Staten Island, Queens and the Bronx - the first in a series of talks we begin in Brooklyn.

With the project research led by John Kinnear, architect and historian - and with ongoing support from the Carnegie Corporation.

Hear how
In 1906 the Turner Construction Company, led by Henry Turner built Yankee Stadium - The House that Babe Ruth Built:

In 1905 the Brooklyn Museum was conceived by McKim, Mead and White, one of the greatest architectural firms and responsible for so much of New York and the boroughs great buildings - the Museum was the largest in the world at that time when it was completed.

So much to hear of and have the opportunity to meet and speak with our historian and speaker, John Kinnear.
To Learn More about the The Scots Who Built New York project CLICK HERE
Tuesday, June 6, 2023
6:00-8:30 pm
The Arsenal, Central Park
at 64th Street and 5th Avenue
New York, NY 10036
$45 ASF Member Tickets
$55 Non-Member Tickets
$35 "Young" Scot Tickets (under 40)
Member Ticket
$45


Non Member Ticket
$55



"Young" Scots
(under 40)
$35

CAN'T ATTEND?
Make a donation to help support future events.
Please call the ASF directly with any questions T. (929) 499-9025
or email: americanscottishfoundation@gmail.com