History of the Foundation

Beginning in 1956, the Foundation developed, through a variety of major initiatives, an important reputation as a leading American-Scottish not-for-profit organization in the United States, dedicated to bringing the two countries closer together.
These initiatives included the election of a group of prominent and respected Scots as Honorary Sponsors and the creation and operation of Scotland House™. There was also an annual high profile Scottish Ball which brought together Scots and Americans in an informal social setting.
In 1970, the Wallace Award® was created and then presented annually, primarily to American-Scots, in recognition of their contribution to American-Scottish relations. Recipients include Robert L. McNeil Jr., Senator Malcolm Wallop, Sir Sean Connery, Senator Trent Lott, and Dr. Linus Carl Pauling.
As a founding member of The Scottish Coalition, the Foundation was also instrumental in setting up this informal committee of national Scottish organizations that initiated Tartan Day in the U.S. ASF undertook to spearhead the New York City Tartan Day Parade, which it initiated in 1998, and to sponsor Tartan Day programming in Washington D.C., which it did from 2000-2003.
ASF's status has been reinforced by the variety and scope of its activities designed to bring the two countries in greater unity. As a consequence, the Foundation enjoys an outstanding reputation both in Scotland and the US as a leading non-governmental agent in the U.S. for enhancing Scottish American relations.
The Foundation's status has been achieved by enhancing its visibility and credibility in Scotland through regular visits and events conducted there, by association with "Scotland The Brand" and its ScotFest initiatives in New York City, support of "UK with NY", its ongoing work with VisitScotland, numerous local Councils and arts and cultural organizations, educational institutions, and charities.
The Foundation is in the process of building its national membership base and is ensuring that extensive databases are put in place through extending its active role in American-Scottish society. It is also building a volunteer capability and restructuring its governance.

The Lord Malcolm Douglas-Hamilton, OBE, DFC
Founder and President Emeritus
The American-Scottish Foundation, Inc., and Lady Malcolm Douglas-Hamilton, CBE, President Emerita
Lady Malcolm Douglas-Hamilton was born Natalie Scarritt Wales in Cohasset, Massachusetts in 1909. She grew up in Boston and New York City. From her earliest years, she was a generous, outgoing and enthusiastic person of drive and great optimism.
Her career began in 1939 when she learned of the devastation and isolation of Great Britain in the early years of World War II. She took the train to Washington, D.C. to ask the British Ambassador, Lord Lothian, what Britain needed that ordinary Americans could supply.
Lord Lothian inquired, and the answer came back: knitted Balaclava helmets for the merchant navy, who were suffering from exposure and freezing temperatures shepherding convoys in the North Atlantic. These head coverings needed to be of a uniform, almost-black navy blue wool of a certain weight, and knitting instructions would be supplied. Undaunted (a quality that served her for the rest of her life), Natalie contacted wollen mills -- principally Burlington Mills -- and asked them to supply several tons, not "at cost" because, as she cheerfully noted, "I have no money", but for free.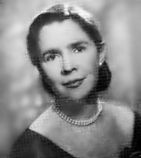 The wool was supplied, the knitting began and Natalie organized Bundles for Britain, which eventually had over two and one-half million men and women as members, knitting helmets, sweaters, gloves; rolling bandages and packing medicines; creating clothing drives, blood drives and canned food drives across the country. She asked Buckingham Palace for something she could auction off in a nationwide raffle to raise money. Queen Elizabeth (later the Queen Mother, sent a red, white and blue (rubies, diamonds and sapphires) cigarette case and a piece of shrapnel from the bomb that hit Buckingham Palace. Natalie maintained a cordial relationship with the Queen, who years later as Queen Mother became the Royal Patron of The American Scottish Foundation. Later, Natalie joined the Staff of THE NEW YORK TIMES as assistant to the Publisher.
In 1946, Natalie was made an honorary Commander of the British Empire for her services in World War II. She was the first non-British woman to be so honored.
1947, faced with the growing Soviet threat in Europe, Natalie and her husband, Edward Bragg Paine, created Common Cause, Inc, the first "American citizens organization to combat communism". She turned her dynamism and organizational skills once again to a cause she believed in, raising funds, holding seminars, shipping food during the Berlin airlift and using American legal interventions to shelter refugees-sometimes tin her own home. Her husband died suddenly in 1951.
In that same year, as a young American widow she went to England to make a speech about Communism in the House of Commons. She met Lord Malcolm Douglas-Hamilton, the Member of Parliament for Inverness-shire and an ardent anti-communist. She later married him, and they lived in Scotland and England for several years. Returning to the United States, Lord and Lady Malcolm together created The American-Scottish Foundation, Inc. in 1956, to strengthen the historic ties between Scotland and the United States in all areas -- educational, cultural, social, genealogical, philanthropic, scientific and economic.
Articulate, enthusiastic and encouraging, Lady Malcolm worked with Lord Malcolm to further the goals of the Foundation until he was tragically killed with his 21-year-old son, Niall, in an airplane crash in Cameroon, West Africa in 1964.
Devastated by her loss, Lady Malcolm found some strength in continuing Lord Malcolm's dreams for the Foundation. In the early 1970s she organized "Scotland Week" in New York City. She obtained permission from the Fifth Avenue Association to have crossed American and Scottish flags on every other lamppost. She asked the famous Fifth Avenue shops between 60th and 34th Streets to give their front windows (and inside) a Scottish motif. There was a 2-day Economic Meeting with Scottish and American economists and professors. There were Scottish concerts, pipe bands, the Scottish Symphony, an art exhibit and many parties during the gala week.
Lady Malcolm also inaugurated The Scottish Ball, one of the most beautiful, memorable and "fun" events of the social year. It was held, at the Hotel Plaza, and was eagerly anticipated each year. She also created The Wallace Award, the single most prestigious event in the Scottish-American calendar celebrating outstanding achievement primarily of American - Scots.
Lady Malcolm was particularly enthusiastic about creating Scotland House, a special dream of Lord Malcolm's, to be a central gathering place for American Scots, visiting Scots, students, people seeking their Scottish roots--a place for all. The first Scotland House was opened in the mid-70s at 124 East 39th Street by New York City Mayor Abraham Beame, and was an instant success. Lectures, movies, seminars, ceilidhs, dances and teas were held in a comfortable atmosphere with a large Scottish-American library, and Scottish products such as sweaters, tweeds, jewelry and china were for sale. A later Scotland House was on Fifth Avenue in the 80s and of course the present Scotland House at 575 Madison Avenue.
Lady Malcolm retired from the Foundation in 1989. She had two daughters, six grandchildren and 11 grandchildren and retired in Stillwater, New Jersey. Lady Malcolm passed away, after a busy and fufilling life, on January 14, 2013 at the age of 103.

His Grace The Duke of Hamilton and Brandon, Lord Malcolm Douglas-Hamilton's Great-Grand Nephew, is Patron of the American-Scottish Foundation®.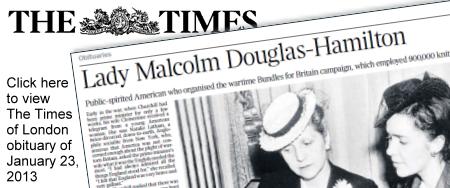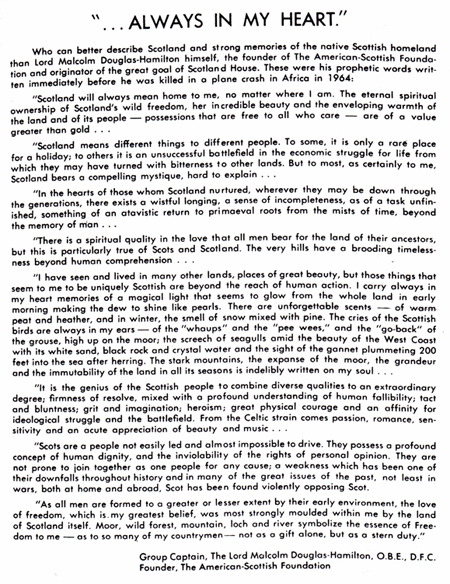 Information regarding the foundations achievements.
---
Highland Fund ends after 57 years

July 21, 2010: Herald Scotland staff


A social development fund that dispensed more than £1 million in vital loans throughout the crofting counties for nearly 60 years has been wound up.

The Glasgow-based Highland Fund has become a victim of 21st-century affluence, due to the number of banks and public bodies ploughing vast amounts of money into business and community ventures.

The fund was started by Lord Malcolm Douglas-Hamilton, MP for Inverness, in 1953.
Its aim was to reverse the decay of the Highlands. In the 1950s little or no money was available to crofters, fishermen or small businesses and it was initially overwhelmed with requests for assistance.

The fund, which was made up entirely of private donations, loaned money on conditions that were far more favourable than could be found elsewhere.

Applicants did not have to file a business plan of any kind and simply provided two character references from people of standing in the community.

Loans did not exceed £500 in the early days, although in more recent years they reached £8000.

Highland Fund chairman, Murdo Morrison said: "The fund made an enormous difference to the social and economic wellbeing of rural communities."

Highland MSP Jamie Stone, whose family got a loan to set up a cheese-making business in Tain in 1961, said: "I remember my parents being extraordinarily grateful for the help they got from the fund. Fifty years later, the business is still going with a workforce of 10 and that's in no small measure due to that loan".