After the U.S. Senate officially recognized Tartan Day in 1998, Alan Bain, Chairman of the American Scottish Foundation, was tasked by The Scottish Coalition USA to organize a Tartan Day celebration for New York City and in 1998 the first Tartan Day Parade, consisting of two pipe bands and a small but spirited group of Scottish Americans, including Grand Marshal, Cliff Robertson, walked on a sidewalk from the British Consulate to the United Nations.
Read the NY Times Article Here.
The first permitted parade was in 1999 in Central Park. Since then it has flourished to include many bands and thousands of participants, including clan members and individual marchers.
In 2002, as part of the Tartan Day celebrations the Parade was brought to 6th Avenue for the first time. This Parade attracted a record number of pipe bands from all over the World and was led by Sir Sean Connery and Mayor Michael Bloomberg.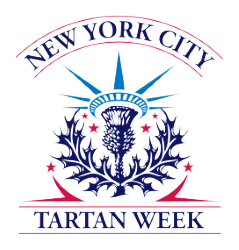 With the New York Tartan Day Parade growing the Saint Andrew's Society of the State of New York, 1756, New York Caledonian Club, 1856, and The American-Scottish Foundation®, 1956. came together to form the The New York Tartan Day Committee. Since 2002 the Committee has grown to include members from Clan Campbell.
The NYTDC, which has 501(c)3 status, is charged with maintaining and perpetuating the New York Tartan Day Parade and co-ordinating the events that complement it.
New York Tartan Day Parade Past Parade Grand Marshals

 
1998 – Cliff Robertson – Academy Award-winning actor
2002 – Sir Sean Connery – Academy Award-winning actor
2005 – Randall Wallace – Oscar-nominated screenwriter of "Braveheart"€
2006 – Brigadier Melville Jameson – Producer, Royal Edinburgh Military Tattoo (1994-2006)

 

2007 – Rt.Hon. George Reid – Presiding Officer of the Scottish Parliament (2003-2007)
2008 – Lawrence Tynes, Kicker for the New York Giants, winners of Super Bowl XVII
2009 – Alan Cumming, OBE & Tony Award-winning actor
2010 – Rt.Hon. Alex Fergusson – Presiding Officer of the Scottish Parliament (2007-current)
2011 – Bob Winter – Lord Provost of Glasgow
2012 – Brian Cox – actor
2013 – Kevin McKidd, actor
2014 – Howie Nicholsby, kilt designer, 21st Century Kilts

 

2015 – Co-Grand Marshal Tricia Marwick, Presiding Officer of the Scottish Parliament (2011-2016) and Graham McTavish, actor
2016 – Sam Heughan, actor 
2017 – Tommy Flanagan, actor
2018 -Sir Billy Connolly
2019 -KT Tunstall, Scottish singer-songwriter
2020 -Brian Cox CBE, actor
2021 –