Past Events, Awards and Recipients

---
Vermont High School Receives Lord Malcolm Douglas-Hamilton Bursary Award
Excitement builds at the Otter Valley Union's Walking Stick Theatre Company
Young performers from Vermont's Otter Valley Union High School are preparing for their international debut at the Edinburgh Festival Fringe. The students will perform "Anon(ymous)," a 90-minute modern adaptation of Homer's Odyssey written by Naomi Iizuka.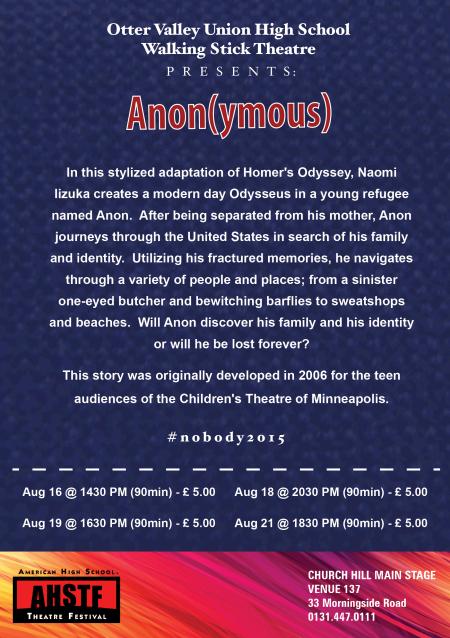 Otter Valley's acting troupe is one of only a few dozen high school theater companies who will perform at the Fringe.
Theater Director Jeff Hull explains how Otter Valley's company was invited to apply to take part in the festival two years ago based on the quality of their work. "We had to go through a rigorous application process," Hull says. "But we did it!"OVUHS 5
The application process was only one obstacle the group would face. Funding the $6,500 per student cost of the trip proved to be a huge challenge. But the support that they recieved, from both their local community and beyond, was staggering.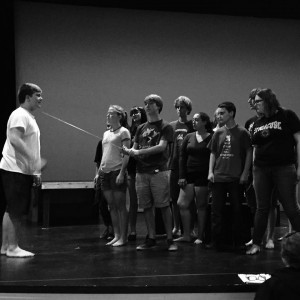 The American-Scottish Foundation heard of Otter Valley's once-in-a-lifetime opportunity and immediately wanted to lend support. The Foundation gave Otter Valley's Theater program a bursary grant to help make their potential trip to Edinburgh a reality. ASF's involvement with Otter Valley only continued from there. Chairman Alan Bain invited Jeff Hull and his family to New York City so they could march in the annual Tartan Day Parade.
The Hull family had a wonderful time at the NYTD Parade, where they were able to meet "Outlander" star Graham McTavish, as well as the ASF officials.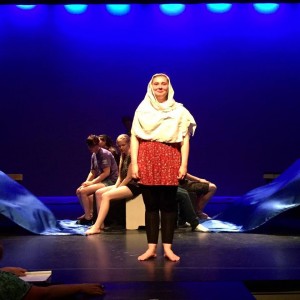 Alan Bain got in touch with Scottish contacts, ensuring that the American-Scottish Foundation Bursary award could help enhance the students' Scottish adventure. The students will be able to tour Edinburgh Castle, visit parts of Edinburgh's Underground City, and purchase tickets to shows. The students will also enjoy a farewell dinner at the acclaimed Royal Overseas League.
Chairman Alan Bain says that his support for the Otter Valley theater group's trip to the Edinburgh Festival Fringe comes, in part, from his own experiences traveling abroad when he was a young student. He is confident that "this trip will give all those involved a life-long and treasured memory that is likely to be inspirational and life transformative."
See more photographs in our Magazine.


---
New York Quartet play for Sick Children
from The Press and Journal, July 31, 2014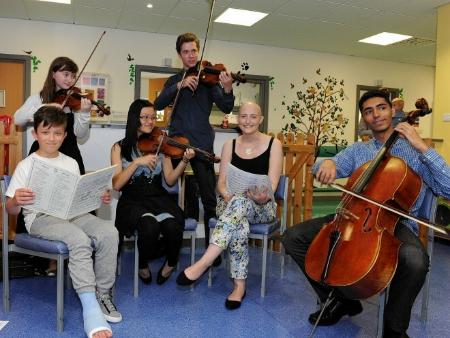 New York quartet


An American string quartet yesterday took time out of their busy touring schedule to bring their music to youngsters in Royal Aberdeen Children's Hospital (RACH).
The group, from the InterSchools Symphony Orchestra of New York, are currently performing in the Aberdeen International Youth Festival.
And Orli Morag,14, Julia Zhong,15, Amory Benjamin and Isaac Scheinfeld, both 16, had young patients, their families, and staff singing along during their lively recital in the children's ward.

Orli said the group were delighted to be able to perform at RACH – and were thoroughly enjoying their time in Scotland.
"We were so happy to be here, it was really fun and everyone got into it. I have been to the UK before and it never ceases to amaze me how wonderful everyone is here," she said.
"We are all in the same orchestra then Isaac and I decided it would be fun to make a quartet, and we have been one for five months.We have been enjoying the festival and the atmosphere.We saw a dance troupe from Israel and the Czech Republic, and the Chinese marching band."
Emily Findlay, from Orkney, was among the enthusiastic audience yesterday.
The 18-year-old is fighting neuroblastoma, a rare form of cancer. She was first diagnosed with cancer when she was 14 but it returned in February after an 18-month period of remission.
She said it was lovely that the quartet had been able to find time to play at the hospital.
"It was great to get folk to come here and play. It is really nice to have something different. I think lots of the kids really enjoyed it," she said.
David Cunningham, chief executive of the ARCHIE Foundation, said the performance made a real difference to the children.
"We were delighted to welcome the quartet of young New York musicians to RACH, especially when they are so busy with the festival," he said.
"The ARCHIE Foundation has a long standing association with the American Scottish Foundation, who have helped us to bring this quartet to the hospital.
"It is a partnership which we very much value and we are extremely grateful to the young musicians for bringing their music to us, it has made a real difference to the day."
---

The American -Scottish Foundation® is proud to be working in association with the Scottish Golf Trust to help further its mission to develop youth programming and engagement in the healthy and challenging sport of golf.
---

St Columba's School, Scotland, Pipe Band




During the Scotland-Tartan Week festivities in 2013, The American-Scottish Foundation® was pleased to be instrumental in bringing the St. Columba's School Pipe Band to New York from Scotland.

The Band performed on several occasions during their stay in New York, the highlight of which was their popular outdoor performance in Bryant Park in central Manhattan.

---
A letter from one of our beneficiaries (in extract):
Jan 30, 2012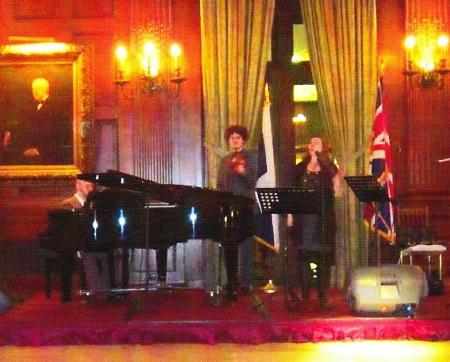 Dear American-Scottish Foundation,
I am writing to thank you very much again for inviting me to contribute to your very successful Burns Supper in the University Club in New York City this month.
As a Scot, it was an honour to celebrate the life of Burns and Scottish culture over here in America with you, by providing Scottish background music, singing with Maureen McMullan for a Burns song tribute, delivering the "Toast to the Lassies", and leading and calling the ceilidh dances for the guests.
The kind donation, via your Lord Malcolm Douglas-Hamilton Bursaries and Education Awards scheme, towards my education here at The Berklee College of Music in Boston is very much appreciated indeed. I express my gratitude to the board members of the American-Scottish Foundation.
As an experienced professional Scottish folk musician, I feel privileged to undergo a year (4 semesters) of personal and professional development studying jazz piano here in America, the home of jazz music. It would not be possible to pursue this dream without the support of organizations such as the American-Scottish Foundation...
Kind regards,
Hamish Napier