Events Archive 2014

January 17, 2014
Burns Night Gala Celebration - The University Club


February 25, 2014
ASF Members Event at the exciting Cafe Tallulah, NYC


April 4-8, 2014
Lunchtime Concerts on the Fountain Terrace
Bryant Park - Fountain Terrace





April 5, 2014
16th Annual New York Tartan Day Parade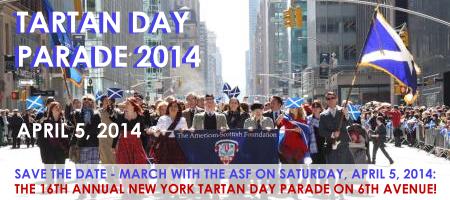 April 5, 2014
ASF Post Parade Reception



April 6, 2014
Tartan Day Observance
Bryant Park - Fountain Terrace


March 21-April 22, 2014
The Kelpies in Bryant Park - New York City



April 15-28, 2014
John Muir Photography Exhibit - Washington DC



The exhibition will open in Chicago in June 2014. Details presently.

May 9, 2014
Highland Spring Fling with Whisky Kiss - click for details


May 10, 2014
Scottish Independence - demystifying the Referendum


May 19, 2014
ASF Annual General Meeting at 5.30pm (members only)
followed by
Sunset Tea Reception at 6.30pm (friends & guests invited to join)
on the Rooftop of NY Parks Department Central Park Arsenal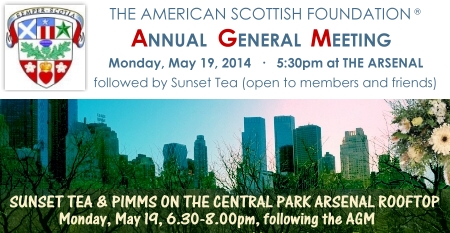 May 20-30, 2014
As Others See Us - Chicago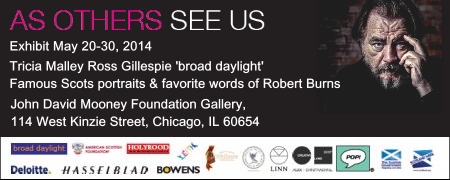 There will be an opening reception on May 20, by invitation

June 26, 2014
ASF Members Event - A Night of Jazz - click to book



"Brave, bright and engaging throughout and much easier to tour than a big band, with no lack of presence." - Jazz Journal


July 7, 2014
Scottish North American Leadership Conference International


July 16, 2014
NY British-American Societies Annual Summer Garden Party



October 15, 2014
The Scots Who Built New York's Landmarks



November 14, 2014
Wallace Award® Gala Dinner



November 15, 2014
Scottish North American Leadership Roundtable, New York City



Discussions 9am-4.30pm. Talk & Reception 5.30-8pm in association with the University of Aberdeen.


November 29, 2014
KILTWALK



Click for details...
Join us at Incognito Bistro 30 West 18 Street, New York on Saturday, November 29 at 4.00pm to toast the Kiltwalk participants!

November 30, 2014
Kirking of the Tartan at the 'Scots' Church


Click for full details...


December 6, 2014
Alexandria Christmas Walk



click for more...